We have the largest dart selection in the area. We carry all your soft tip and steel tip darts and accessories for the beginner or experienced dart thrower.  We have an extensive selection of flights, shafts, cases, steel tip & electronic soft tip dart boards, throw lines, dart cabinet lighting, electronic score units, replacement tips, dart sharpeners, conversion points, dart board storage cabinets, backboards, Dry erase scoreboards, laser dart lines, dart mats, fit flight systems, and dart wrenches.
ALL DARTS/DARTBOARDS/CABINETS NOT SHOWN! CALL OR VISIT FOR FULL INVENTORY DETAILS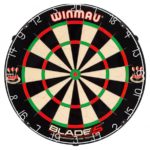 Winmau Blade 5
The Blade 5 pushes the boundaries of dartboard technology to its limits. The new wiring system allows for 9mm² extra scoring area in the doubles and 6mm² extra scoring area in the trebles, with a 14% reduction in web surface area for higher scoring. The Dynamic Sector Wires are 20% thinner and the Radial Wires are 10% thinner for greater scoring potential. The Blade angle has been reduced from 90 degrees inclusive to 60 degrees inclusive, and the Ultimate Tensile Strength of the Dynamic Sector Wire has been increased by 20% to ensure that dart points glide past the wire and into the scoring bed. A new bullseye and 25 ring feature carbon diffusion technology for an ultra-hard surface and improved performance and durability. The Blade 5 now includes the Rota-Lock triple-wheel lock and level system for a secure fit and easy rotation.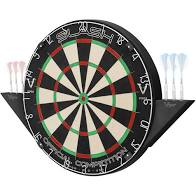 Slash
Viper's most advanced sisal dartboard yet, the Slash pushes the limits of dartboard technology to give you the ultimate playing experience.
The Viper Slash is constructed from the highest grade African sisal fibers on the market, compressed to the highest density possible. These bristle fibers give the Slash its self-healing properties. Any holes left from dart points seal back to pristine condition. The ultra dense sisal allows us to include the thinnest razor wire we've ever had on a bristle board. This razor wire increases the scoring area of each segment for higher scores and less bounce outs for a fast-paced game without stopping play! The razor-thin wire and bullseye are free of traditional staples that can interfere with your game and cause bounce outs. Prepare for tournament play with the Slash. Its regulation size of 17.75" (451 mm) matches perfectly with high level event boards.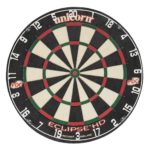 Unicorn Eclipse HD2
Next generation bristle dartboard technology from the world-leading brand in darts New 14% increased playing area with super thin bullseye and 2% increased area to "25" ring Injection moulded high definition replaceable numbers and invisible number ring Finest grade "A" sisal, seamless playing surface for higher scores All-new Spider2 new radial wires for a total clean playing area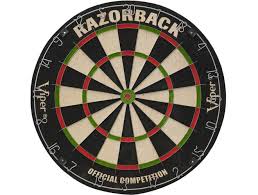 Razorback
The Viper Razorback is a 100% staple-free spider dartboard constructed from self-healing sisal bristle fibers compressed together, providing unsurpassed durability. Utilizing razor thin galvanized wires, the surface area is greatly increased which helps prevent bounce-outs.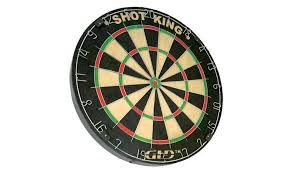 Shot King
The Viper Shot King dartboard features a staple-free bullseye which helps prevent bounce-outs. The Viper Shot King is an official tournament size dartboard, measuring 18" in diameter and 1.5" D. A movable number ring further extends the dartboard's life.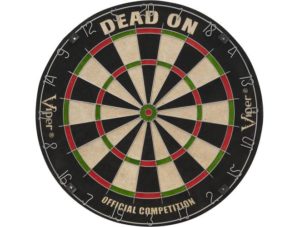 Dead On
The Viper Dead On Sisal Fiber Board has triangular shaped wires that help prevent bounce outs and improve scoring. The staple free bulls-eye also prevents bounce outs and the Sisal Fiber is a self healing material for long life. The number ring is move-able which also extends the life of the board.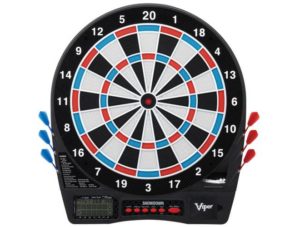 Viper 777
The Viper® Showdown is the perfect board for casual play, competitive practice, and more. Its streamlined design makes it fun and easy for everyone. Play 32 games with up to 8 players or practice your skills and play against the computer. Requires 3 AA batteries (not included).
Viper Vtooth 1000
For the first time ever, using Bluetooth Smart technology, you can connect your dartboard wirelessly to a smart phone, tablet or other device via the Viper Darts Linkup app. This revolutionary free new app will allow you to keep track of all your scores with a customized profile that will save your progress and measure your darting stats. The free Viper Dart Linkup App is launching with 16 games available with many more to come. The Vtooth has a regulation 15.5" target face, so you can practice on the same size board as the pros. The Vtooth features Target Tested Tough segments that will stand up to the toughest punishment, in addition to an ultra-thin spider to minimize bounce-outs. Furthermore, the Vtooth features concave segment holes that lock in your shots. The multiplayer feature supports up to 4 players, so no one is left behind. Embrace the new technological revolution in dartboards with the Viper Vtooth!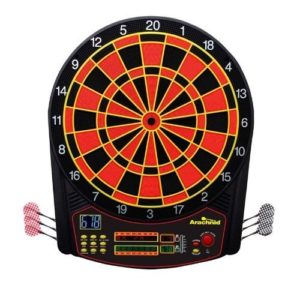 Arachnid Cricket Pro 450
The Arachnid Cricket Pro 450 Electronic Dartboard feature a durably constructed PVC body with a 15.5-inch regulation size target. This dartboard offers 31 games with 178 optional variations, with 5 cricket games. The 5 multi-color backlit displays are accurate easy to read while the tournament-style color scheme will nicely accompany the decor of your garage, recreational room, or man cave. Comes with two sets of soft-tip darts and extra tips.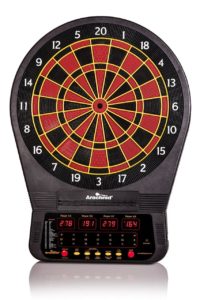 Arachnid Cricket Pro 650
The Arachnid Cricket Pro 650 Talking Electronic Dartboard is packed with features, including 8 player score displays, 24 games with 132 options, including 5 cricket games, and LED display of player game scores and cricket displays. Made with NylonTough segments to ensure a lifetime of fun and competition. Regulation 15.5" target area. Accessories included.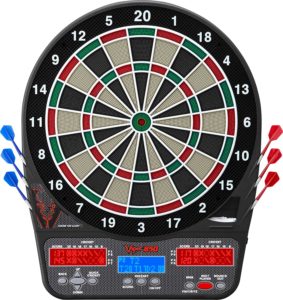 Viper 850
The STATE OF THE ART Viper 850 Electronic Dartboard provides the next level in dart gaming. Headlined by the ULTRA BRIGHT triple score display, the 850 provides the best scoring experience yet. The enhanced definition on the central display allows for better scoring graphics than ever before seen, while the traditional double cricket display utilizes the best brightest LED in the industry for HIGH VISIBILITY. The options are numerous with 50 GAMES preprogrammed into the board and over 470 scoring variations. The 850 features an expertly constructed 15.5" target face for heavy use and HIGH SCORES. Featuring Target-Tested-Tough segments made from High-Grade Nylon, the 850 endures the toughest throws! Each segment features locking holes and is connected by ULTRA-THIN spider to minimize bounce-outs and maximize scores. The 850 includes SIX STARTER DARTS to get you throwing right away and a throw line measuring tape to ensure your games are from the right distance.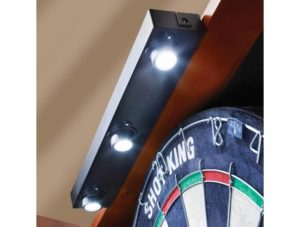 Viper Shadow Buster
Bring your game out of the darkness with the Viper Shadow Buster Dartboard Illuminator! This specially designed light bank is specifically designed to illuminate your dartboard cabinet, for enhanced visibility and heightened accuracy. The adjustable light pods allow the Shadow Buster to flood any dartboard in gleaming radiance. The refreshing light can bring out the best look for your cabinet and turn it into a true centerpiece of your game room. The Shadow Buster easily attaches to any flattop dartboard cabinet and flips up when not in use. It can be powered by 4 AA batteries (not included), for a clean, wireless look, or an optional AC Adapter (Not Included) to best suit your needs. Enjoy your best darting experience with the Shadow Buster by Viper!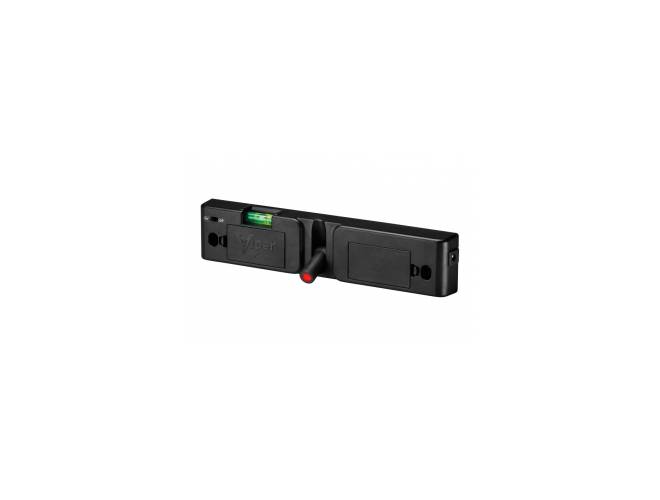 Viper Laser Line
No need to damage your floor with stickers or tape. The Viper Laser Dart Line accurately marks your throw-line and disappears with a flick of the switch. This laser throw line lets you digitally find where to throw your darts. Works for steel and soft tip boards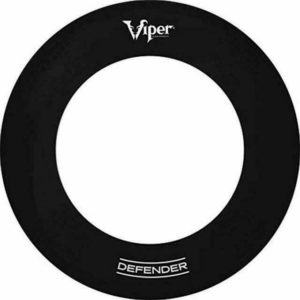 Viper Defender Surround
Viper Defender, a protective foam surround for your dartboard, designed to save your wall from damage from steel tip darts. Its 4-piece construction takes seconds to set up, sliding around your existing 18" bristle dartboard with a snug and secure fit. No need for any tools or installation hardware. The Defender provides an extra 5 inches of protection around your existing dartboard with its 1" thick high-density V-foam. Your darts will not stick to your wall, or fall onto the floor with the Defender, saving you hundreds on wall and floor repair, as well as dart tip replacement. The attractive velvet surface keeps your game room looking suave and professional, and it is fully reversible for lasting protection for years to come.
Fits any standard 18" bristle dartboard

Provides a 5" radius of protection from stray darts

1" thick high-density V-foam keeps darts from falling, protecting both floors and dart tips

Attractive velvet surface minimizes signs of wear

Compression fit - form fitting design holds tightly to the board

Fully reversible for lasting protection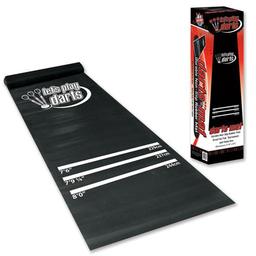 Viper Dart Mat
Heavy duty rubber 3mm thick. Printed with Let's Play Darts logo and international throw lines.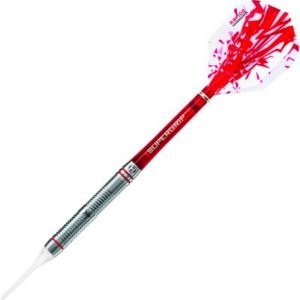 Harrows Rapide Soft Tip Darts
Rapide darts were developed with the serious player in mind. Using the latest CNC technology, the Rapide darts are designed with ringed and knurled grips. The darts are matched weighed + or - .05 grams and fitted with Supergrip shafts and Rapide flights.
Flights and shafts may vary.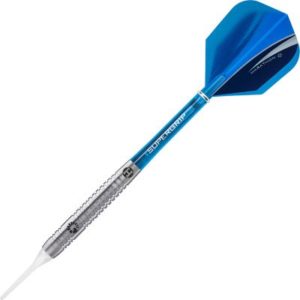 Harrows Genesis Soft Tip Darts
These precision machined tungsten darts are engineered for close grouping and high scoring, for players who are serious about winning. An Affordable entry level tungsten dart for the advancing player. The barrel has been designed to achieve the best possible slim-line profile.
Flights and shafts may vary.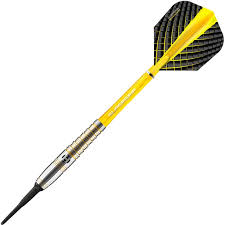 Harrows Icon King Soft Tip Darts
KING: Shingo Enomata has been actively involved in the design process to produce a single barrel design based on his current "The Tornado" signature darts. Whilst the design has been simplified, the grip and consistency have been maintained. The recessive curve grip ensures reliable feel and perfect performance. Shingo has delivered a dart that is both technically superb and with it's re-cut, blue titanium nitride coating, and visually stunning. (16.5 GRAM BARREL ONLYWEIGHT)
Flights and shafts may vary.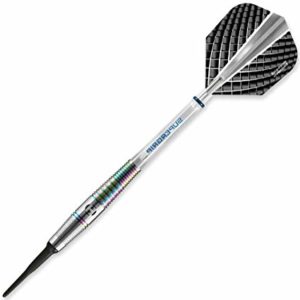 Harrows Icon Sceptre Soft Tip Darts
Sceptre: A mid-weight barrel, using 3 graded grip zones to give a balanced feel for an easy free-flow release. An eye catching rainbow titanium nitride finish completes this truly striking dart. (16.5 GRAM BARREL ONLY WEIGHT)
Flights and shafts may vary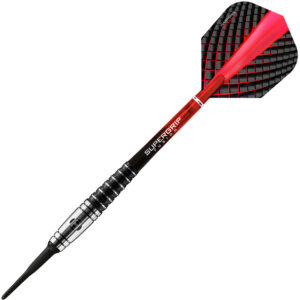 Harrows Icon Knight Soft Tip Darts
Knight: Takehiro Suzuki has lead the design process and development of this new barrel design. Popular, front weighted barrel with a stunning and highly effective black titanium projecting grip, for a soft but responsive touch. (16.5 GRAM BARREL ONLY WEIGHT)
Flights and shafts may vary.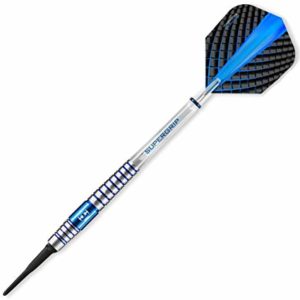 Harrows Icon Twister Soft Tip Darts
Twister: Shingo Enomata has been actively involved in the design process to produce a single barrel design based on his current "The Tornado" signature darts. Whilst the design has been simplified, the grip and consistency have been maintained. The recessive curve grip ensures reliable feel and perfect performance. Shingo has delivered a dart that is both technically superb and with it's re-cut, blue titanium nitride coating, and visually stunning. (16.5 GRAM BARREL ONLY WEIGHT)
Flights and shafts may vary.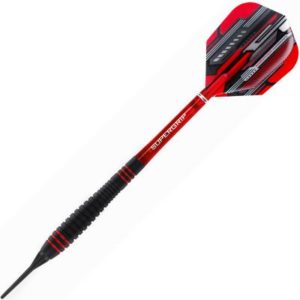 Harrows Ace Soft Tip Darts
Experience ultimate non-slip performance with Ace darts. The barrels feature a unique vulcanised rubber grip, for improved control. Supergrip shafts and 100 micron Marathon flights complete the total grip concept.
Harrows Silver Arrow Soft Tip Darts
Silver Arrow range features precision brass barrels which are finished with an elite silver chrome to create a stylish look for the intermediate player.
Flights and shafts may vary.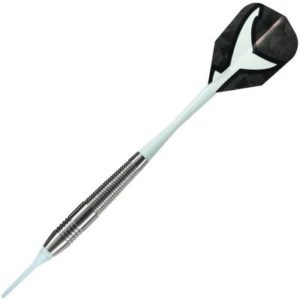 Harrows Silver Shark Soft Tip Darts
Harrows Silver Sharks are designed for the advanced player. The aggressive, jagged-cut grip is used by professional players as it allows for consistent release.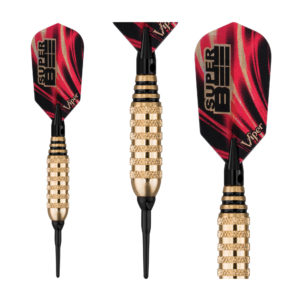 Viper Super Bee Soft Tip Darts
Viper Black Magic Soft Tip Darts
Black coated brass alloy barrels
Knurled grip
Lifetime barrel warranty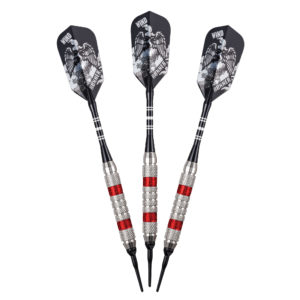 Viper Wind Runner Soft Tip Darts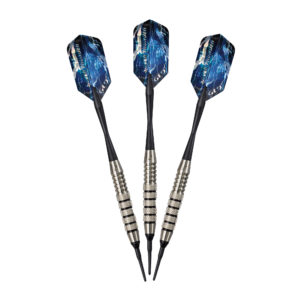 Viper Silver Thunder Soft Tip Darts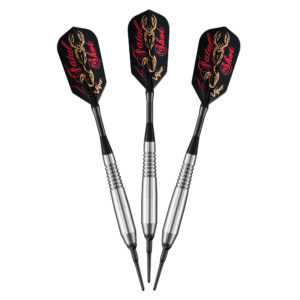 Viper Underground Soft Tip Darts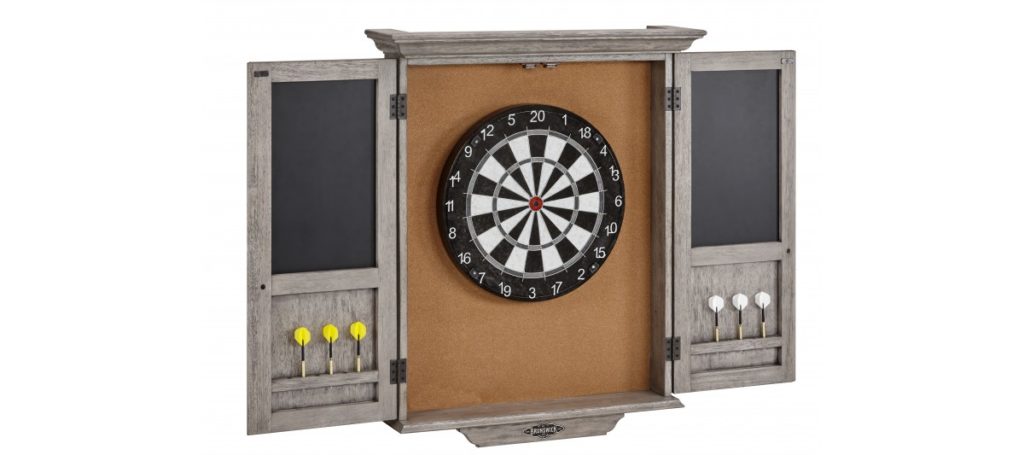 Brunswick Dart Cabinet
The Brunswick dartboard cabinet is a great addition to any game room and provides the best solution for keeping your game organized and your walls protected. Its cabinet doors feature double chalk scoreboards, magnetic catches, chalk groove and dart holders for storage. Features a cork backboard for steel-tip darts. Cabinet holds most steel- and soft-tip darts. Constructed of hardwood and hardwood veneers with antique bronze hinges and cabinet door knobs. Offered in black wire brush, chestnut, espresso and rustic grey finishes. Cabinet dimensions are 37" x 30.25" x 7.25". Dartboard and darts not included.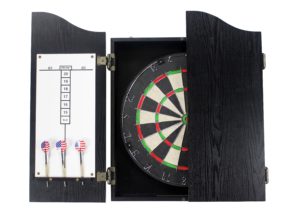 Legacy Heritage Dart Cabinet
Black finish dartboard cabinet is a perfect finishing piece for any game room. Includes a dry eraser score board and dart storage. Some Assembly Required. Dartboard included.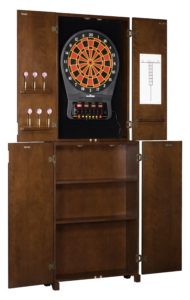 Legacy Heritage Standing Dart Cabinet
The free standing dartboard cabinet is a perfect choice for your home. This cabinet is furniture quality and available in a variety of wood finishes. Cabinet assembles easily by attaching the top half of the cabinet to the bottom base. Built to fit any steel tip or electronic dartboard. All upper cabinets include: pre-drilled holes for a power adapter cord to be invisible, a scoring whiteboard with marker, and storage shelves for upright dart storage. The Lower base cabinet has adjustable shelves to store all your accessories. CABINET DOES NOT INCLUDE DARTBOARD OR DARTS.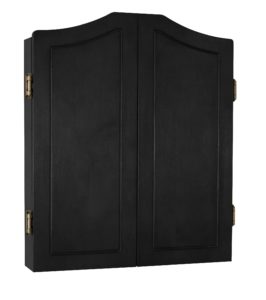 Legacy Classic Dart Cabinet
If you're looking for a great looking traditional dartboard, you've come to the right place. Our Classic Dartboard cabinet has clean, simple lines in rich tones that complement any style. CABINET DOES NOT INCLUDE DARTBOARD OR DARTS.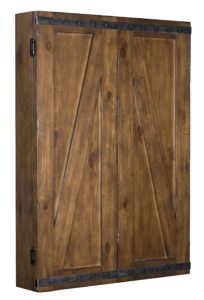 Legacy Rustic Dart Cabinet
Add some rustic charm to your room with the Rustic Dartboard Cabinet. Handcrafted with metal accents, fits a steel tip or electronic dartboard, store up to 12 darts upright, and also includes a score whiteboard and marker to keep track of the score. Constructed using solid pine or ash wood. Available in three popular Rustic finishes. CABINET DOES NOT INCLUDE DARTBOARD OR DARTS.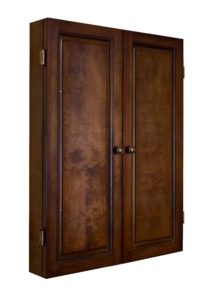 Legacy Sterling Dart Cabinet
Featuring true raised panels and brushed metal hardware, the Sterling Dartboard Cabinet is a great addition to your game room. When the doors of the Sterling Dart Board cabinet are open it reveals a central cabinet space that will easily fit most electronic dartboards or the Legacy Sniper Dart Board along with a chalk scorepad and a dart storage area. Sterling is now available in the new distressed wood, Old English finish. CABINET DOES NOT INCLUDE DARTBOARD OR DARTS.