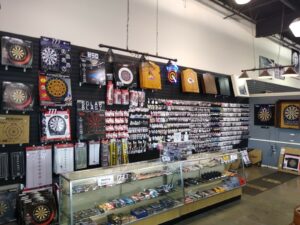 We have the largest dart selection in the area. We carry all your soft tip and steel tip darts and accessories for the beginner or experienced dart thrower.  We have an extensive selection of flights, shafts, cases, steel tip & electronic soft tip dart boards, throw lines, dart cabinet lighting, electronic score units, replacement tips, dart sharpeners, conversion points, dart board storage cabinets, backboards, dry erase scoreboards, laser dart lines, dart mats, fit flight systems, and dart wrenches.
WE HAVE MUCH MORE INVENTORY THAN SHOWN! CALL OR VISIT FOR FULL INVENTORY!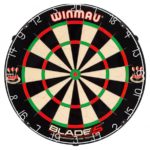 Winmau Blade 5
The Blade 5 pushes the boundaries of dartboard technology to its limits. The new wiring system allows for 9mm² extra scoring area in the doubles and 6mm² extra scoring area in the trebles, with a 14% reduction in web surface area for higher scoring. The Dynamic Sector Wires are 20% thinner and the Radial Wires are 10% thinner for greater scoring potential. The Blade angle has been reduced from 90 degrees inclusive to 60 degrees inclusive, and the Ultimate Tensile Strength of the Dynamic Sector Wire has been increased by 20% to ensure that dart points glide past the wire and into the scoring bed. A new bullseye and 25 ring feature carbon diffusion technology for an ultra-hard surface and improved performance and durability. The Blade 5 now includes the Rota-Lock triple-wheel lock and level system for a secure fit and easy rotation.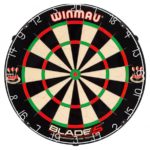 Winmau Blade 6
The latest in the Blade Series of dartboards offers stunning design, innovation and craftsmanship, featuring Winmau's latest, Sixth Generation, dartboard technology. The Blade 6 dartboard delivers outstanding playability, durability and performance.
Blade's pioneering web design features the latest 'Density Control™' wire for optimum fibre density and improved dart retention in the double, treble and bullseye zones, for maximum scoring power. The ultra-thin 60° angled wire deflects darts into the scoring area for absolute minimal bounce outs. The fully hardened bullseye and outer bull, both featuring 'Density Control™' wire, are now 25% thinner.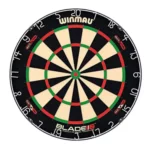 Winmau Blade 6 Duel Core
Blade 6 Dual Core's finely tuned innovations are a statement of performance and quality made for the most aspiring dart player.  The patented Dual Core dartboard base offers a seamless, high visibility playing surface and optimised core density designed for maximum scoring. Reduced density at the outer core facilitates smooth dart penetration whilst the high-density inner core absorbs excess kinetic energy, optimising dart retention and durability.  Blade's pioneering web design features the latest 'Density Control™' wire for optimum fibre density and improved dart retention in the double, treble and bullseye zones, for maximum scoring power.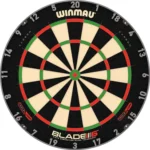 Winmau Blade 6 Triple Core
The Winmau Blade 6 Triple Core is the one of the most technically advanced dart board and the culmination of 30 years of engineering and innovation. The revolutionary Triple Core sisal base complements Sixth Generation Blade technology, offering the ultimate combination for optimal fibre density and maximum scoring. The Triple Core Carbon features an all-new patented system with a seamless playing surface and a third, high compression layer, with carbon fibre reinforced sisal. The ultimate in dartboard construction, providing optimal fibre density, unrivalled dart retention and maximum scoring. Finished with all-new graphics, and the world's first laser cut anti-glare number ring for the ultimate playing experience.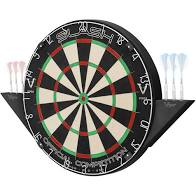 Slash
Viper's most advanced sisal dartboard yet, the Slash pushes the limits of dartboard technology to give you the ultimate playing experience.
The Viper Slash is constructed from the highest grade African sisal fibers on the market, compressed to the highest density possible. These bristle fibers give the Slash its self-healing properties. Any holes left from dart points seal back to pristine condition. The ultra dense sisal allows us to include the thinnest razor wire we've ever had on a bristle board. This razor wire increases the scoring area of each segment for higher scores and less bounce outs for a fast-paced game without stopping play! The razor-thin wire and bullseye are free of traditional staples that can interfere with your game and cause bounce outs. Prepare for tournament play with the Slash. Its regulation size of 17.75" (451 mm) matches perfectly with high level event boards.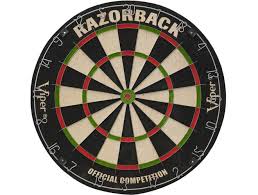 Razorback
The Viper Razorback is a 100% staple-free spider dartboard constructed from self-healing sisal bristle fibers compressed together, providing unsurpassed durability. Utilizing razor thin galvanized wires, the surface area is greatly increased which helps prevent bounce-outs.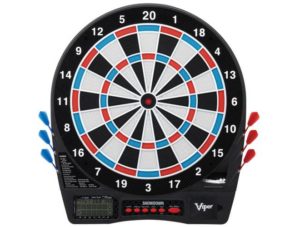 Viper 777
The Viper® Showdown is the perfect board for casual play, competitive practice, and more. Its streamlined design makes it fun and easy for everyone. Play 32 games with up to 8 players or practice your skills and play against the computer. Requires 3 AA batteries (not included).
Viper VTooth 1000
For the first time ever, using Bluetooth Smart technology, you can connect your dartboard wirelessly to a smart phone, tablet or other device via the Viper Darts Linkup app. This revolutionary free new app will allow you to keep track of all your scores with a customized profile that will save your progress and measure your darting stats. The free Viper Dart Linkup App is launching with 16 games available with many more to come. The Vtooth has a regulation 15.5" target face, so you can practice on the same size board as the pros. The Vtooth features Target Tested Tough segments that will stand up to the toughest punishment, in addition to an ultra-thin spider to minimize bounce-outs. Furthermore, the Vtooth features concave segment holes that lock in your shots. The multiplayer feature supports up to 4 players, so no one is left behind. Embrace the new technological revolution in dartboards with the Viper Vtooth!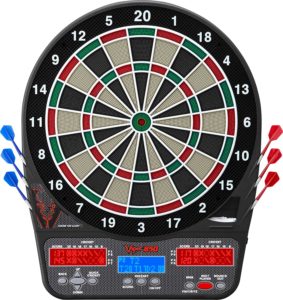 Viper 850
The STATE OF THE ART Viper 850 Electronic Dartboard provides the next level in dart gaming. Headlined by the ULTRA BRIGHT triple score display, the 850 provides the best scoring experience yet. The enhanced definition on the central display allows for better scoring graphics than ever before seen, while the traditional double cricket display utilizes the best brightest LED in the industry for HIGH VISIBILITY. The options are numerous with 50 GAMES preprogrammed into the board and over 470 scoring variations. The 850 features an expertly constructed 15.5" target face for heavy use and HIGH SCORES. Featuring Target-Tested-Tough segments made from High-Grade Nylon, the 850 endures the toughest throws! Each segment features locking holes and is connected by ULTRA-THIN spider to minimize bounce-outs and maximize scores. The 850 includes SIX STARTER DARTS to get you throwing right away and a throw line measuring tape to ensure your games are from the right distance.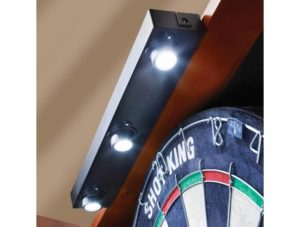 Viper Shadow Buster
Bring your game out of the darkness with the Viper Shadow Buster Dartboard Illuminator! This specially designed light bank is specifically designed to illuminate your dartboard cabinet, for enhanced visibility and heightened accuracy. The adjustable light pods allow the Shadow Buster to flood any dartboard in gleaming radiance. The refreshing light can bring out the best look for your cabinet and turn it into a true centerpiece of your game room. The Shadow Buster easily attaches to any flattop dartboard cabinet and flips up when not in use. It can be powered by 4 AA batteries (not included), for a clean, wireless look, or an optional AC Adapter (Not Included) to best suit your needs. Enjoy your best darting experience with the Shadow Buster by Viper!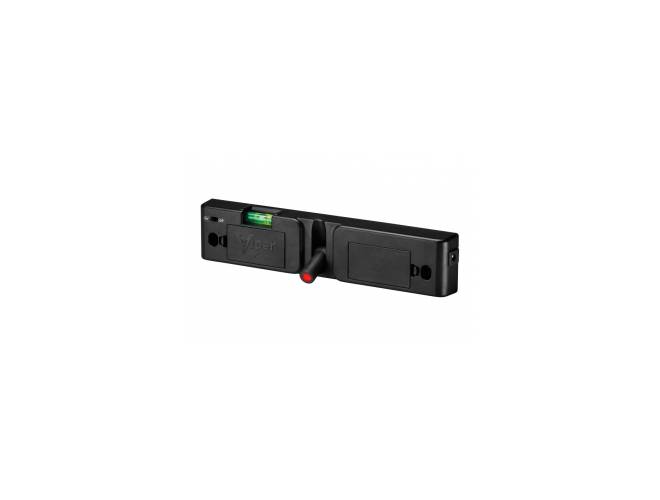 Viper Laser Line
No need to damage your floor with stickers or tape. The Viper Laser Dart Line accurately marks your throw-line and disappears with a flick of the switch. This laser throw line lets you digitally find where to throw your darts. Works for steel and soft tip boards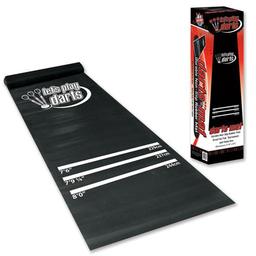 Viper Dart Mat
Heavy duty rubber 3mm thick. Printed with Let's Play Darts logo and international throw lines.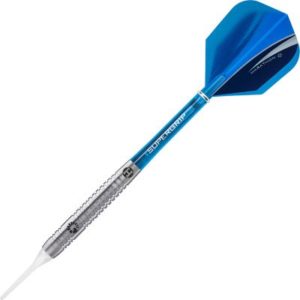 Soft Tip Darts
We carry many brands of Soft tip Darts. Brands like Viper, Harrows, Shot, Lazerdart, Elkadart, Horizon and many more. We have the biggest selection in the area along with all the accessories that have to do with the game of darts.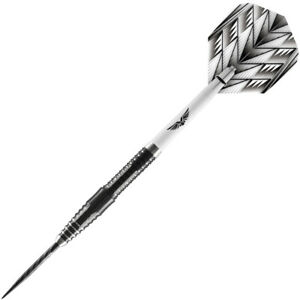 Steel Tip Darts
We carry many brands of Soft tip Darts. Brands like Viper, Harrows, Shot, Lazerdart, Elkadart, Horizon and many more. We have the biggest selection in the area along with all the accessories that have to do with the game of darts.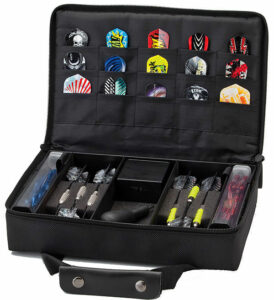 Cases
Assorted Brands and styles of cases.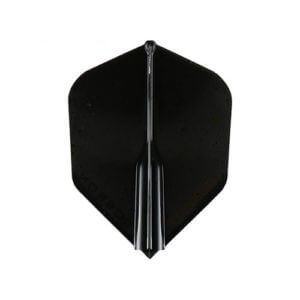 Flights
We carry many brands of flights. Brands like Viper, Harrows, Shot, Lazerdart, Elkadart, Horizon and many more. We have the biggest selection in the area along with all the accessories that have to do with the game of darts.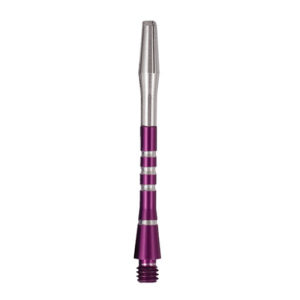 Shafts
We carry many brands of Shafts. Brands like Viper, Harrows, Shot, Lazerdart, Elkadart, Horizon and many more. We have the biggest selection in the area along with all the accessories that have to do with the game of darts.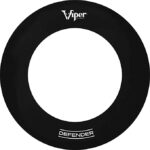 Viper Defender
Safeguard Your Wall - Durable 1" thick EVA foam prevents your darts from damaging your wall with 2.8 square feet of coverage

Reversible - Backside is jet black so it can be easily flipped to prolong the lifespan of your surround and give you a cleaner look

Universal Compatibility - Works with both 18" and 17.75" sisal dart boards, simply use the included adhesive band for smaller dart boards

Protect Your Darts - Catches your darts and protects them when playing on harder surfaces, like cement or brick

Quick Setup - Simply snap the segments together and mount it around your dartboard to use, no extra holes in your wall
Viper Defender II
The Defender II Dartboard Surround is constructed of 1" thick high density V-Foam and fits any standard 18" bristle dartboard. The Defender II provides up to 10 3/4"protection from stray Darts. The surround is easily assembled with 4 locking pieces & is fully reversible for lasting protection.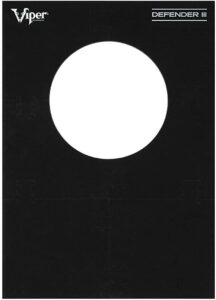 Viper Defender II
Accommodates Both Standard 17. 75 Inch And 18 Inch Bristle Dartboard

Provides 8. 2 Square Feet Of Protection, With A 1 Inch Thick High-Density V-Foam

An Attractive Velvet Surface Minimizes Signs Of Wear

Easy To Assemble Compression Fitting Requires No Additional Bracing, Mounting Hardware Or Tools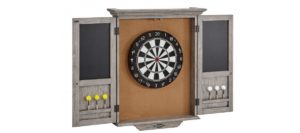 Brunswick Dart Cabinet
The Brunswick dartboard cabinet is a great addition to any game room and provides the best solution for keeping your game organized and your walls protected. Its cabinet doors feature double chalk scoreboards, magnetic catches, chalk groove and dart holders for storage. Features a cork backboard for steel-tip darts. Cabinet holds most steel- and soft-tip darts. Constructed of hardwood and hardwood veneers with antique bronze hinges and cabinet door knobs. Offered in black wire brush, chestnut, espresso and rustic grey finishes. Cabinet dimensions are 37" x 30.25" x 7.25". Dartboard and darts not included.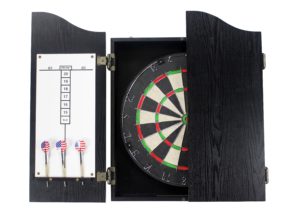 Legacy Heritage Dart Cabinet
Black finish dartboard cabinet is a perfect finishing piece for any game room. Includes a dry eraser score board and dart storage. Some Assembly Required. Dartboard included.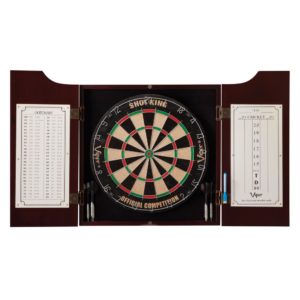 Viper Hudson Dart Cabinet
Complete your game room with an all-inclusive dart cabinet bundle. Everything you'll need to get started playing darts is contained in the Viper Hudson All-In-1 Dart Center. The centerpiece of your dart experience is of course the dartboard. The Hudson bundle includes a Viper Shot King Dartboard, giving you the excellence in quality you've come to expect from Viper. The Shot King is constructed from compressed sisal fibers, the latest innovation in steel tip darting. These dartboards will last years longer than their old school wood or paper counterpoints. The Shot King dartboard features a 100% staple-free bullseye. Other dartboards secure the spider with staples, increasing bounce-outs and frustration. In order to house the Shot King Dartboard, we have also included the Hudson Dartboard Cabinet, constructed from 100% solid pine. The construction quality in this cabinet is top notch, using box joints and self-closing brushed nickel hinges. Built directly into the cabinet doors are a convenient Cricket scoreboard with dry erase marker and a handy out-chart gives you the surest path to victory. Included as well are 2 sets of steel tip darts, you can get your game on as soon as the board and cabinet are hung with easy-to-use mounting hardware. Your game room will be complete once you order the Hudson All-In-1 Dart Center.
Total package: this bundle includes everything you need to have a complete darting addition to your game room or man cave
Constructed from solid pine with box joints and brushed nickel hinges
Included shot king dartboards is constructed from high grade, self-healing compressed sisal fibers
Official tournament size measuring 18 in. Dia
Includes cricket scoreboard, dry erase marker, shot king sisal dartboard, mounting hardware and 2 sets of steel tip starter darts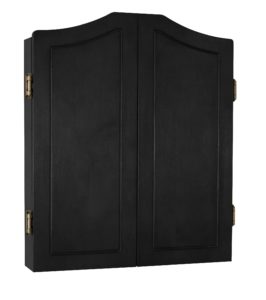 Legacy Classic Dart Cabinet
If you're looking for a great looking traditional dartboard, you've come to the right place. Our Classic Dartboard cabinet has clean, simple lines in rich tones that complement any style. CABINET DOES NOT INCLUDE DARTBOARD OR DARTS.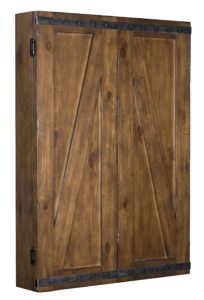 Legacy Rustic Dart Cabinet
Add some rustic charm to your room with the Rustic Dartboard Cabinet. Handcrafted with metal accents, fits a steel tip or electronic dartboard, store up to 12 darts upright, and also includes a score whiteboard and marker to keep track of the score. Constructed using solid pine or ash wood. Available in three popular Rustic finishes. CABINET DOES NOT INCLUDE DARTBOARD OR DARTS.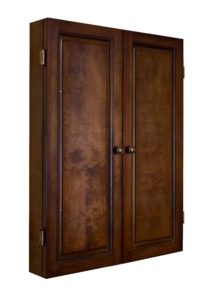 Legacy Sterling Dart Cabinet
Featuring true raised panels and brushed metal hardware, the Sterling Dartboard Cabinet is a great addition to your game room. When the doors of the Sterling Dart Board cabinet are open it reveals a central cabinet space that will easily fit most electronic dartboards or the Legacy Sniper Dart Board along with a chalk scorepad and a dart storage area. Sterling is now available in the new distressed wood, Old English finish. CABINET DOES NOT INCLUDE DARTBOARD OR DARTS.