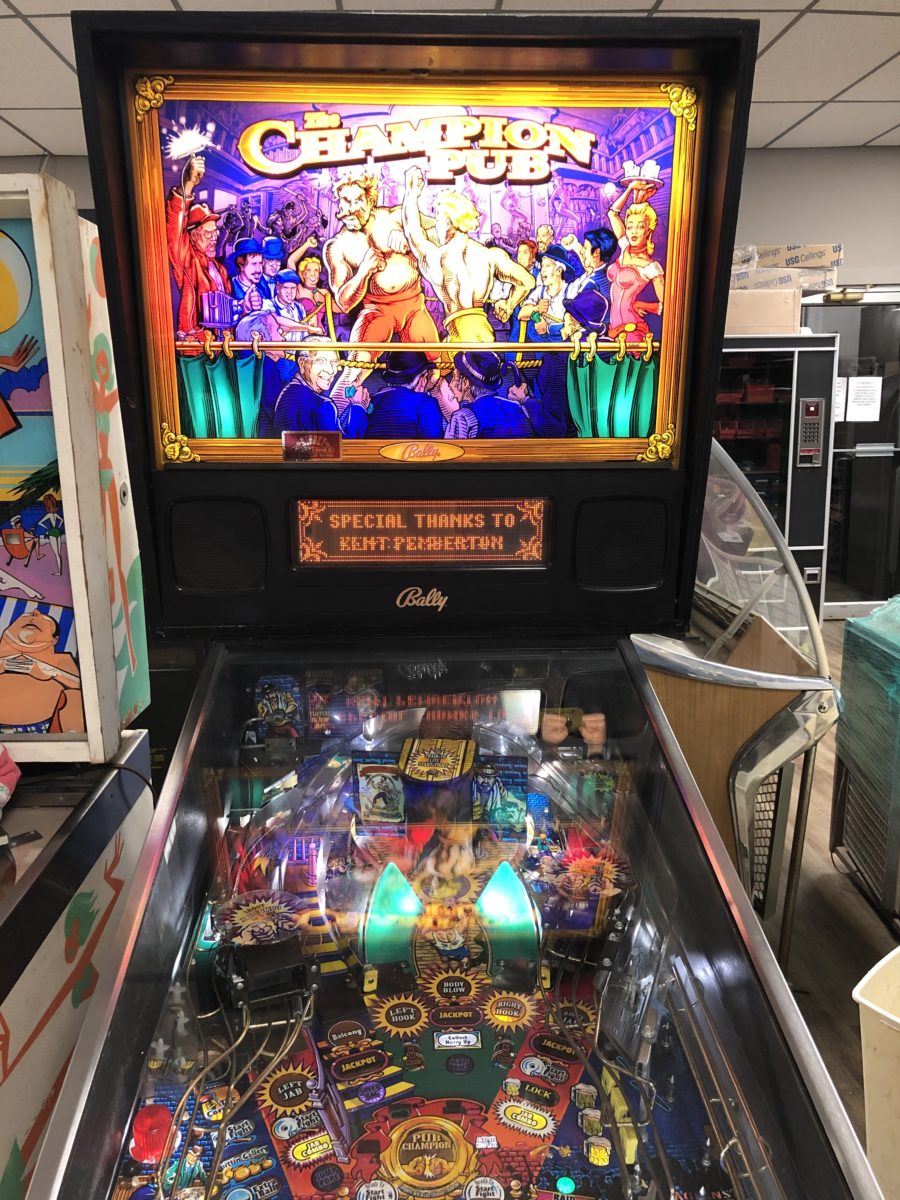 South Park Pinball Machine
One of the coolest pinball machines I have seen yet! Lots of obstacles and moving parts. The ball even jumps rope! One of a kind, you have to see it to appreciate it. 
$5000+tax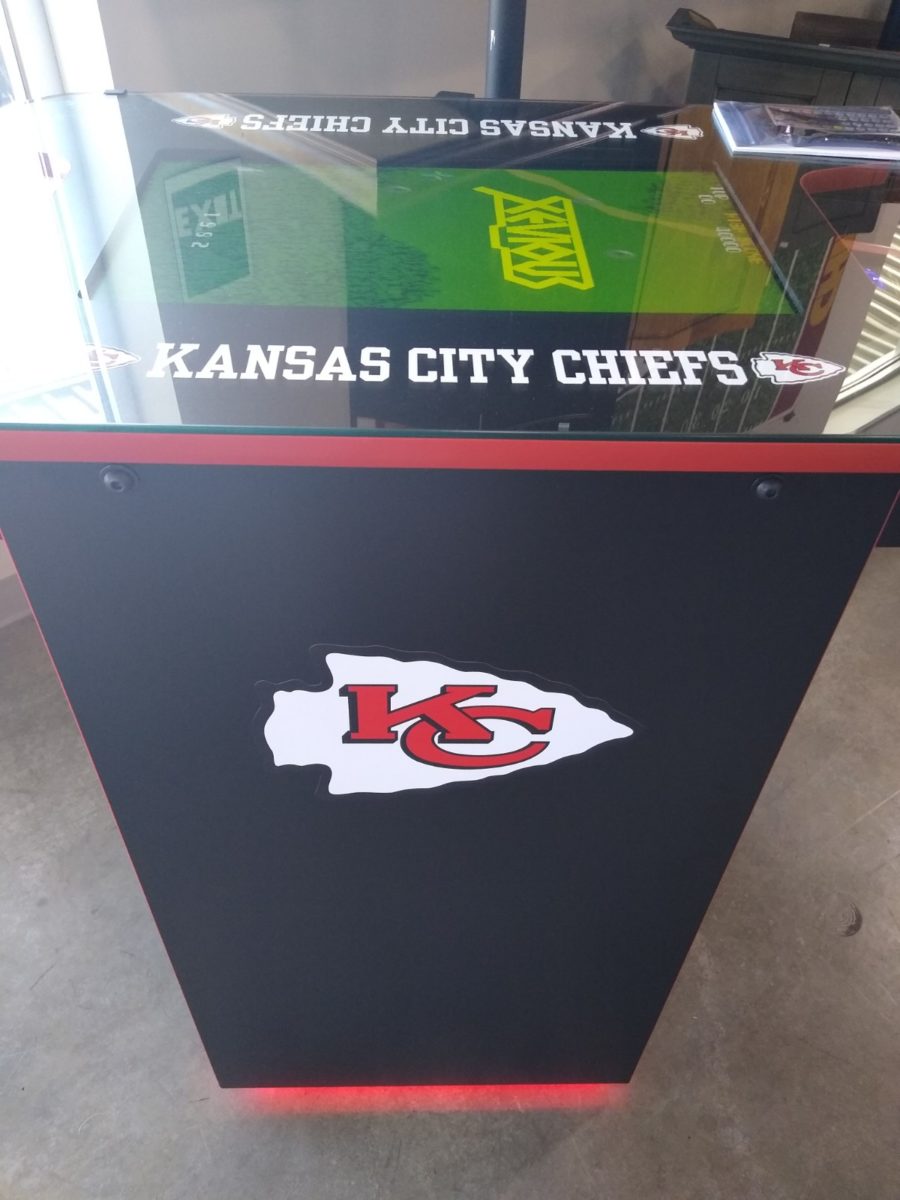 60 in 1 Kansas City Chiefs Multicade
60 games in 1 multicade. Kansas City Chiefs theme. All your favorite 80's games. Pacman, Galaga, Donkey Kong, Centipede, etc. It has LED lights under the cabinet with a remote to change colors. It is 43 inches tall and 23 inches wide. a unique feature is that both sides have a track ball. Comes with a 1 yr warranty.
A list of all 60 games is available under the Arcade tab. 
$2995+tax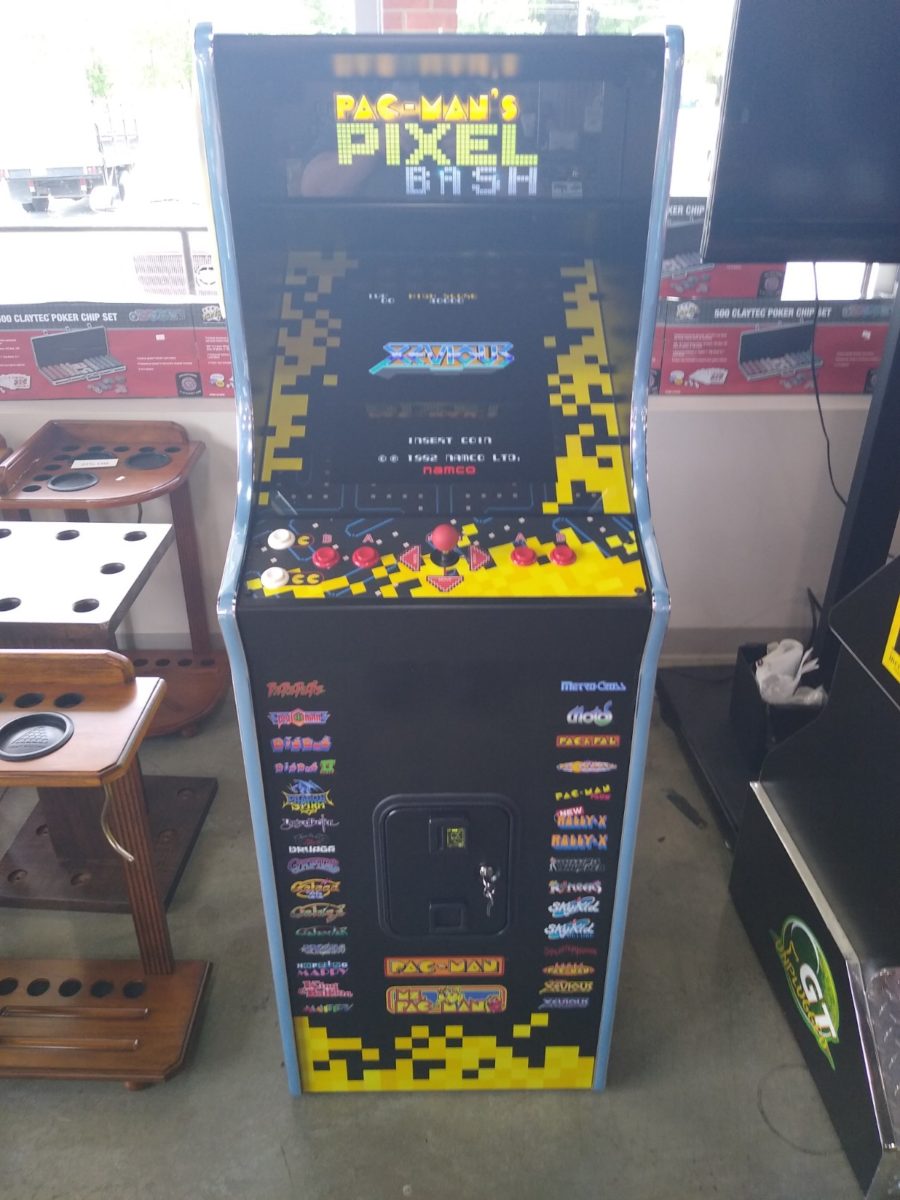 **Brand New**Pac Man Pixel Bash Cabaret
32 OFFICIALLY LICENSED CLASSIC GAMES - Bosconian, DigDug, Dragon Spirit, Galaga, Galaga 88, Galaxian, Mappy, PAC-MAN, Ms. PAC-MAN, Pac Mania, Rally-X, Rolling Thunder, Xevious, Baraduke, Dragon Buster, DigDug II, Tower of Druaga, Gaplus, Grobda, Hopping Mappy, King & Baloon, Metro-Cross, Motos, New Rally-X, Pac & Pal, PAC-MAN Plus, Rompers, Skykid, Skykid Deluxe, Splatterhouse, Super PAC-MAN, and Super Xevious.
Cash and Carry $2799+tax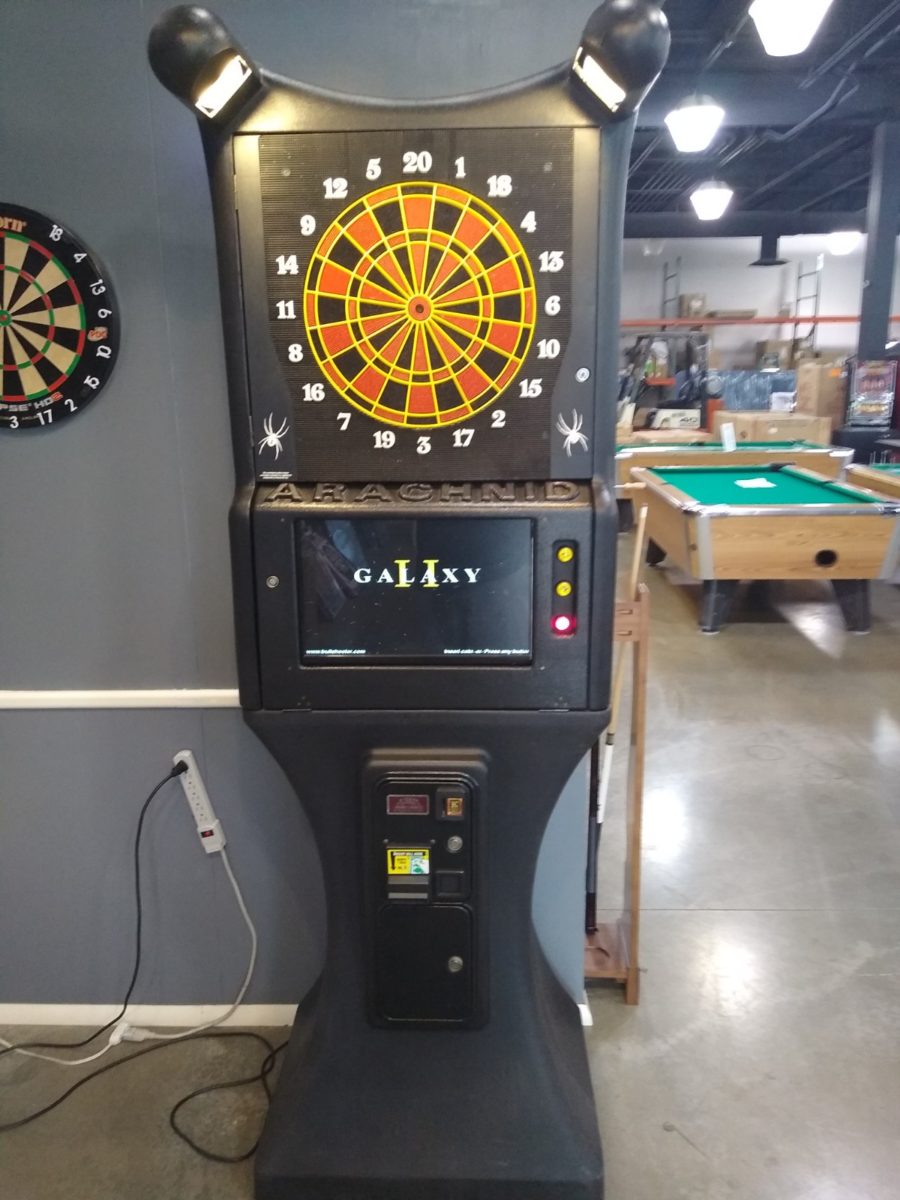 Arachnid Galaxy II Dart Machine
Stand alone dart machine. Coin Operation will be taken out, and it will be on free play. Many different games and lots of players at the same time. You can have the playing at the bar experience right at home! 
Cash and Carry Price is  $2000+tax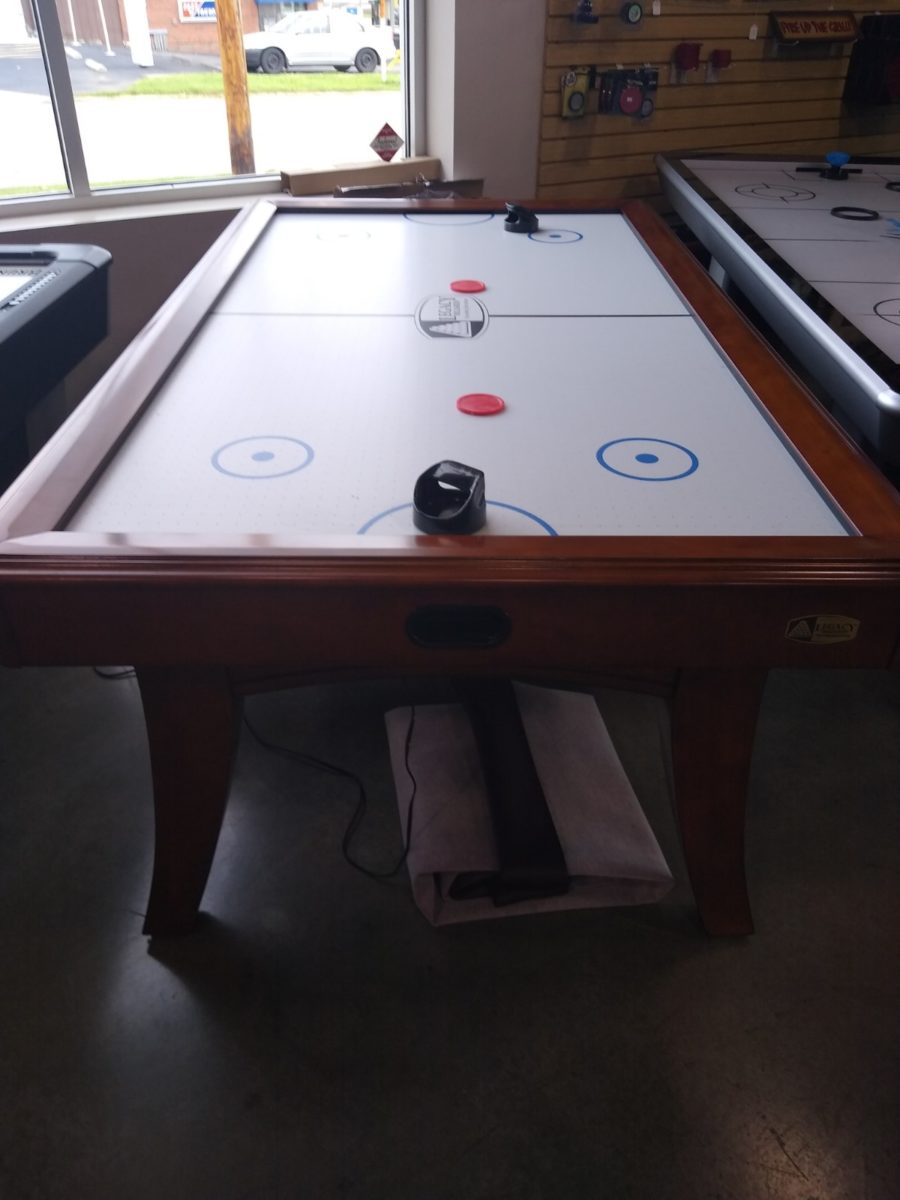 7' Ella Air Hockey Table
For ultra smooth shots and pucks that stay in play, accept nothing less than the Ella Air Hockey Table. This sophisticated residential design adds flare with any home game room decor.
It also has a perfect drawer to hold all the supplies. When you push it in it hides completely under the table.
Cash and Carry price is $1500+tax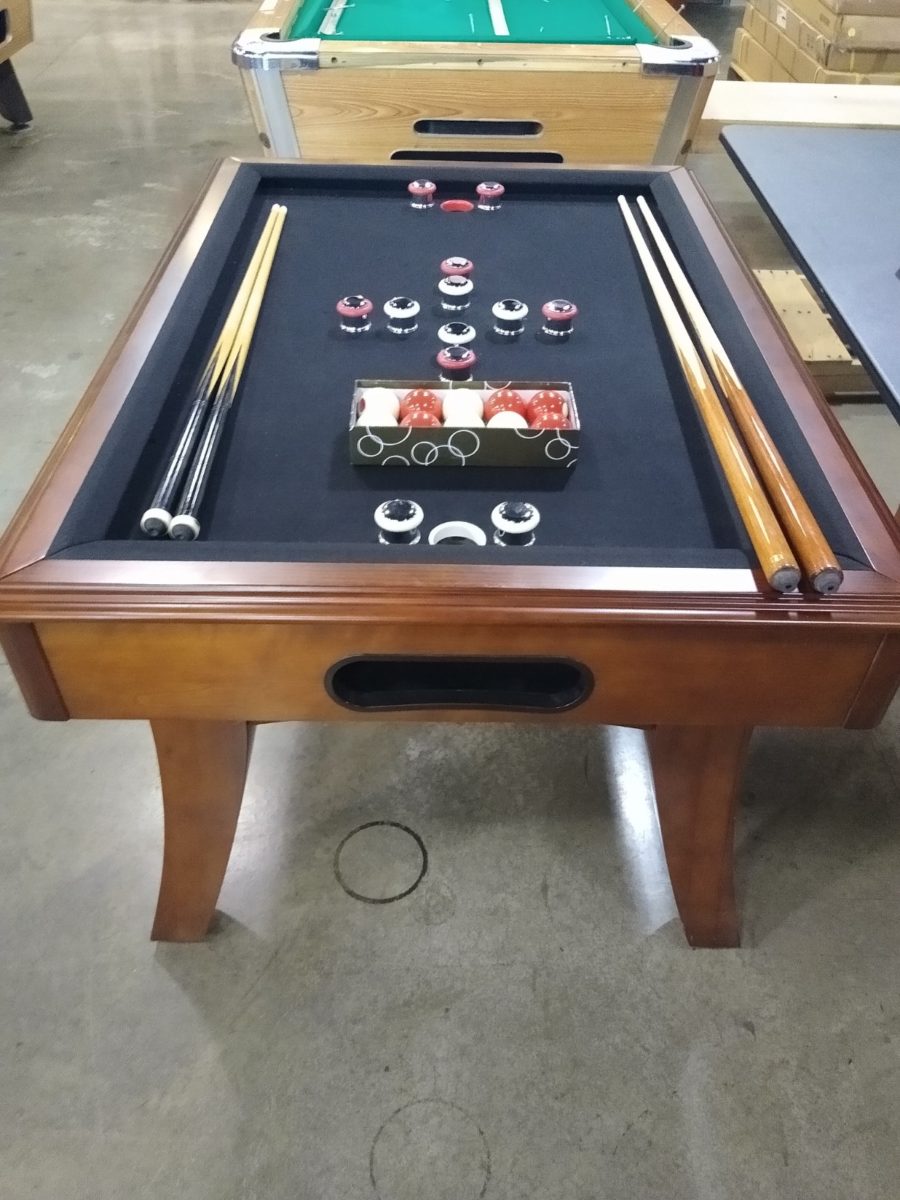 Legacy Ella Bumper Pool Table
This Elegant Ella bumper pool table will bring a relaxed and inviting style to your home. The Ella brings you the classic game of bumper pool in a stylish, modern style. Features include a slate play surface with billiard table cloth, metal bumpers and ball return system. Comes with Dining top, 4 cues, balls and a cover.
Cash and Carry $1200+tax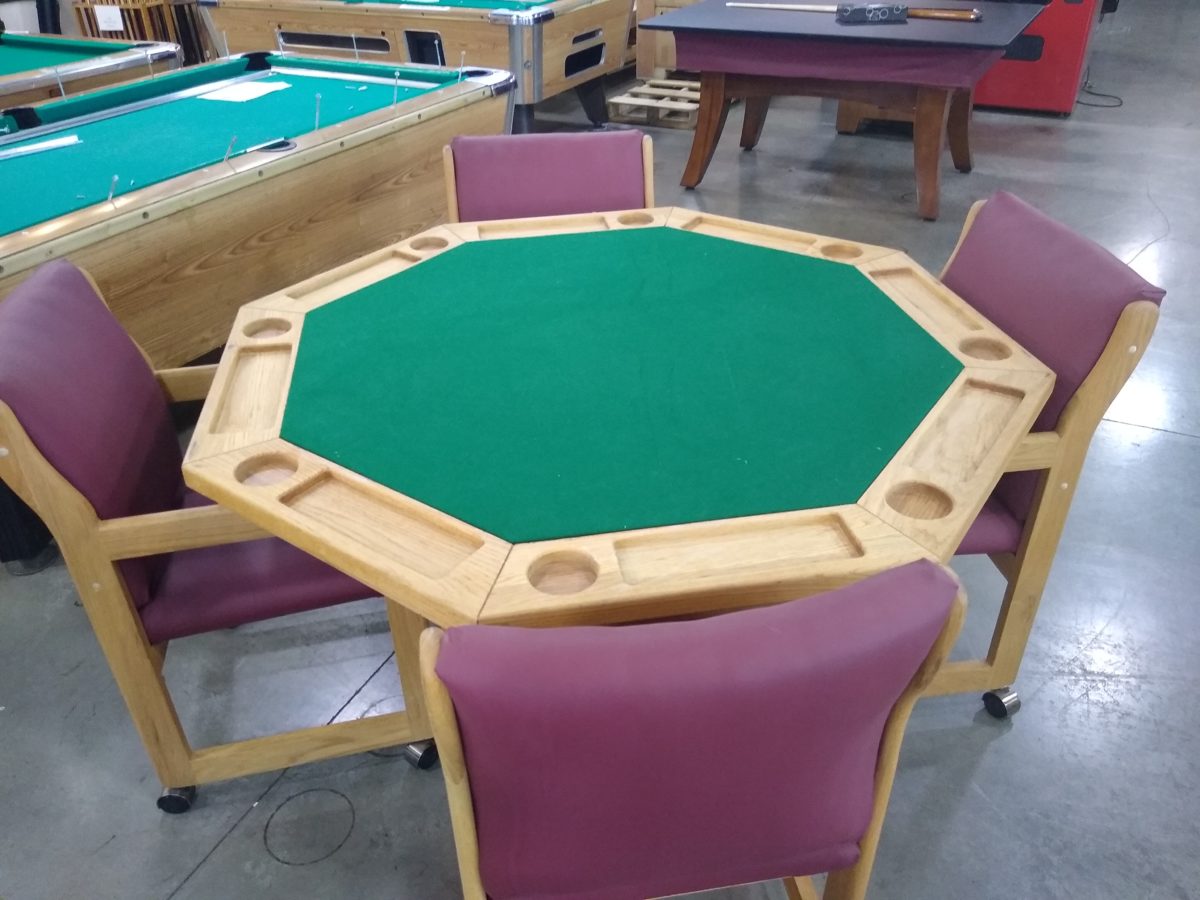 Poker Table w/ Chairs
This table is in great shape. Felt is good, seats are good and roll very smoothly.
Cash and Carry price is $500+tax.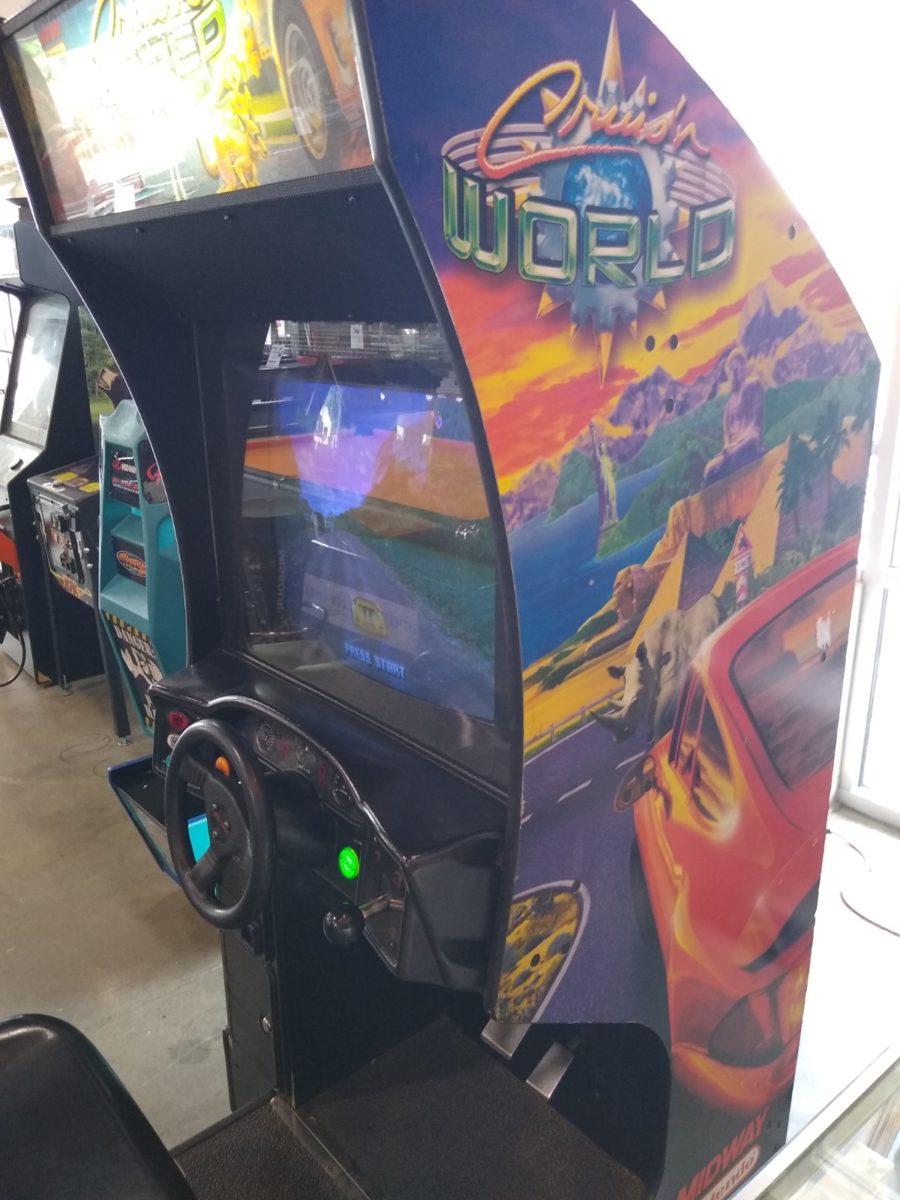 CRUIS'N WORLD ARCADE
Cruis'n World is the 1996 sequel to the 1994 arcade racer Cruis'n USA. Cruis'n World allows players to race on various tracks around the world. The game also features more cars than Cruis'n USA. This game introduced stunts to the Cruis'n series. They served to dodge obstacles, take close curves and so.
This machine has be gone through, serviced, and upgraded to its current great condition.
It is sold "AS IS". 
Cash and Carry price:
$1250+tax
Please call or come by if you have a used pool table or other used equipment you want to sell or purchase.  417-831-0209
Kinney Billiard Sales has great deals on used equipment such as pool tables, jukeboxes, bumper pool tables, shuffleboard tables,  and video games.  Used equipment inventory rotates quite often so check back frequently as we try to update the inventory in real time.  All our used equipment has been inspected and guaranteed at the time of purchase that everything is in good working order.  Pool table rail rubber will not be too hard or too soft which indicates damage.  It should be firm but not rock hard.  cloth condition varies but if the cloth is too worn we will have an option for the customer to buy new cloth at a discounted price.  You may also get new cloth on your used pool table at a discounted price if you want to change the color.  Most of our used equipment includes local delivery and installation.  Mileage fees may apply outside of the Springfield, MO metro area.  Because used equipment aesthetic condition varies so much we highly encourage customers to see the items in person before purchasing.  We try our best to provide realistic pictures but not every scratch and mark will show up in a photograph.