Skee-Ball has endured a lot throughout our country's history and economic climate, yet has always persevered due to the love of the game.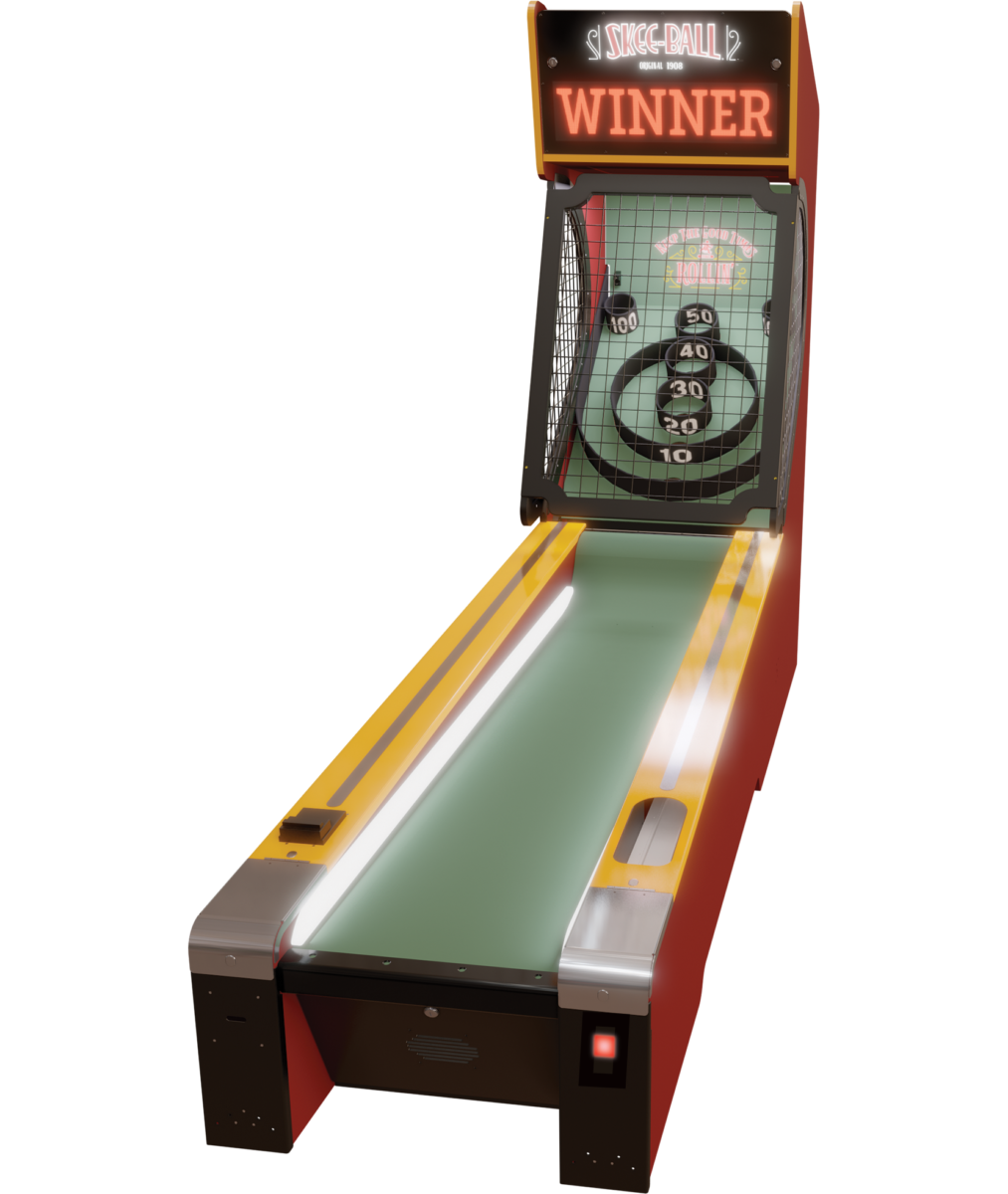 The Classic
For that special touch of nostalgia, Skee-Ball classic provides its traditional game play with the industry-standard 10-foot ramp.
Game room owners can link a bank of alleys and add the marquee to finish off the look, drawing in players of all ages.
Homeowners can take original Skee-Ball alley found in game rooms, carnivals, fairs, and boardwalks worldwide. The free play button comes standard for the home market so you and your friends can play over-and-over for high score!
Lanes sold separately.
Assembled: 2'6" W x 10'2" D x 7'1" H
Weight: 645 lbs.
Ship Weight: 695 lbs.

Glow
Experience the Skee-Ball game that is sure to stand out in the crowd!
Skee-Ball "Glow" is aptly named with its elaborate lighting package and all the glitz and glam you'd expect from a boardwalk game in the early 1900s when Skee-Ball was born. It's perfect in low-lit FECs and game rooms where they need to stand out from the other bright, attention-grabbing games nearby.
Patented in 1908, Skee-Ball is THE original alley game – anything else is just a substitute! Now complete with valuable product design updates and a new look that reflects the vintage, glamorous style of that time period, Skee-Ball "Glow" is sure to attract attention in any game room.
Lanes sold separately. Ships on 1 skid, 2 pieces
Assembled: 2'6" W x 10'2" D x 7'8″ H
Weight: 645 lbs.  Ship Weight: 695 lbs.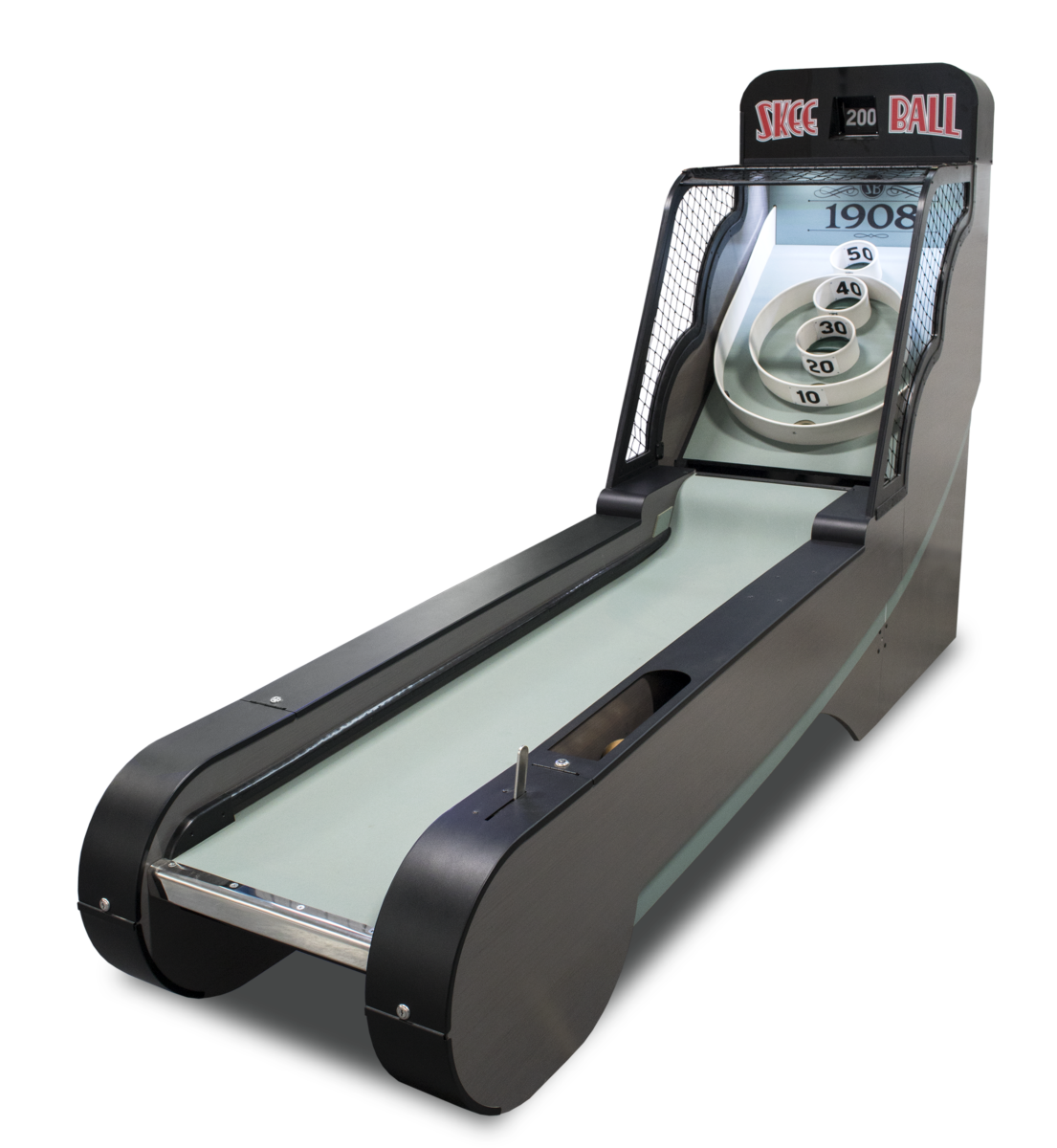 1908
Meet the beautifully crafted 1908 alley, designed specifically for the home market. Engineered with the original Skee-Ball alley in mind, the 1908 pays homage to the launch of the first alley roller, patented in 1908. It's both an enthusiast's and a collector's dream.
The 10-foot alley boasts traditional colors, authentic flip display and pull handle activation lever. Entertain and amuse for years to come with this very special piece!
Assembled: 2'6″W x 10'1″D x 6'6"H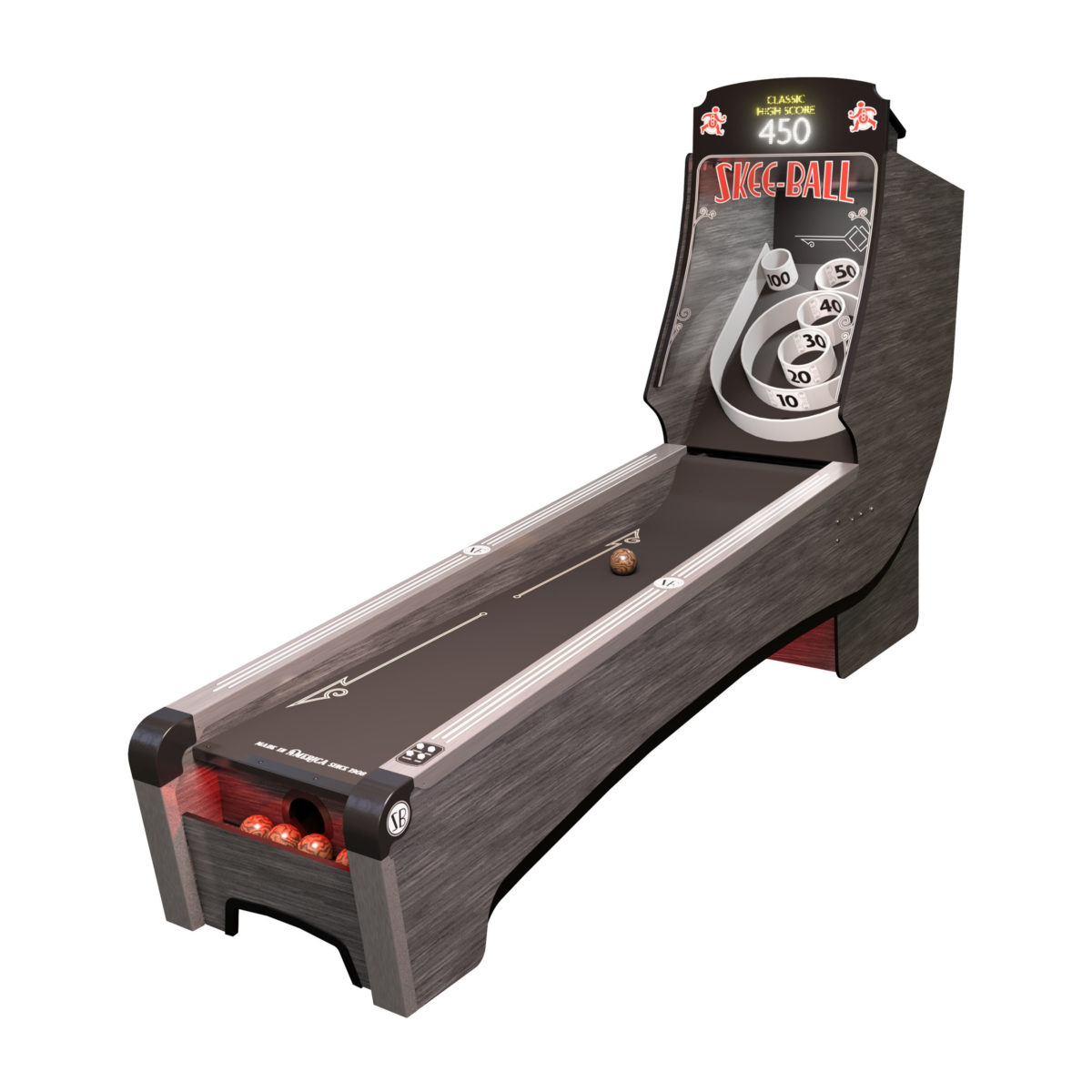 Coal Home Premium
Arcade-style balls, rubber targets, and cork ramp
Coal colored cork for the ramp
Comes with five 2 3/4" heavy woodgrain balls
Comes partially assembled, just connect the head to the ramp
Colorful pixel display with exciting visuals
Official Skee-Ball sounds
Multiple game modes that allow1-6 players
Color changing under-glow
Assembled dimensions 24"W x 103"L x 65"H
Approximately 175lbs (1/3 of the weight on a commercial model)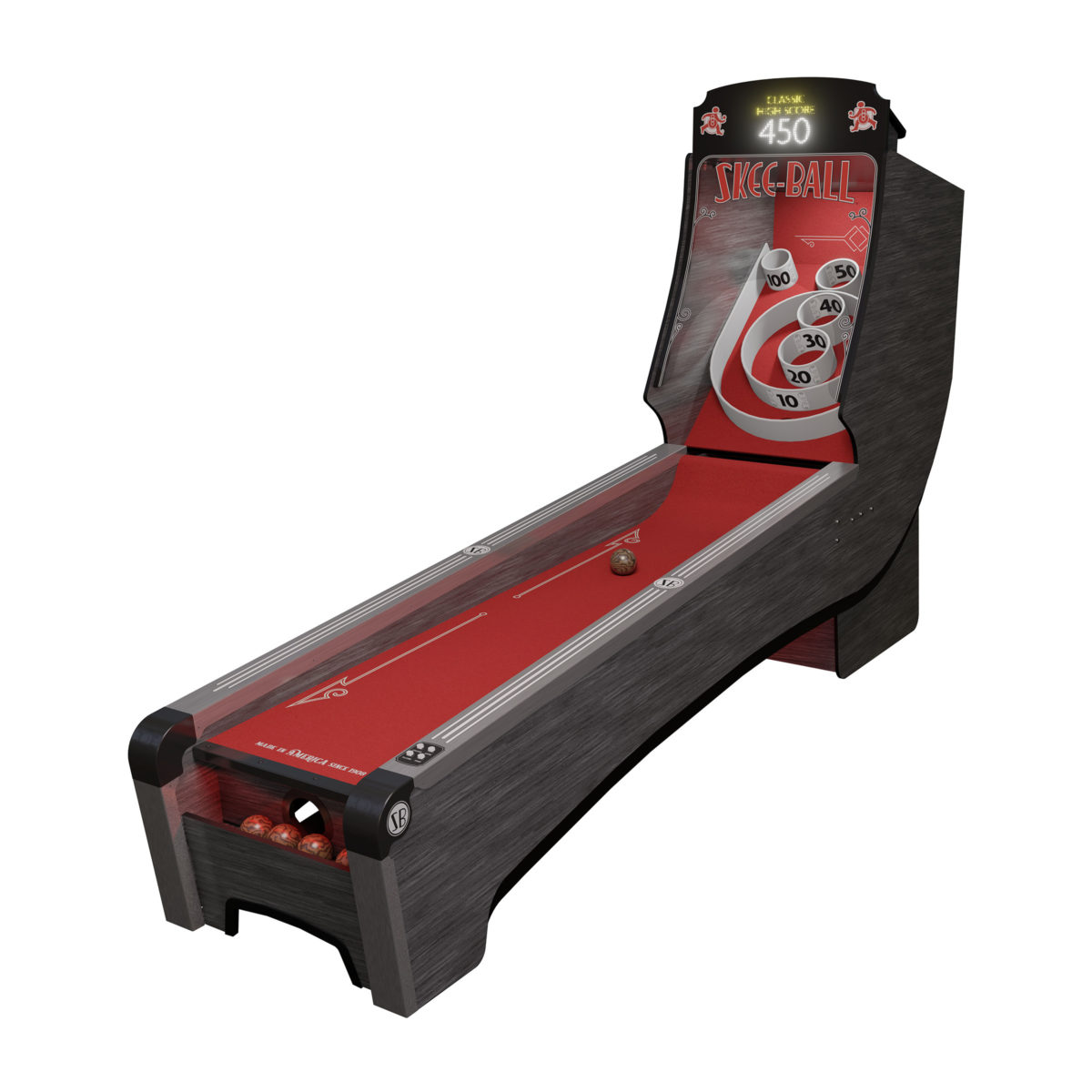 Scarlet Home Premium
Arcade-style balls, rubber targets, and cork ramp
Coal colored cork for the ramp
Comes with five 2 3/4" heavy woodgrain balls
Comes partially assembled, just connect the head to the ramp
Colorful pixel display with exciting visuals
Official Skee-Ball sounds
Multiple game modes that allow1-6 players
Color changing under-glow
Assembled dimensions 24"W x 103"L x 65"H
Approximately 175lbs (1/3 of the weight on a commercial model)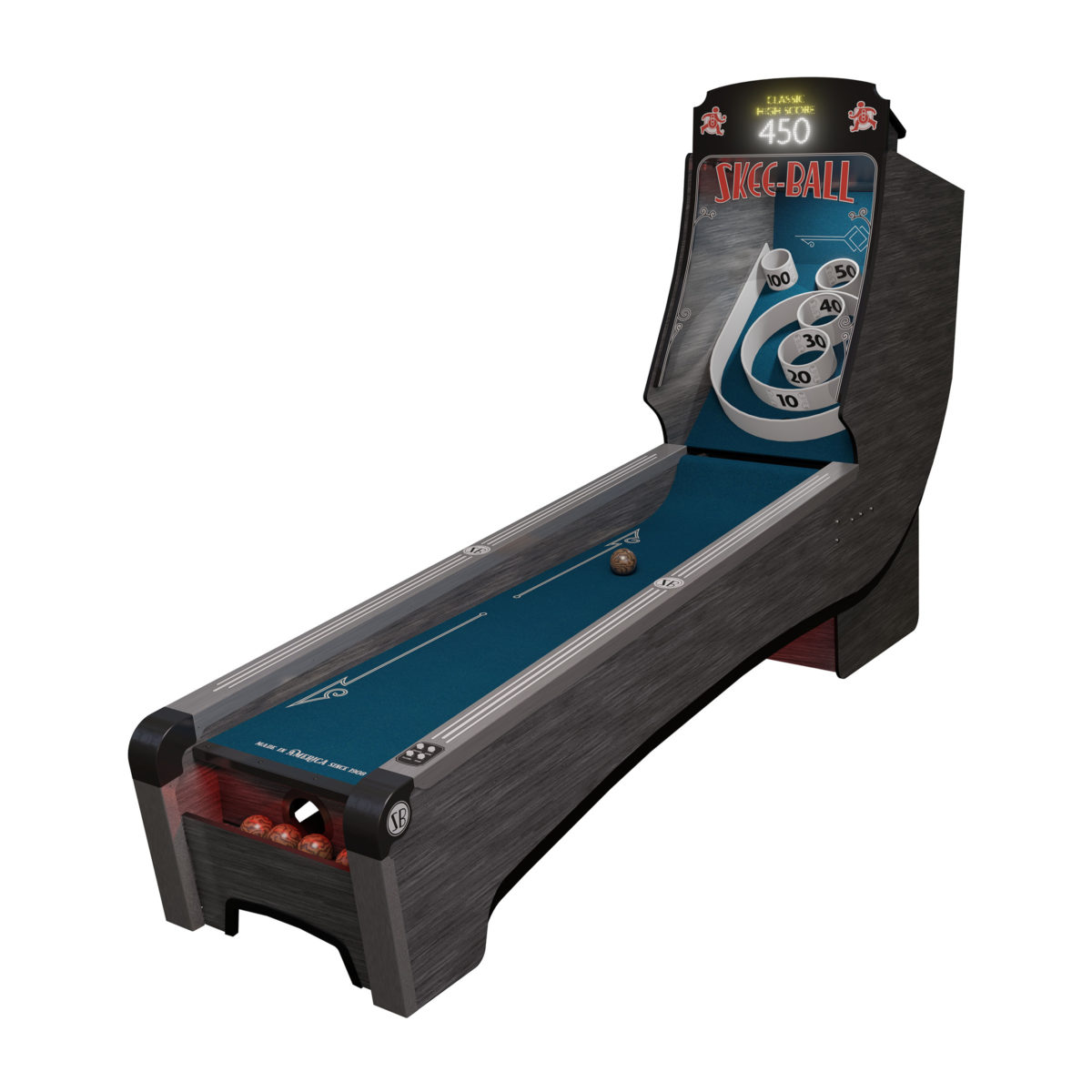 Indigo Home Premium
Arcade-style balls, rubber targets, and cork ramp
Coal colored cork for the ramp
Comes with five 2 3/4" heavy woodgrain balls
Comes partially assembled, just connect the head to the ramp
Colorful pixel display with exciting visuals
Official Skee-Ball sounds
Multiple game modes that allow1-6 players
Color changing under-glow
Assembled dimensions 24"W x 103"L x 65"H
Approximately 175lbs (1/3 of the weight on a commercial model)