Kinney Billiards Sales carries only the best foosball table brands available: Valley Dynamo, Brunswick, and Legacy foosball tables will last a lifetime even with the most rigorous players!  Delivery and installation is available.  We also have the parts and supplies needed for these brands.  We have several different foosball balls, replacement rods, replacement foosball men, washers, bearings, silicone, bumpers, handles, pins and pin punches, scoring units and cup holders!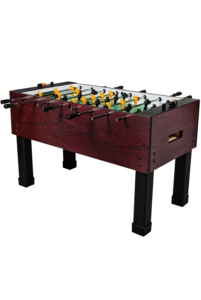 Tornado Sport
The perfect table for starters and the more experienced player. Tornado Sport is built to the same exacting quality standards as the rest of the Tornado product line, right here in the USA. Height adjustment, durable construction and Mahogany Melamine finish allow generations of enjoyment for the young, the young at heart, and even the not-so-young.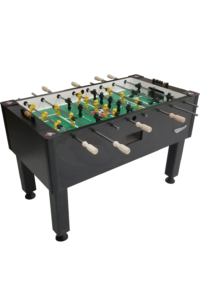 Tornado Classic
The Tornado Classic combines a contemporary look with heavy-duty down corner construction and commercial grade leg levelers.  The black textured leather laminate finish is a match for practically any environment.  Many of the high performance parts, including counterbalanced men, 1 1/2 " thick cabinet walls and 3/4" laminate playfield provide players the highest quality at a great price.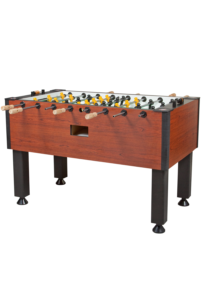 Tornado Elite
Professional grade performance in a more convenient package. This beautiful table includes the heavy-gauge rods, counterbalanced men, commercial-grade levelers and patented split bearings that make Tornado tables a favorite among Tournament players. A durable and attractive Victorian Cherry laminate finish on a 1 ½" thick cabinet ensures a great look now, and for years to come.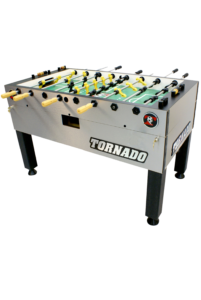 Tornado T3000
Professional grade performance just got better. The Tournament 3000 brings home all the features of the Tornado Platinum Tour Edition…except the coin mechanism. Featuring the upgrades that Tournament Players have asked for.
Our cabinet design allows your table to be shipped nearly assembled for quick and easy set-up on location; 30 minutes from box to first game!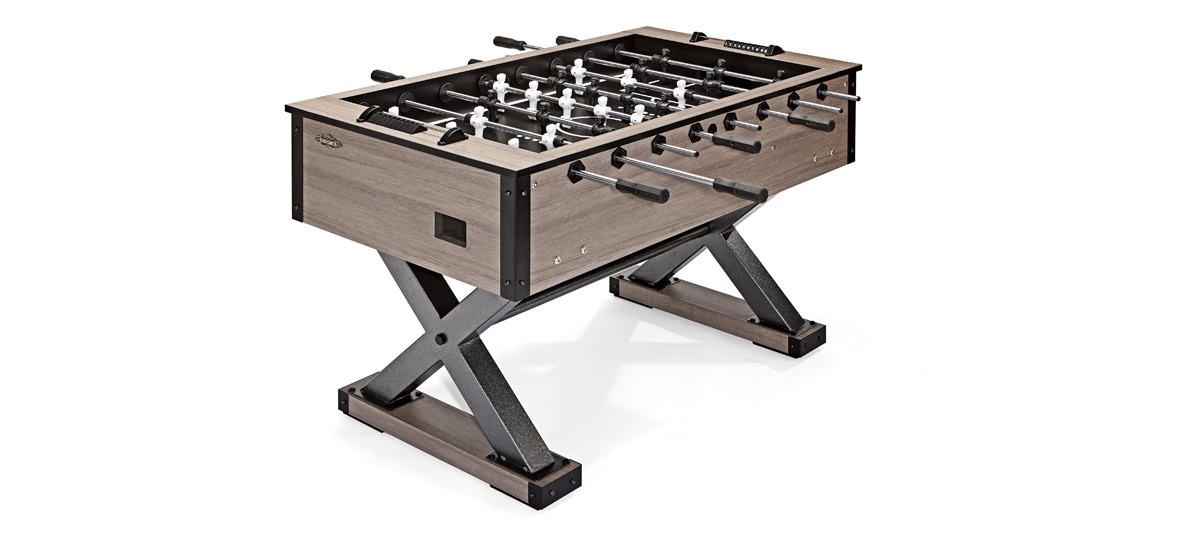 Brunswick Premier
Sturdy vinyl cabinet and melamine play surface
3-man goalie for fast play
Unique metal "X" frame base for increased stability
Pre-assembled player rods for easy assembly
Proprietary player
End ball returns
Adjustable levelers
Three piece bearings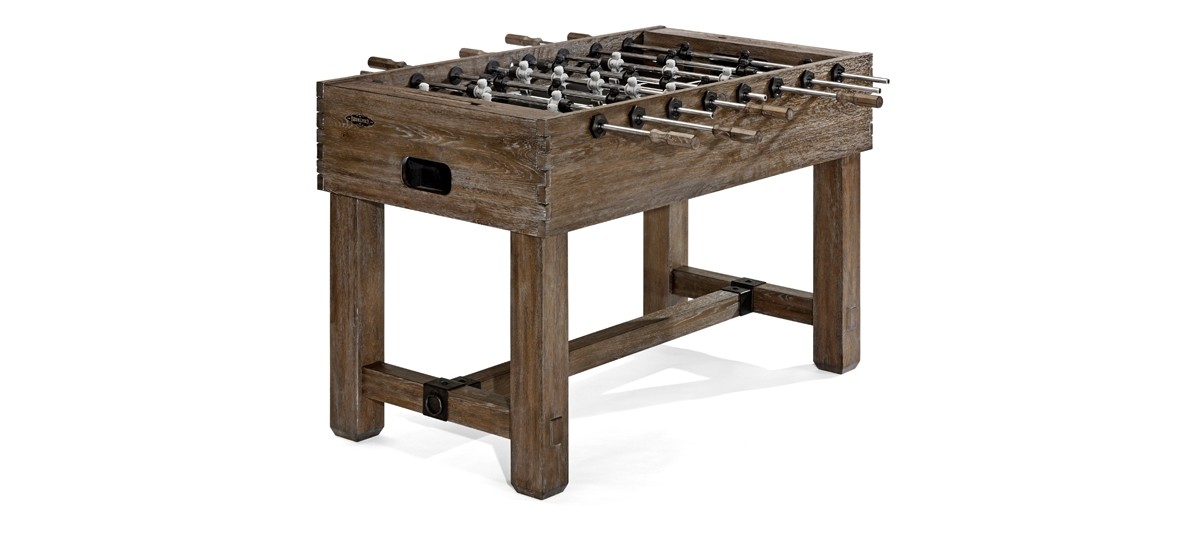 Brunswick Merrimack
Three-man goalie for fast play
Pre-assembled player rods with three-piece bearings
End ball returns
Includes four balls
Matching Pool Table and Shuffleboard Available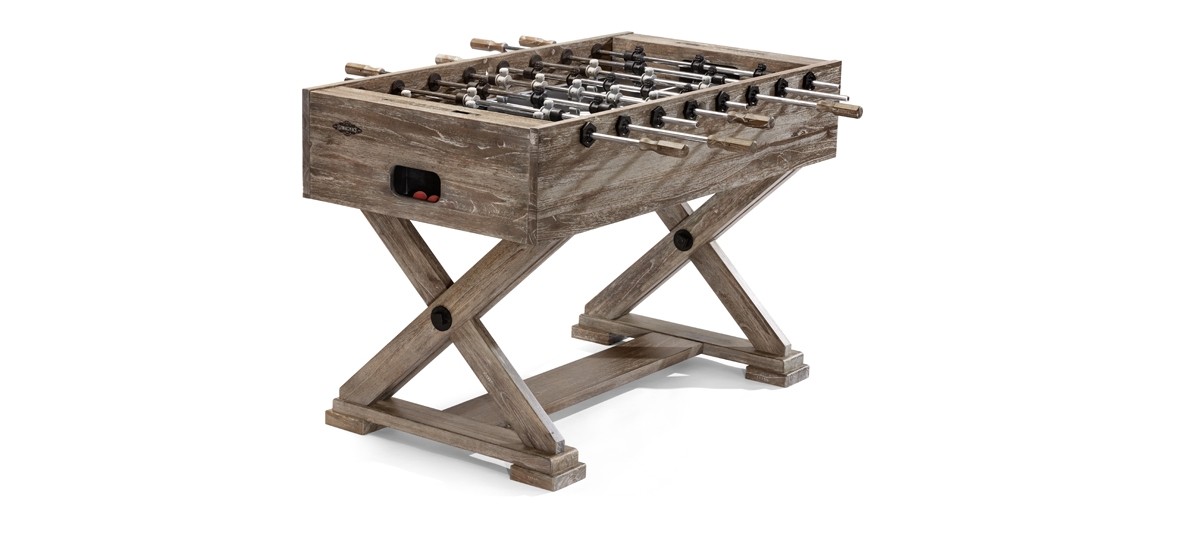 Brunswick Brixton
Three-man goalie for fast play
Pre-assembled player rods with three-piece bearings
End ball returns
Includes four balls
Matching Pool Table and Shuffleboard Available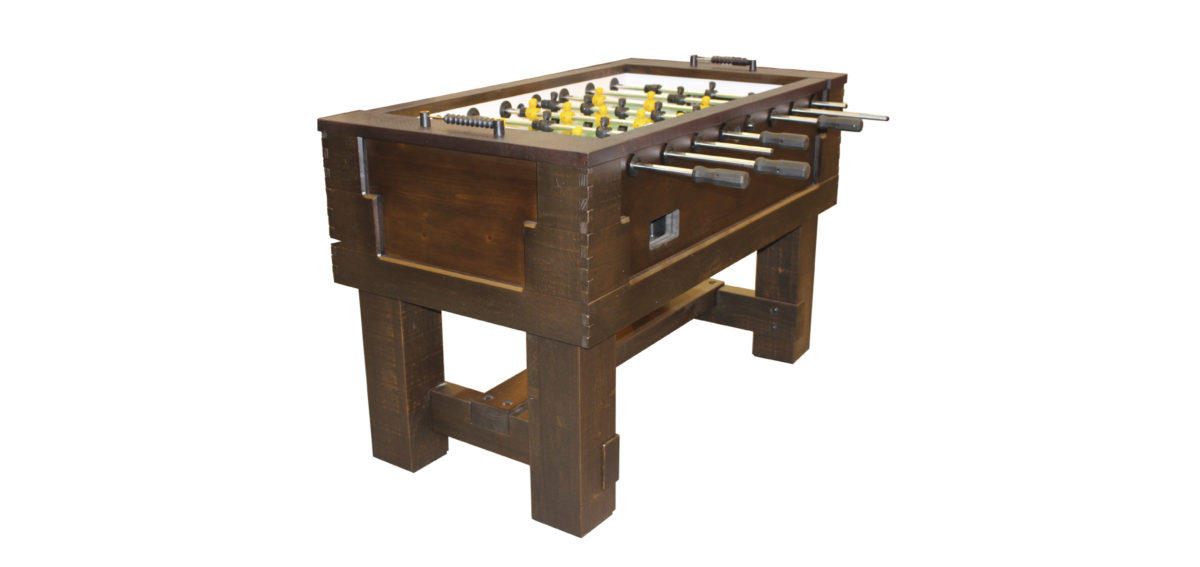 Olhausen Breckenridge
Matching Pool Table and Shuffleboard Available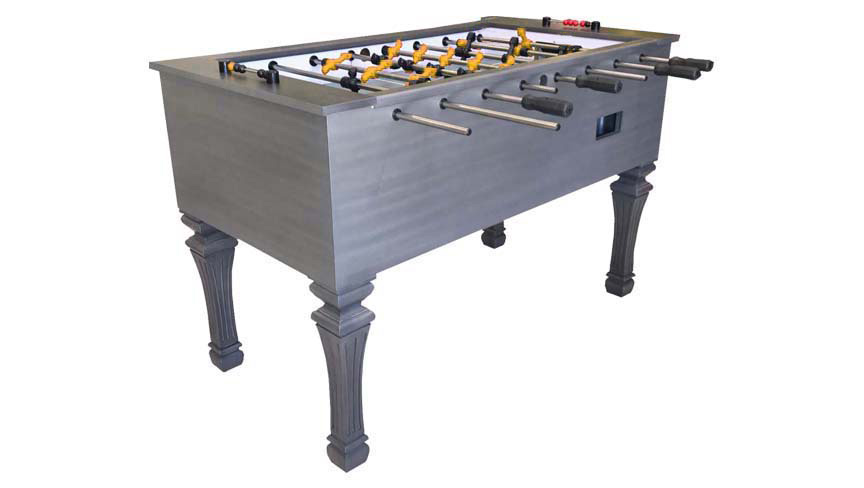 Olhausen Signature
Shown in: Matte Smoke Finish on Maple with Hampton Style Leg

Wood Material:  Maple
Finishes Available: Standard Olhausen® Finishes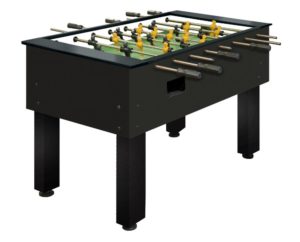 Olhausen Manchester III
Wood Material:  1″ Maple Cabinet
Finishes Available: Standard Olhausen® Finishes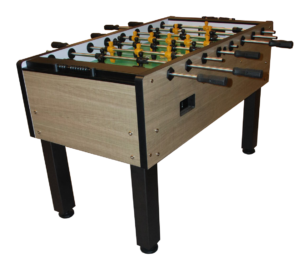 Olhausen Milan
3.5mm thick seamless high
strength hollow steel rods
• Detachable rod bearings allow
for fast play and quick assembly
• Preassembled counter balanced
men and tournament octagonal
handles attached with roll pins
• One-man goalie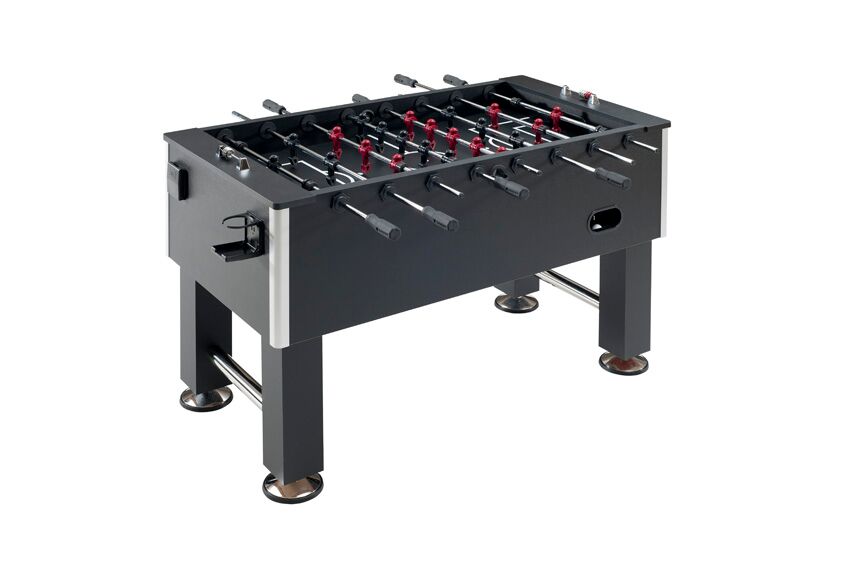 Legacy Classic
This is how it all started. The Classic Foosball one-man goalie table will provide hours of rockin' good fun and entertainment. Like its big brother the Sterling Foosball table, the Classic is Durable enough to take on the challenge of many strong arm contenders. The Classic has counter balanced men for improved play, 4mm seemless tube rods built to take the constant pounding and oversized split bushings to give you smooth , quiet and heart pounding speed. A tough double sided high pressure laminate playfield will take all the abuse you can dish out. Includes side drink holders for your favorite beverage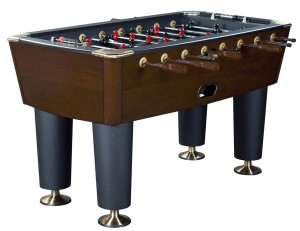 Legacy Sterling
Combining the sophistication and style of the Sterling Line with the fun and exciting game of Foosball, the Sterling Collection Foosball table adds fun and variety to any home game room. With three goalies to protect your team, you'll spend countless hours in competition with friends and family. This Foosball table can match in finish with any of our Legacy pool or shuffleboard tables. Don't miss out on your chance to have a beautiful, matching game room set right in your home.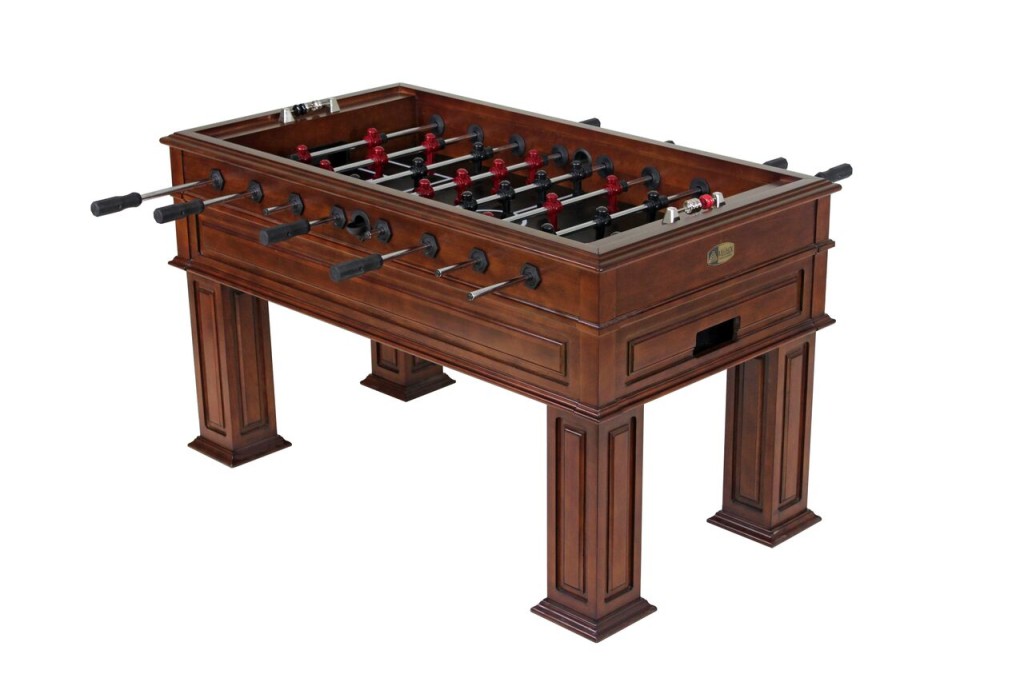 Legacy Landon
The Landon Foosball table is the perfect game to play with family and friends. Masculine lines and strong details make this solid wood foosball table look great in any room. This wood foosball table features four finishes to chose from. Pair it with our Landon Billiard Table to complete your matching game room.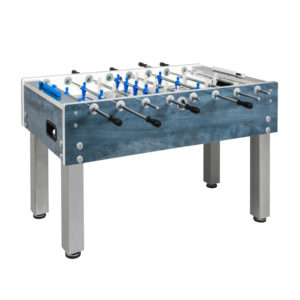 Imperial G-500
Table manufactured for indoor or outdoor playing
Standard cleaning by periodically rubbing surfaces with a damp cloth to eliminate dust and dirt residual
Frequently spray bars with silicone spray to make sure bars glide adequately
This table will be delivered partially assembled
Ask about other finishes!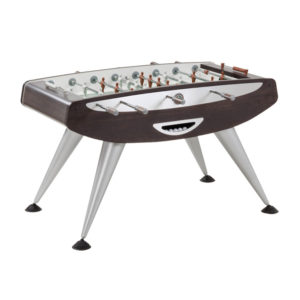 Imperial Exclusive
This table has been manufactured for indoor playing; do not leave outdoors. Rain, snow, and high humidity may damage materials
Clean your table periodically by rubbing its surfaces with a damp cloth to eliminate dust and dirt
Garlando roller bearings do not require any lubrication
For better protection from dust, the use of the protection cover is advised
This foosball table is delivered partially assembled