ALL SEATING OPTIONS NOT SHOWN! CALL OR VISIT THE STORE FOR DETAILS ON ALL SEATING OPTIONS!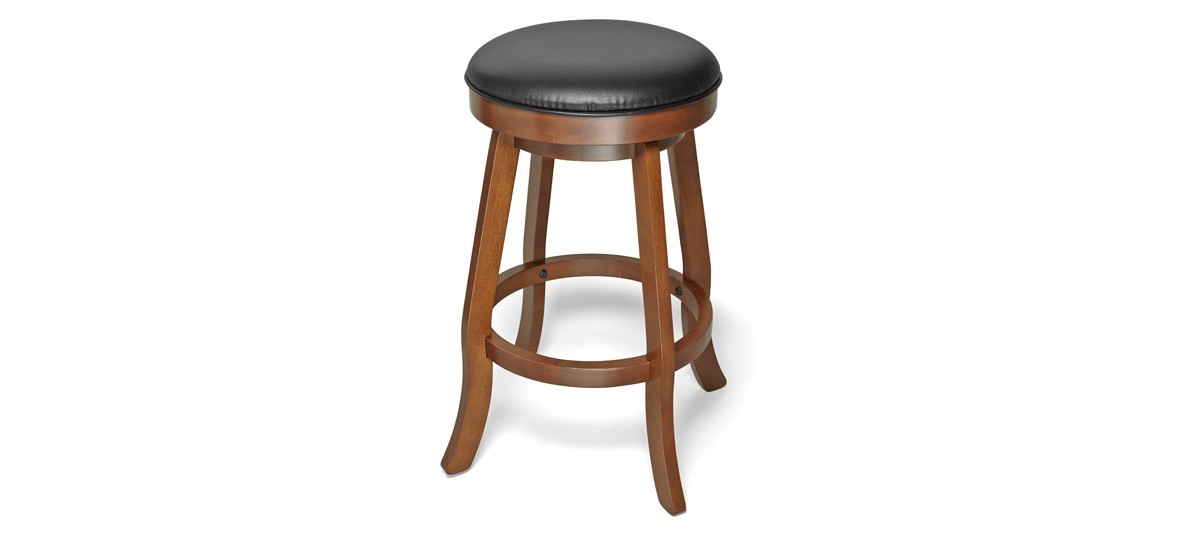 Brunswick Traditional Backless Barstool
Constructed from solid wood with a cushioned seat that swivels, the Traditional Backless Pub Stool perfectly complements your favorite billiard table or game room furnishings. You will sit comfortably on the 30" high seat made of man-made materials. Available in Espresso, Nutmeg or Rustic Dark Brown Finishes.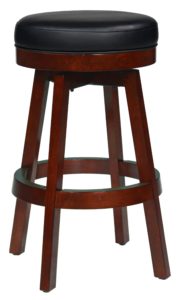 Legacy Classic Backless Barstool
Our Classic Backless Bar Stool complements and blends with all traditional furniture. Upholstered black faux leather and side to side swivel are the features that make this a great addition to any game room or room in your home.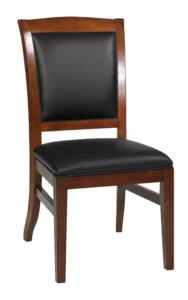 Legacy Heritage Dining Chair
Perfect for game night, the Heritage Game Chairs are finished with a comfortable vinyl upholstered seat. Cushioning on the seat gives you a soft place to sit as you watch or play the big game. These Heritage game chair can easily be used for dining spaces or extra seating.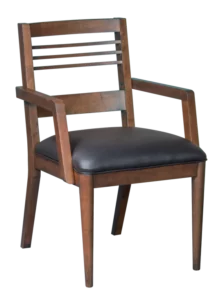 Legacy Collins Game Chair
The Collins Game Chair offers the very unique option of having your game chairs with or without arms. The removable arms can be attached for the additional comfort of arm rests, or removed to save on space. Combine this functionality with a beautiful mid-century modern design and exclusive finishes, and you've got a game chair whose style will hold up for the long term. Black high grade vinyl padded seats will provide hours of comfort. With this chair you should be all in. Available in multiple finishes.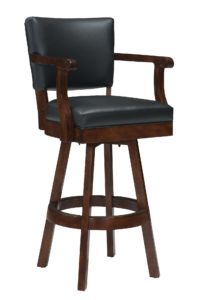 Legacy Classic Backed Barstool
Classic Backed Bar Stool has a simple classic style, great for any kitchen or game room. Upholstered black faux leather, strong and sturdy base frame, this backed stool is built to last. The Classic Backed Barstool complements any pub table or bar around.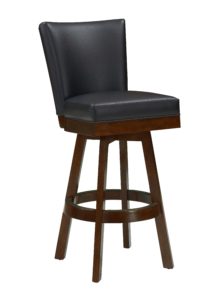 Legacy Classic Flex Backed Barstool
Classic Flex Back Bar Stool complements and blends with all traditional furniture. The simple strong lines with upholstered black faux leather, seat swivel are what makes this a great addition to any room in your home. Pair it with a bar, pub table or right up to your kitchen counter.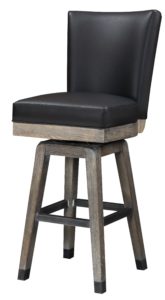 Legacy Rustic Backed Barstool
The Rustic Backed Barstools are eye catching as well as functional. They are made of all solid ASH or PINE and are topped with a comfortable textured, premium vinyl upholstered seat and back making them easy to keep clean without special care or conditioning - the same material used for marine and high-end furniture. The naturally distressed wood grain is clearly visible lending itself to a warm rustic feel. Metal accents on the legs and stretchers add to the durability. These stools will withstand years of everyday life.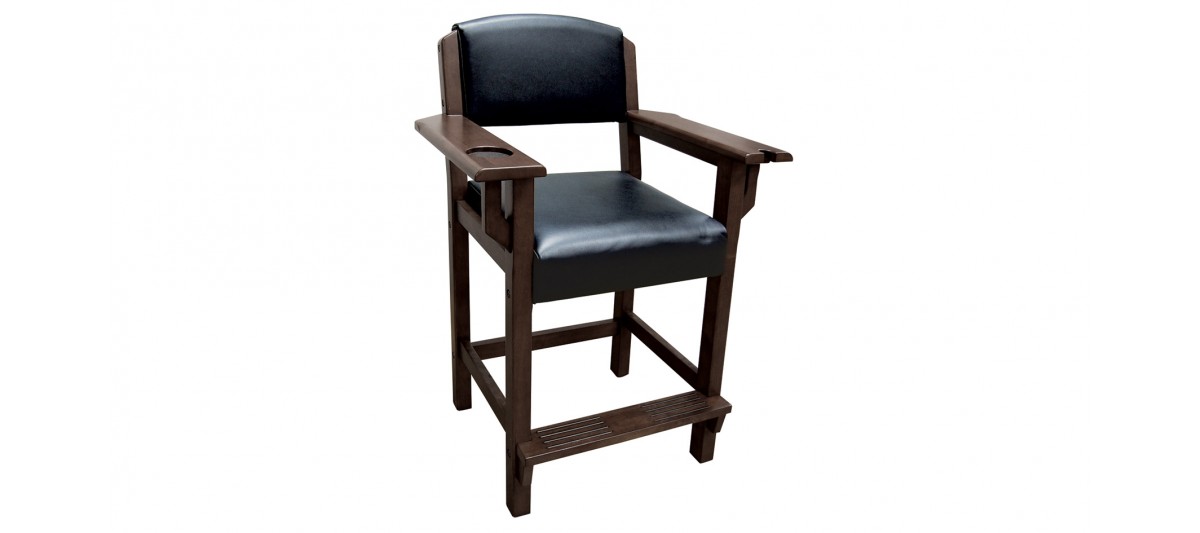 Brunswick Traditional Players Chair
Available in Chestnut and Espresso Finishes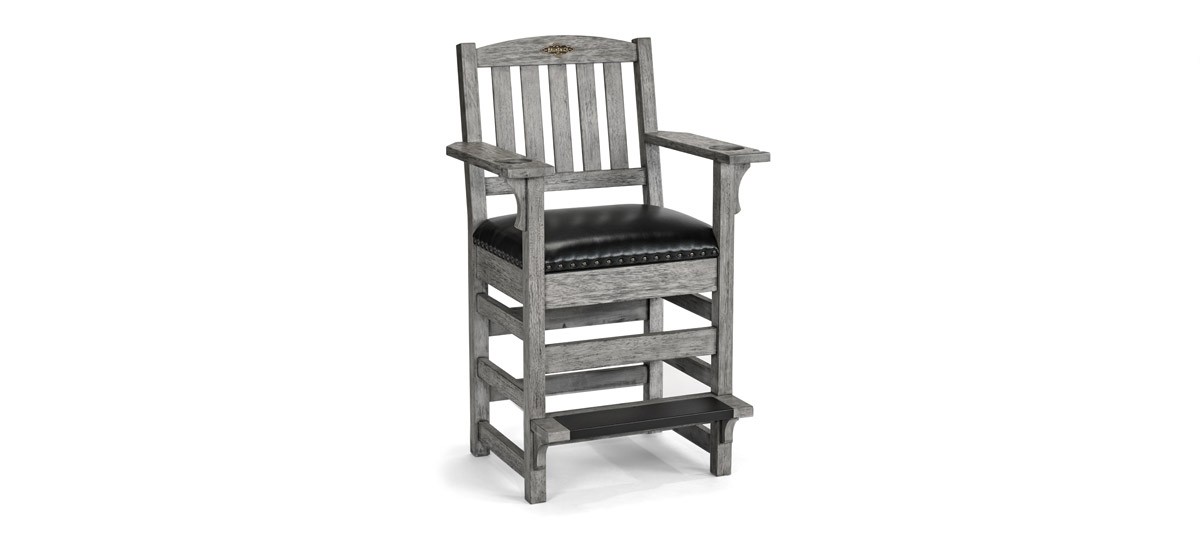 Brunswick Centennial Players Chair
Available in Chestnut, Espresso, and Rustic Grey Finishes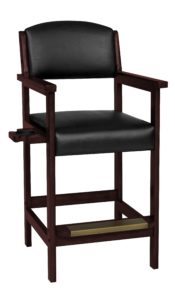 Legacy Heritage Spectator Chair
Keep an eye on the game at just the right height or provide additional seating for guests in your game room. The Heritage Spectator Chair is the perfect place to take a seat and relax during a game of pool. With several finishes available to match your pool or shuffleboard table, this spectator chair features black faux leather and a metal foot rest for added comfort.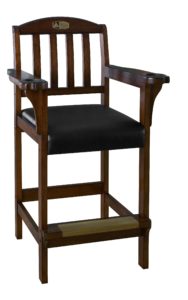 Legacy Classic Spectator Chair
Add the feel of Old World Europe with this traditional looking Spectator chair. Features include black faux leather and a metal footrest. Elegance, style and class come standard.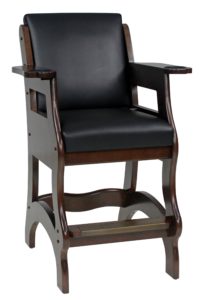 Legacy Elite Spectator Chair
Our Elite spectator chair gives your guests a comfortable and stylish place to relax between shots over a friendly game of pool. Metal accents and faux leather upholstery give the chair a look that says "I mean business".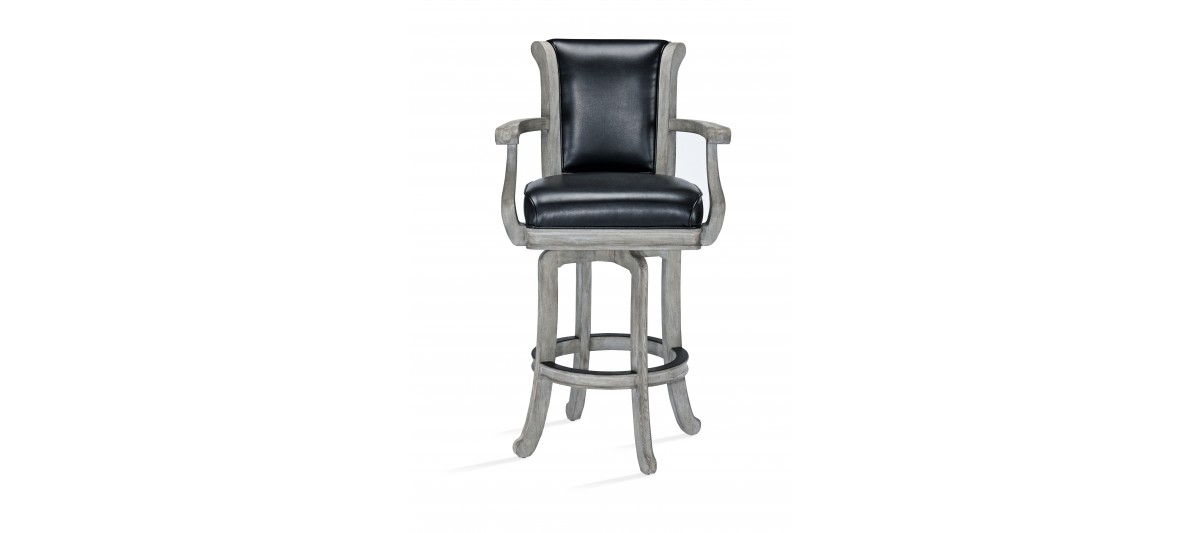 Brunswick Centennial Bar Stool
Available in Chestnut, Espresso, and Rustic Grey Finishes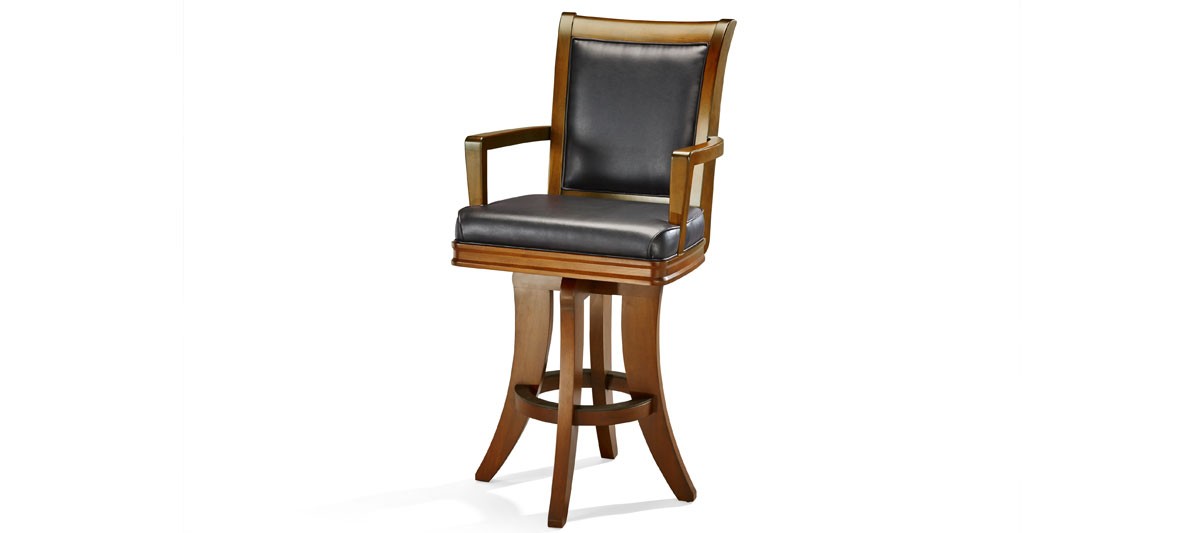 Brunswick Centennial High Back Bar Stool
Available in Chestnut and Espresso Finishes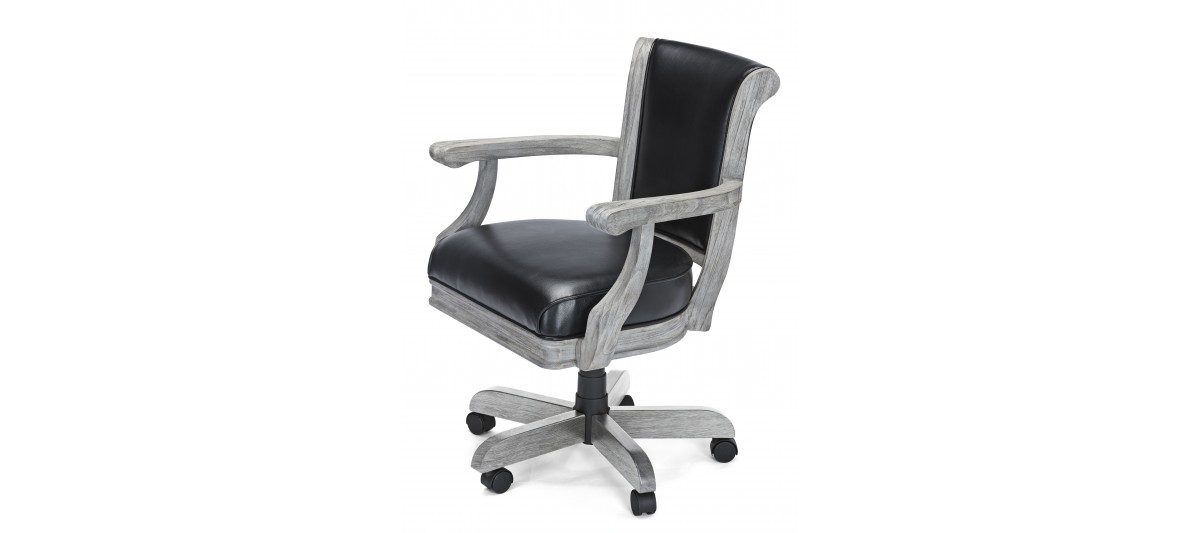 Brunswick Centennial Game Chair
Available in Chestnut, Espresso, and Rustic Grey Finishes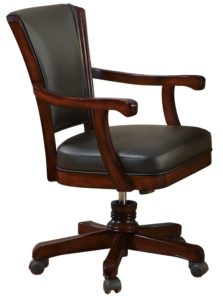 Legacy Elite Game Chair
You're going to need more seating for your Elite Game set once the word gets out that the best poker night is happening at your place. It's easy to accommodate additional players with a few of these matching chairs for them to belly on up to the table. Black faux leather, swivel, tilt and adjustable height will allow your guest to relax in comfort and style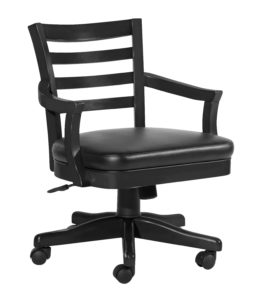 Legacy Sterling Game Chair
Find comfort and style in the Legacy Sterling Game Chair. This game chair features both a modern and rustic look with a semi-exposed back, yet provides the comfort needed for a long night of cards with its generously cushioned leather patterned premium vinyl upholstered seat. Heavy duty casters ensure the chair will function on all floor surfaces including thick carpet. The wheels have a neoprene "tire" on them to prevent scuffing of hard surfaces. The chair allows you to either lock it in the forward position
or unlock for a slight tilt backwards.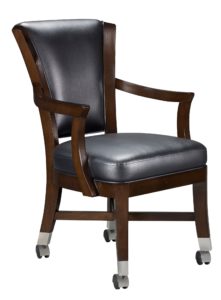 Legacy Elite Castor Game Chair
Sit back and relax for game night in the Elite Caster Game Chair. All solid wood chairs are factory built (no assembly required.) They feature; metal accent guards, double wheel casters and black faux leather upholstery to match with any decor. Comfort and elegance all "rolled" into one.