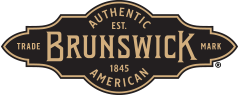 All tables come with accessory kit, cloth color of your choice, and free delivery and installation inside Springfield.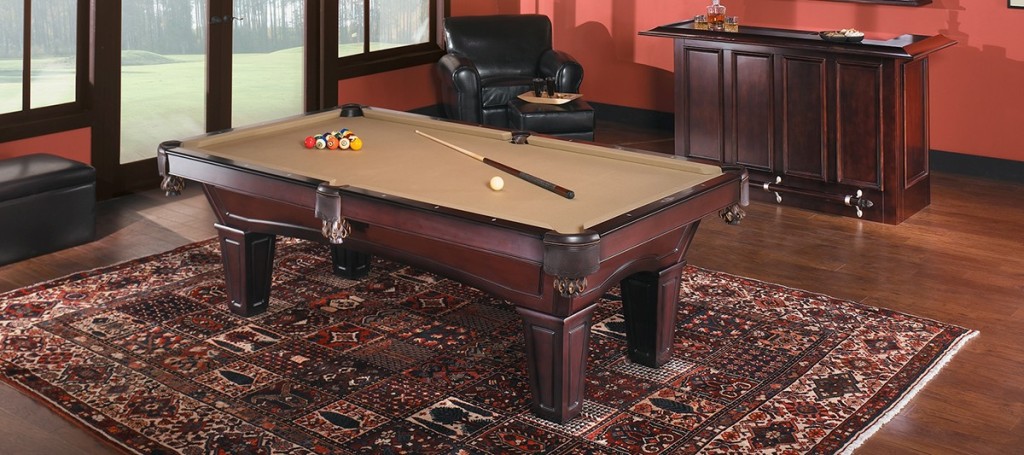 Allenton
A great addition to any home, the Allenton comes in traditional cherry, chestnut, driftwood, or tuscana. Select the clean, strong lines of the veneered tapered legs or opt for the solid wood ball and claw leg. Solid wood rails, Brunswick-certified premium slate, and pearlized diamond-shaped sights enhance the experience.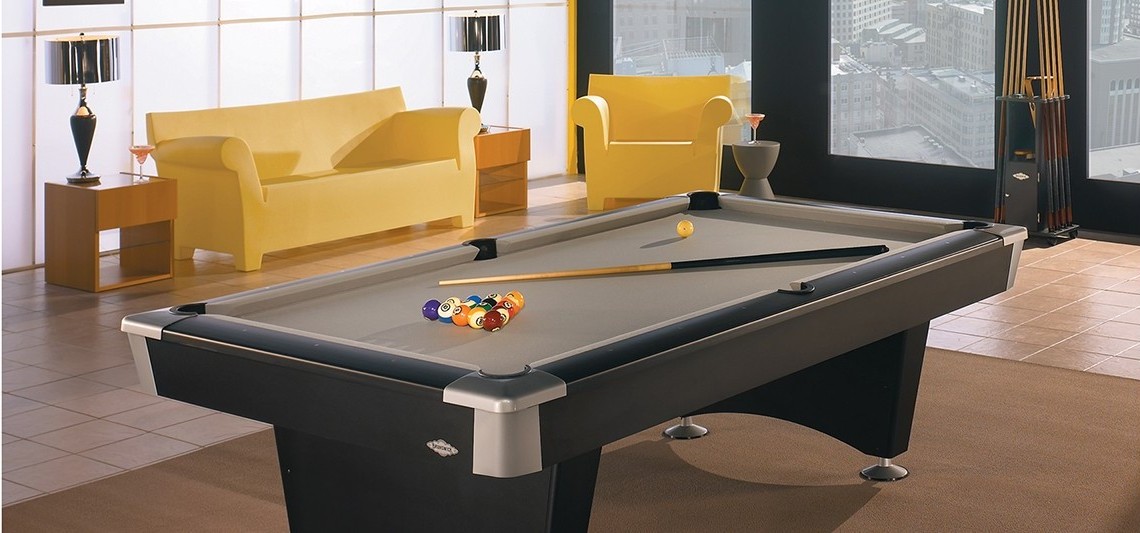 Black Wolf
Naturally dramatic, the Black Wolf table is in its element in contemporary homes, from casually chic to sleek and sophisticated. Durable metal rail pocket corners, round rail sights, and jet-black laminate provide the perfect detail. Built for a lifetime of enjoyment.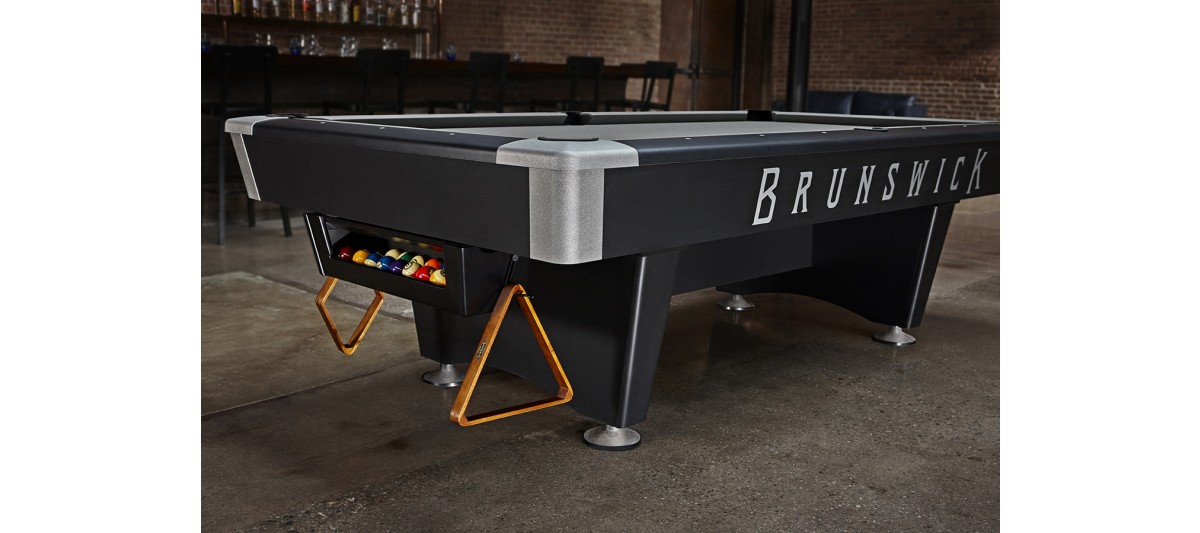 Black Wolf Pro
The Black Wolf Pro, a superb combination of modern styling and rigorous engineering standards, features attractive and sturdy pedestal-style legs, a leg stretcher and foot levelers. The Black Wolf Pro is available in 7', 8' or 9' with pocket or gully options.  Our competition-style Gold Crown wall rack is also available to beautifully match the Black Wolf Pro table.  (Table is shown with optional Brunswick decal)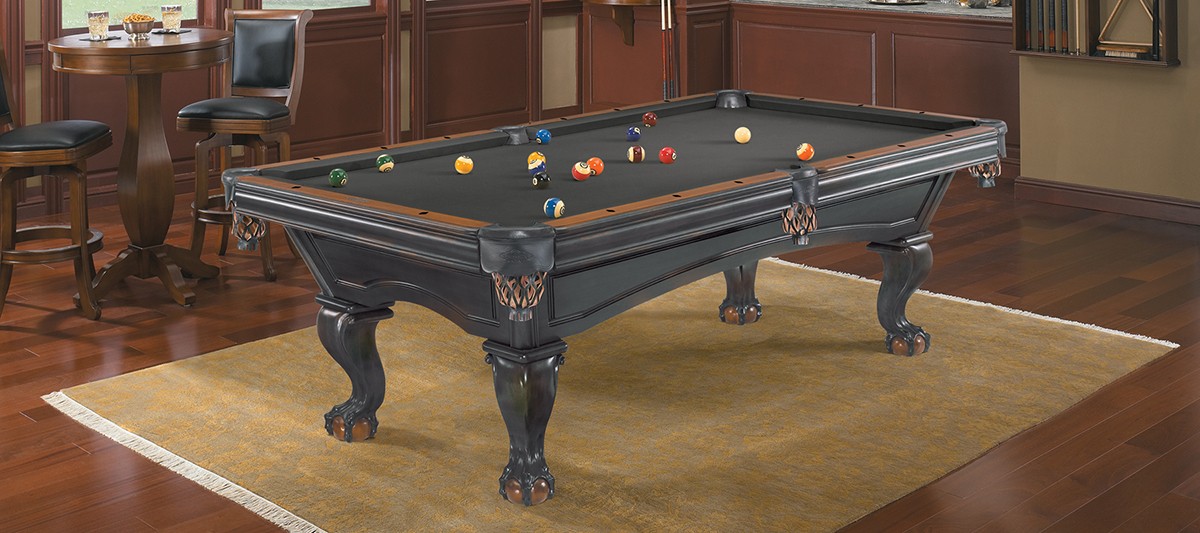 Glenwood
A traditional table with modern sensibilities, the Glenwood is a graceful addition to any home. Plus, have it your own way with Brunswick's most versatile model. This fully customizable table offers a wide variety of table finishes, leg styles, cloth and pocket styles. Design the perfect solid wood table for your home at an affordable price. The Glenwood has is all.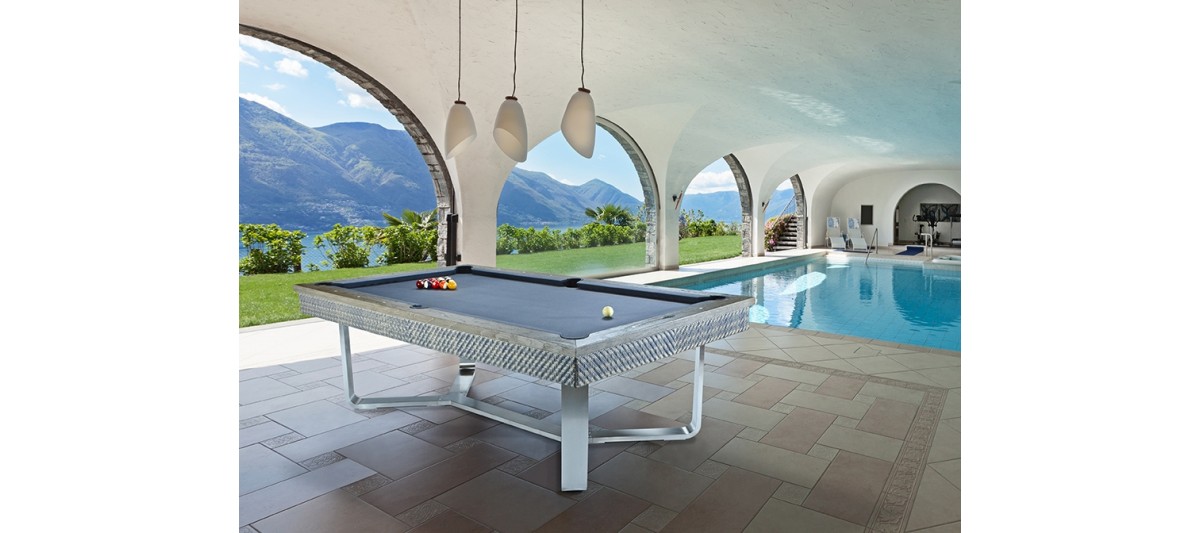 Brunswick Bali
Create your outdoor oasis with The Bali.  This indoor/outdoor pool table is designed to weather the elements while maintaining exceptional playability synonymous with Brunswick Billiards.  This stylish billiard table features a stainless-steel base, wicker aprons, and teak rails.  Engineered to last generations, every detail has been meticulously considered to enjoy for years to come.
Botanic
Inspired by today's demand for rustic design & finish with a contemporary flare, the Botanic delivers styling combined with the legendary specifications of Brunswick branded billiard tables.  Rugged good looks with outstanding playability make the Botanic a must have for the modern but rustic game room.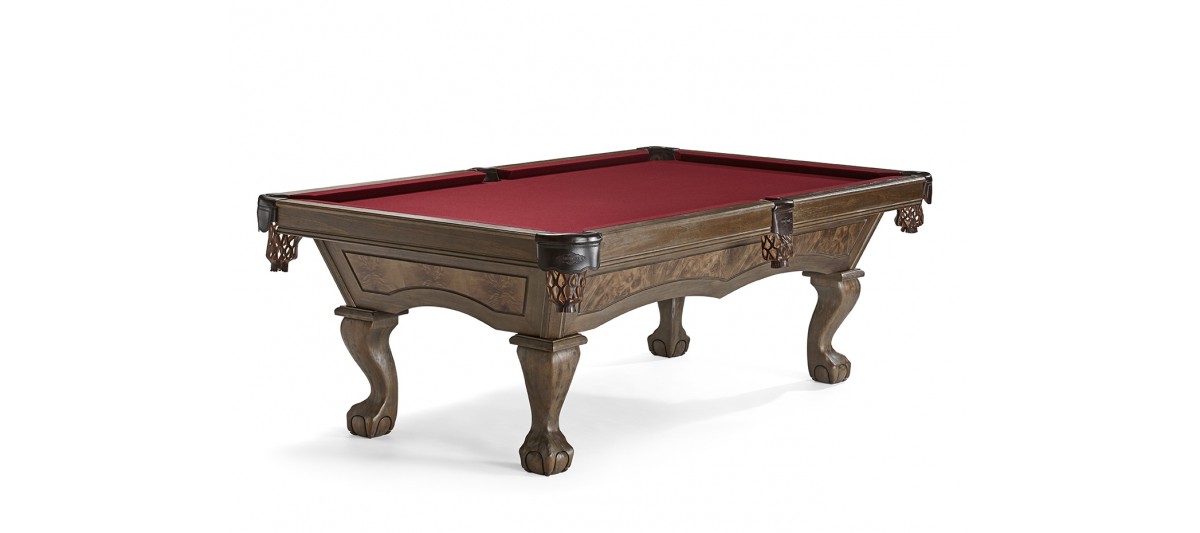 Brae Loch
This traditionally- styled and beautifully made Brunswick Brae Loch 8-Foot Billiard Table makes a classic centerpiece for any game or family room. Traditionally styled in a nutmeg finish, the Brae Loch billiard table features a double-arched base with ball-and-claw legs. Durable, classic design crafted to last, the Brae Loch frame is constructed of superior engineered and select veneered hardwood. Classic in style, this table has Brunswick slate accents and camphor burl inlays with a double arch. Shield style pockets for a traditional look.
Winfield
A sleek, contemporary feel combined with old world charm best describes Winfield.  A table that features internal drop pockets, an arched sill and a rich finish, the Winfield is a pleasing fit to any game room.  The Winfield is available in either an espresso or nutmeg finish.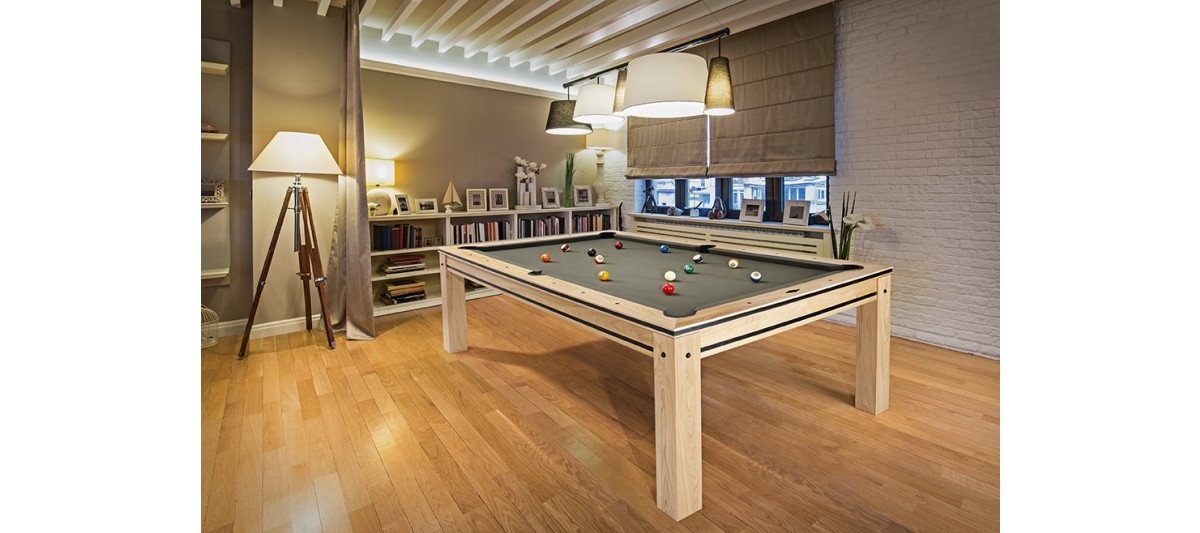 Hickory
The Hickory is our spin on a contemporary design combined with a Natural Hickory finish.  Uniquely stunning, the Hickory will draw people to pick up a cue and play a game.  Built to create everlasting memories.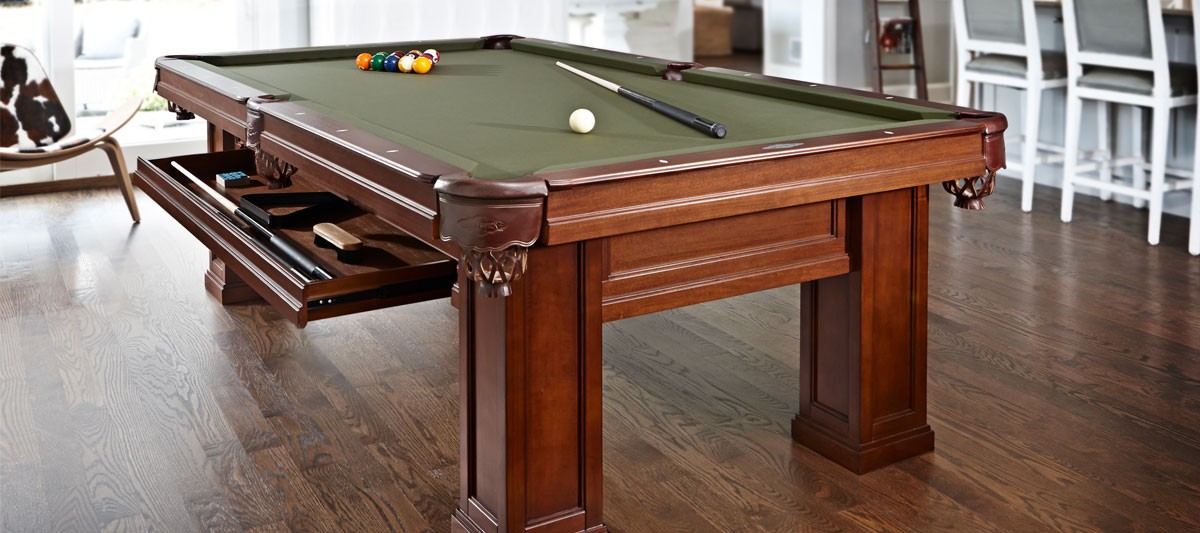 Oakland II
The straight lines, simple design and heavy proportion of the Oakland II table are trademark characteristics of the Arts & Crafts style of furniture originally popular during the 1890's to 1910's. This distinct table features solid wood rails, leather pockets and two storage drawers to stow cues and accessories.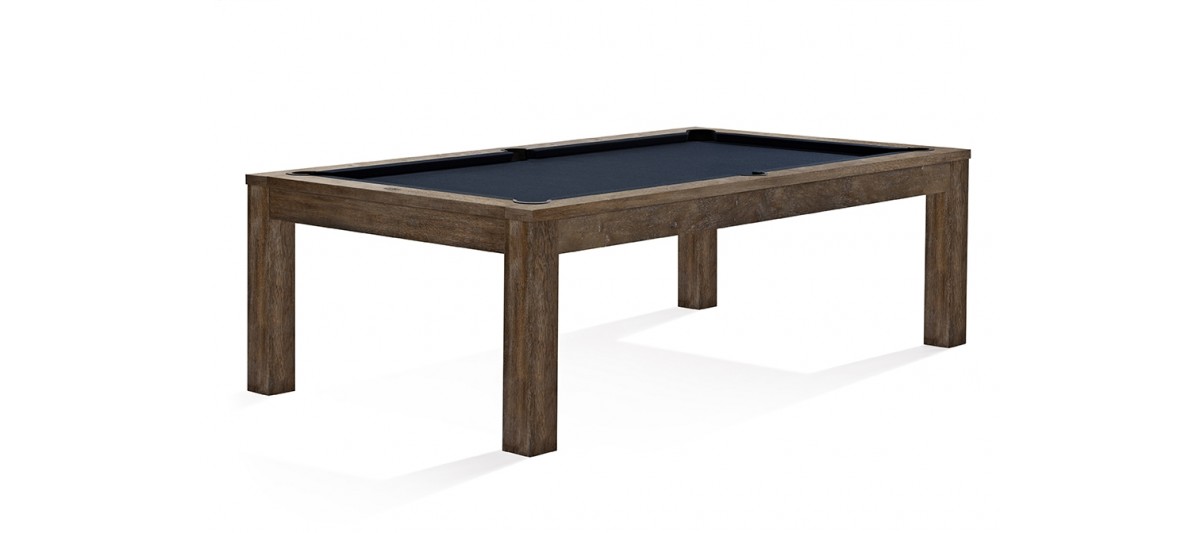 Soho
The Soho features ultra clean, minimalist lines and a modern design. Specialized hand hammered sights provide unique detailing and the new low-profile pockets keep the table incredibly sleek. The Soho is available in Nutmeg.  Complete your Soho Billiard Table with the Nutmeg Dining Top, sold separately.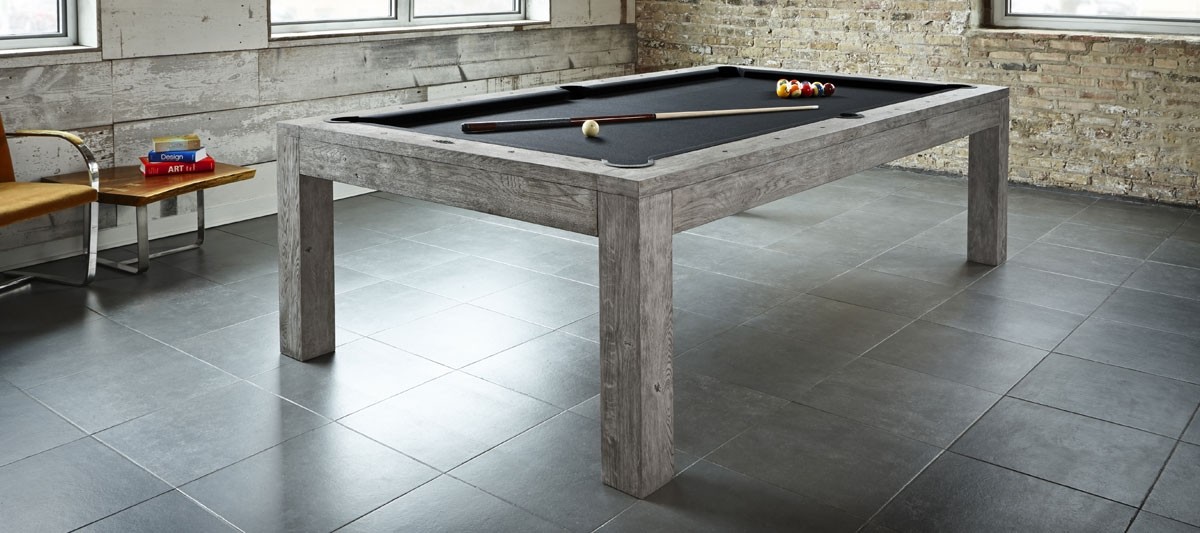 Sanibel
The Sanibel features a modern design with ultra clean lines and minimalist aesthetic. Specialized hand hammered sights provide unique detailing and the new low-profile pockets keep the table incredibly sleek. The Sanibel is available in Rustic Grey, a weathered finish that showcases the wood's natural grain and texture.  Complete your Sanibel Billiard Table with the Sanibel Dining Top and the Sanibel Wall rack, each sold separately.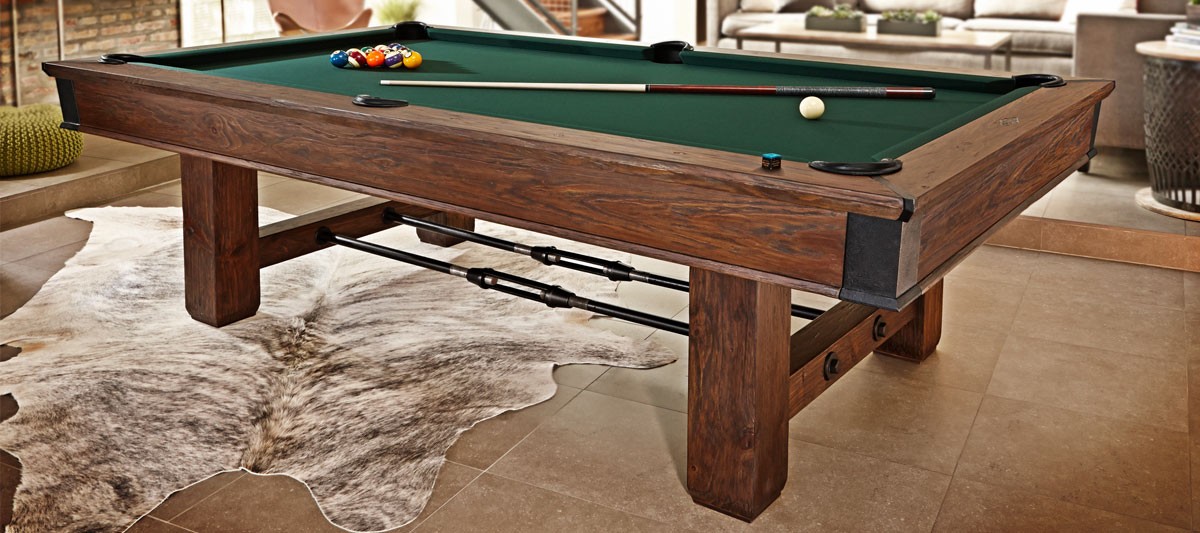 Canton
Nothing says "rack 'em up" like the rustic-meets-industrial charm of the Canton pool table. With its artful hand hammered sights and aged metal turnbuckle stretchers, corners and hardware, this eight-foot black forest or rustic gray finish table is the perfect marriage of proud craftsmanship and industrial design.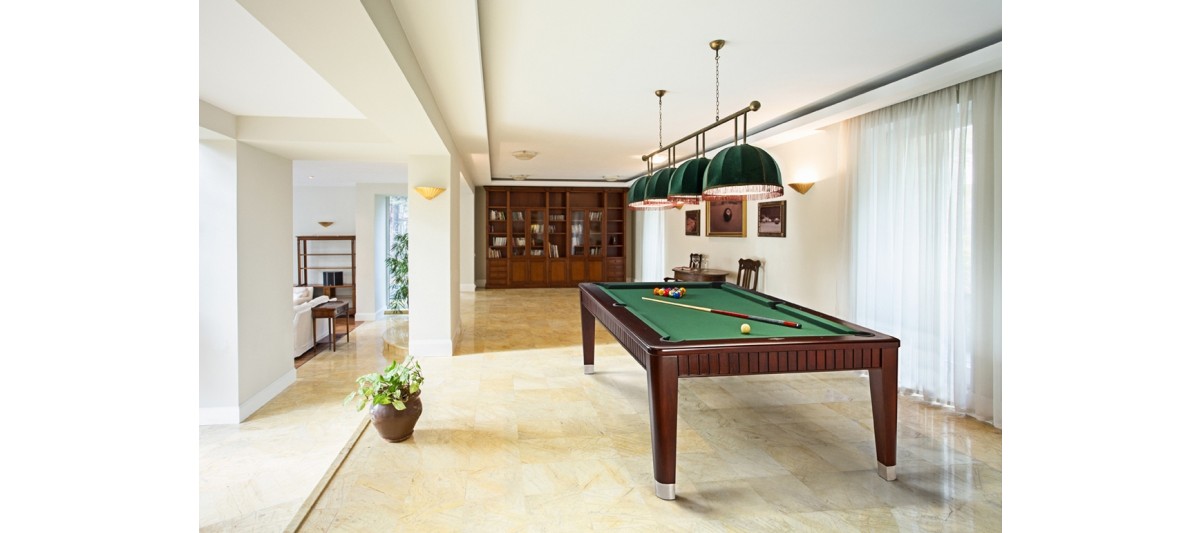 The Henderson
The Henderson offers the sleek look of a fine dining room table with the legendary playability of the Brunswick Billiards brand.  A beautiful table in its own right, the Henderson offers the versatility to quickly change your game room to fit your needs.  Simply use the optional dining top and transform your game room into a banquet room, a conference room, an arts & crafts room or leave it off and enjoy hours of play on this elegant model.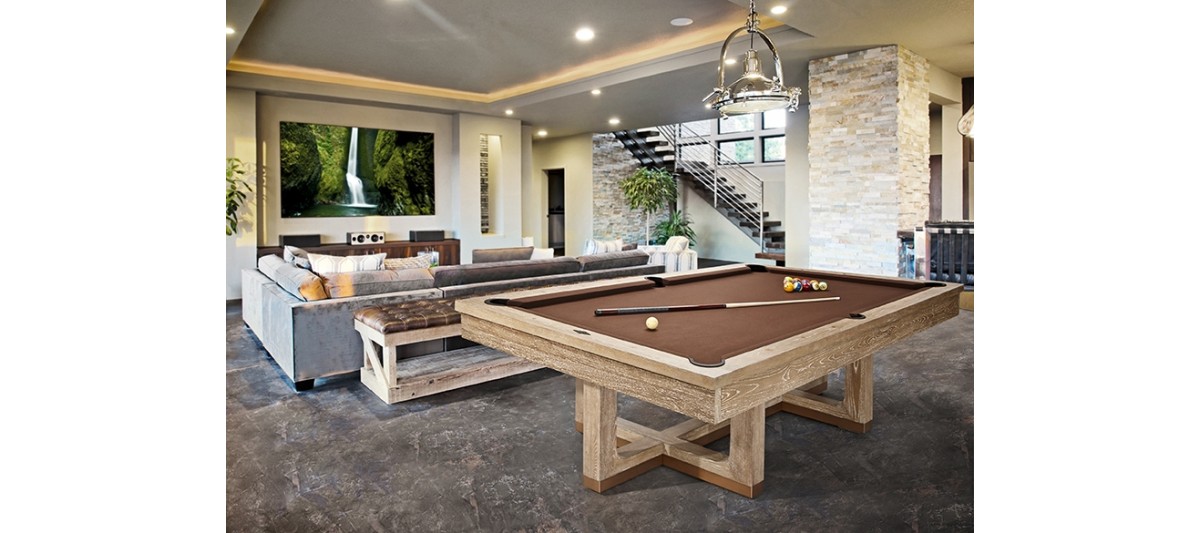 Matanza
Matanza is a uniquely designed table that will endure for generations. Every attribute from the pedestal design to the finish was created with pride.  Incorporate this beautiful piece to enhance the aesthetics of any room it occupies.
Parsons
The Parsons table combines clean lines with hand-weathered wood. This billiards table is crafted to tournament standards by Brunswick – the defining name in pocket billiards since 1845. Topped with Brazilian slate and patented rails, it offers superb play for a lifetime.
Please also see the rest of the Parsons line to complete your game room.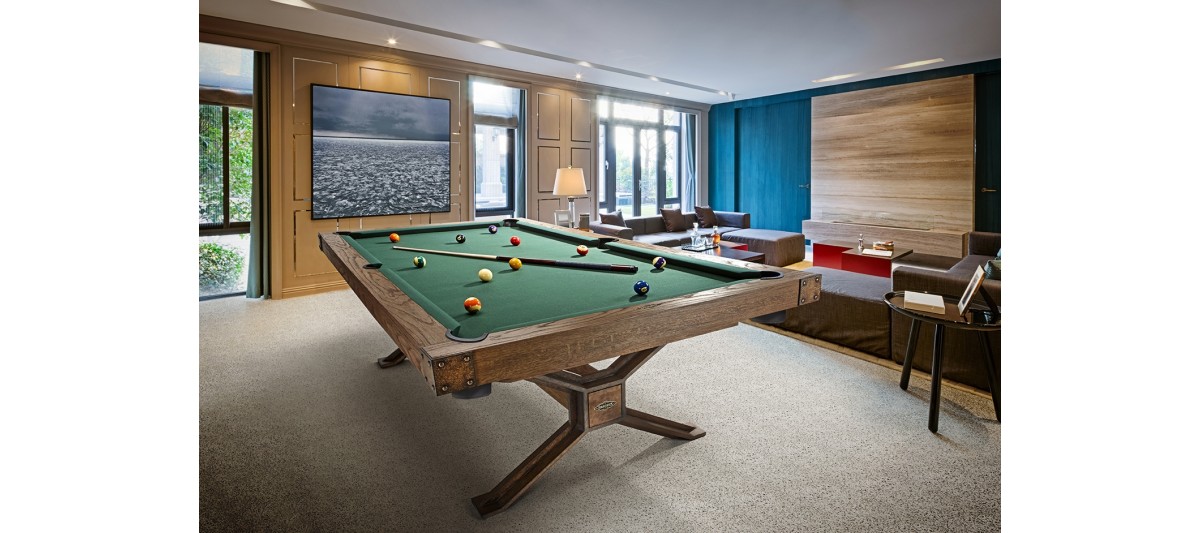 Dameron
Mixing solid hardwood, white oak veneer and employing steel legs, the durability and elegance of Dameron makes for a decadent piece that can accommodate any recreation space.  Every attention to detail was given from hand-hammered metal sights to the Brunswick name plate in the leg pedestal.  Made to endure with beauty & grace.
Pursuit
A work of art that will command attention in any setting, the Pursuit is a combination of streamlined, angular aesthetics, a contemporary black wire brushed finish and Brunswick's superior craftsmanship and playability.  Your family will enjoy generations of great play and entertainment around this unique billiards table.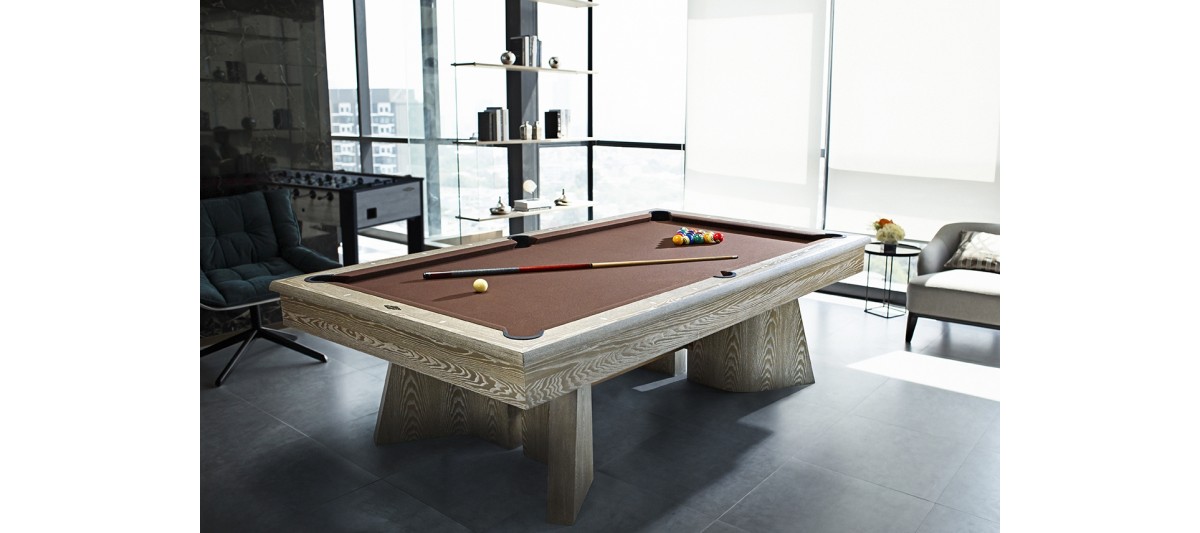 Sagrada
A beefy billiard table possessing a unique Sandwashed finish and mother of pearl sights, Sagrada offers great playability while drawing the admiration of onlookers and players alike.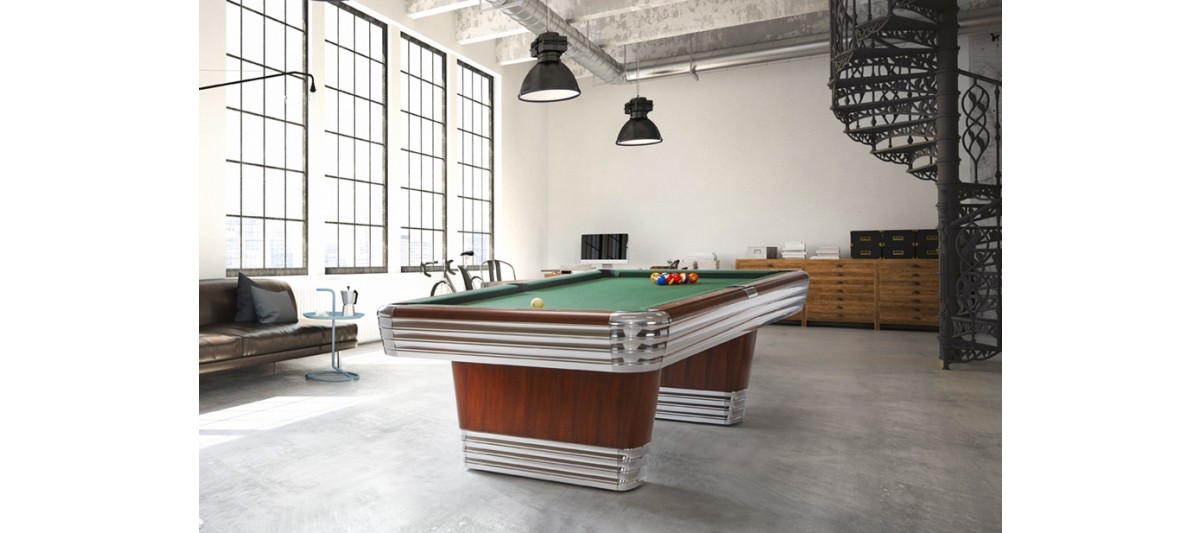 Centennial
An iconic table from the 1940's & 50's, the Centennial has been reborn with material refinement allowing the antique design to be combined with technological improvements to deliver both commercial grade performance and an outstanding home design.  This table will be sought after by collectors as well as the discerning designer for use in multi-functional environments.
Edinburgh
Alternating white oak and ash grained wood with metal trimming and carriage bolt heads makes the Edinburgh an ode to rustic heritage.  A weathered oak metal-trimmed pedestal or black metal leg base gives additional support and style.  The Edinburgh's play is a smooth contrast to the hard lines of hand-strewn wood that gives players perfect performance with vintage accents.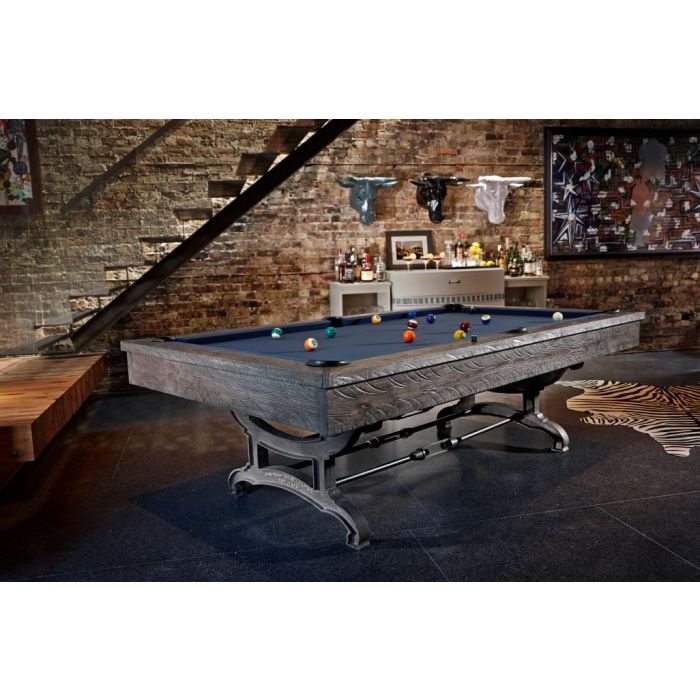 Birmingham
Combining rugged charm with an industrial, loft-style look makes the Birmingham a perfect choice for modern game rooms in need of a vintage touch. Featuring a distressed, rough-hewn finish with a cast iron decorative pedestal and turnbuckle stretcher element, the Birmingham is stylish and rustic down to the last detail.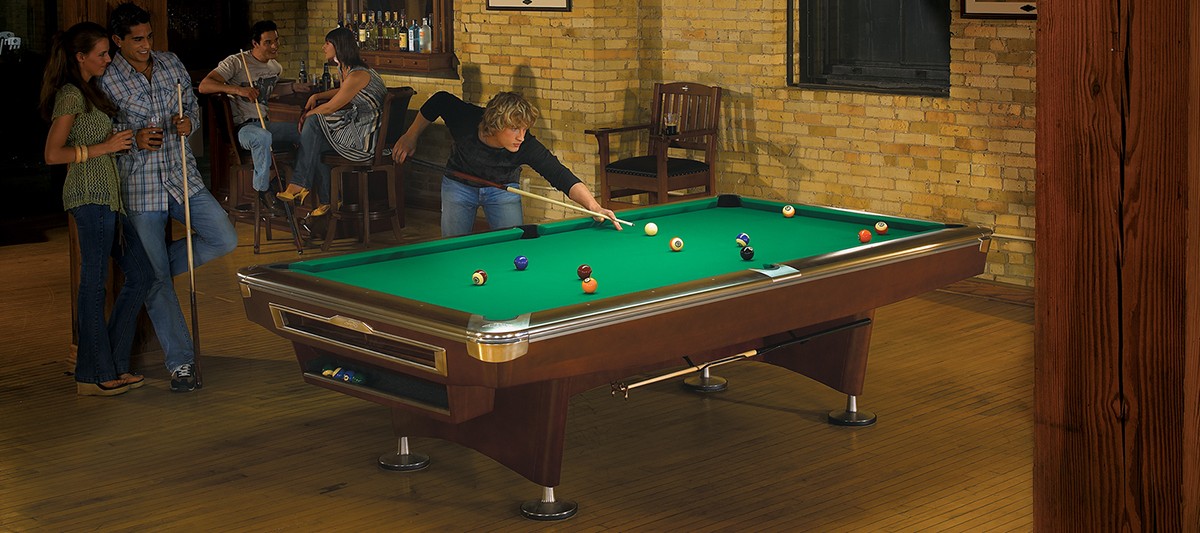 Gold Crown VI
The Gold Crown VI continues Brunswick's tradition of excellence as the newest edition of the legendary table series. The Gold Crown VI features a familiar design with modern styling. The new low-profile leg base and hidden stretcher provide a streamlined appearance while the angular canted leg emphasizes the clean lines. The table also features new corner and rail castings in a brushed nickel finish for a sleek high-end aesthetic.
The Gold Crown VI Tournament Edition table features longer rails and tighter pockets engineered to strict World Pool-Billiard Association specifications. Table decals included.