All tables come with accessory kit, cloth color of your choice, and free delivery and installation within 30 miles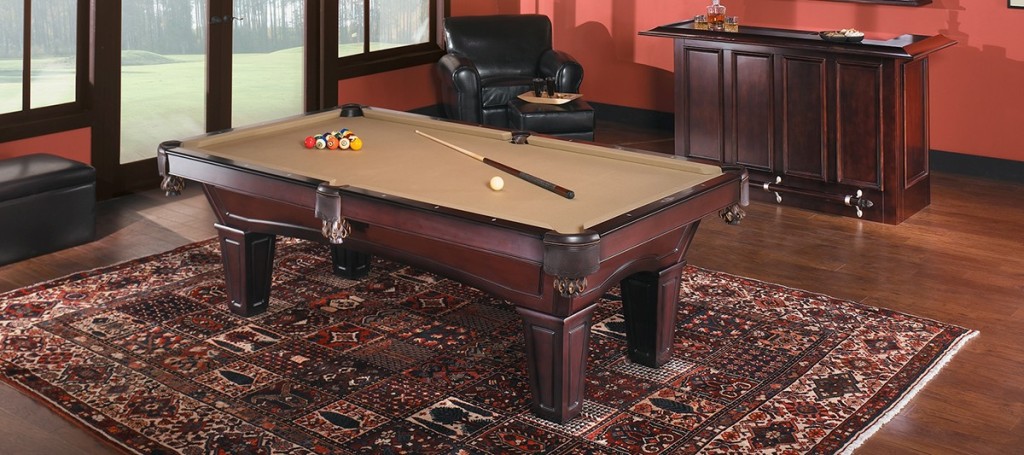 Allenton
A great addition to any home, the Allenton comes in traditional cherry, chestnut, driftwood, or tuscana. Select the clean, strong lines of the veneered tapered legs or opt for the solid wood ball and claw leg. Solid wood rails, Brunswick-certified premium slate, and pearlized diamond-shaped sights enhance the experience.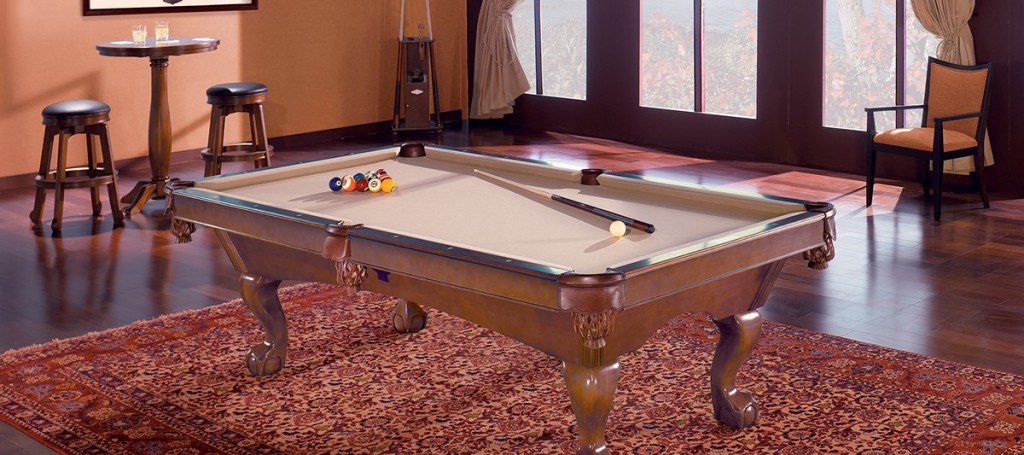 Tremont
With its classic profile, arched baseframe, carved corners, and solid wood ball and claw legs, the Tremont embodies all the design characteristics of the quintessential pool table. It also embodies Brunswick's legendary construction, including 1-1/2" thick solid wood rails with Centennial rubber cushions and 1" framed premium slate.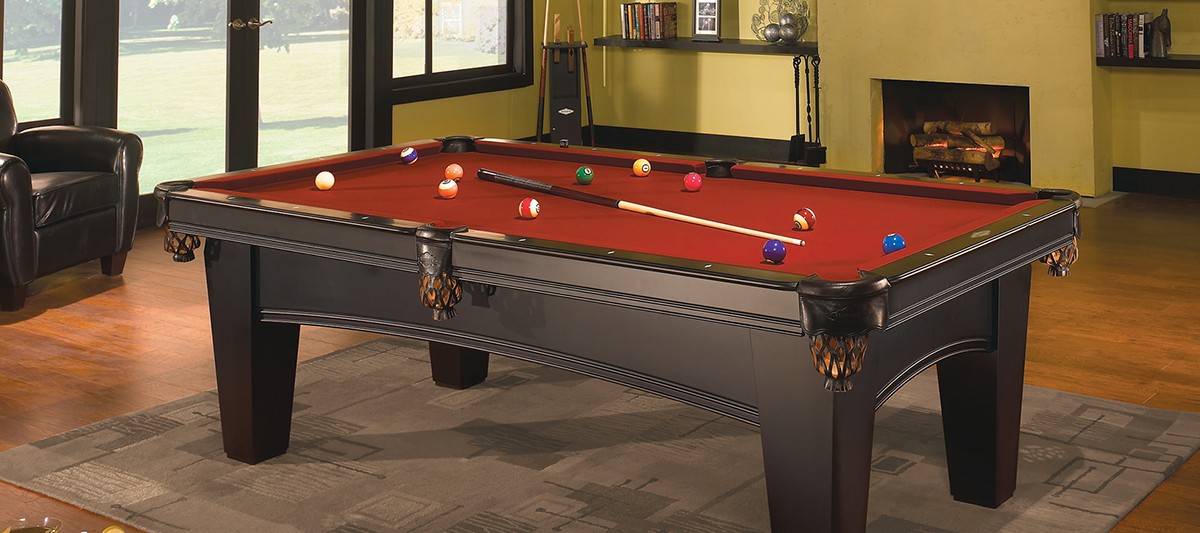 Bayfield
No compromises necessary when you choose the Bayfield table for your home billiard room. All the quality and details are there: wide, solid wood rails; leather shield pockets; and pearlized diamond-shaped rail sights. Baseframe, aprons, and tapered legs are built for durability with a matte black or two-tone veneer.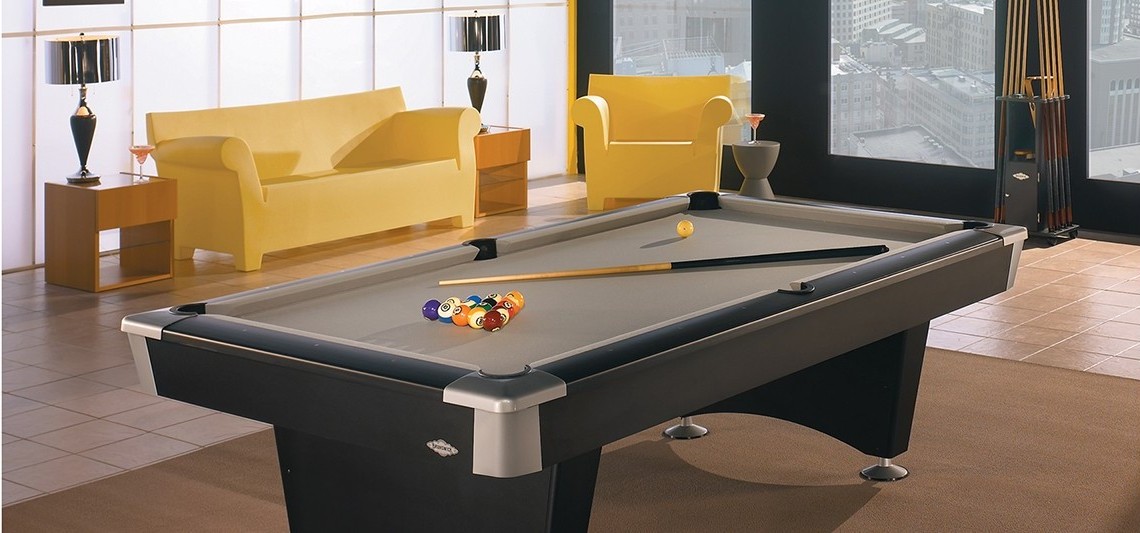 Black Wolf
Naturally dramatic, the Black Wolf table is in its element in contemporary homes, from casually chic to sleek and sophisticated. Durable metal rail pocket corners, round rail sights, and jet-black laminate provide the perfect detail. Built for a lifetime of enjoyment.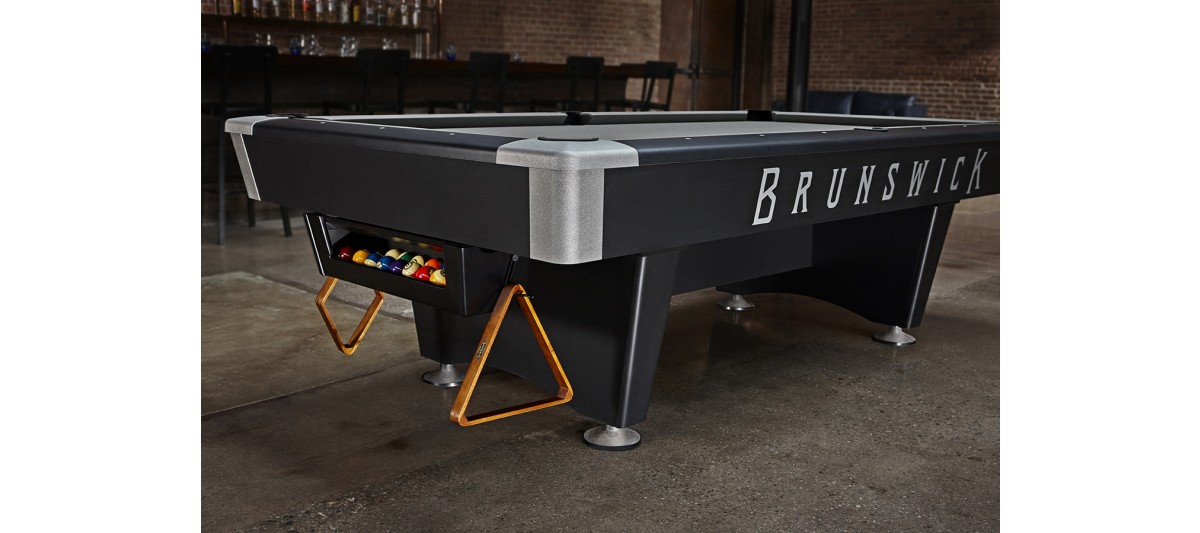 Black Wolf
The Black Wolf Pro, a superb combination of modern styling and rigorous engineering standards, features attractive and sturdy pedestal-style legs, a leg stretcher and foot levelers. The Black Wolf Pro is available in 7', 8' or 9' with pocket or gully options.  Our competition-style Gold Crown wall rack is also available to beautifully match the Black Wolf Pro table.  (Table is shown with optional Brunswick decal)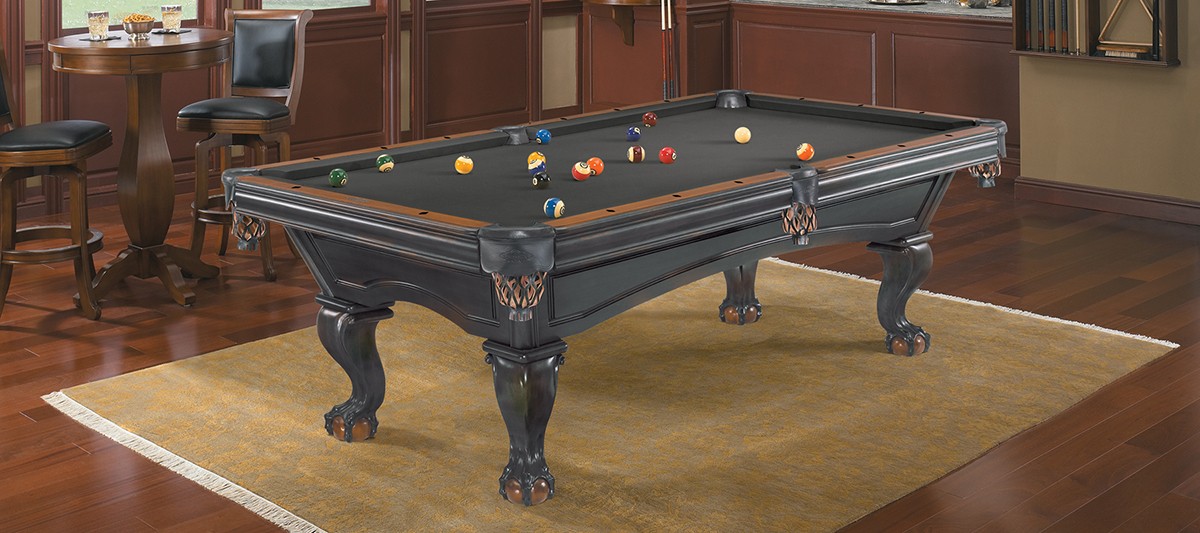 Glenwood
A traditional table with modern sensibilities, the Glenwood is a graceful addition to any home. Plus, have it your own way with Brunswick's most versatile model. This fully customizable table offers a wide variety of table finishes, leg styles, cloth and pocket styles. Design the perfect solid wood table for your home at an affordable price. The Glenwood has is all.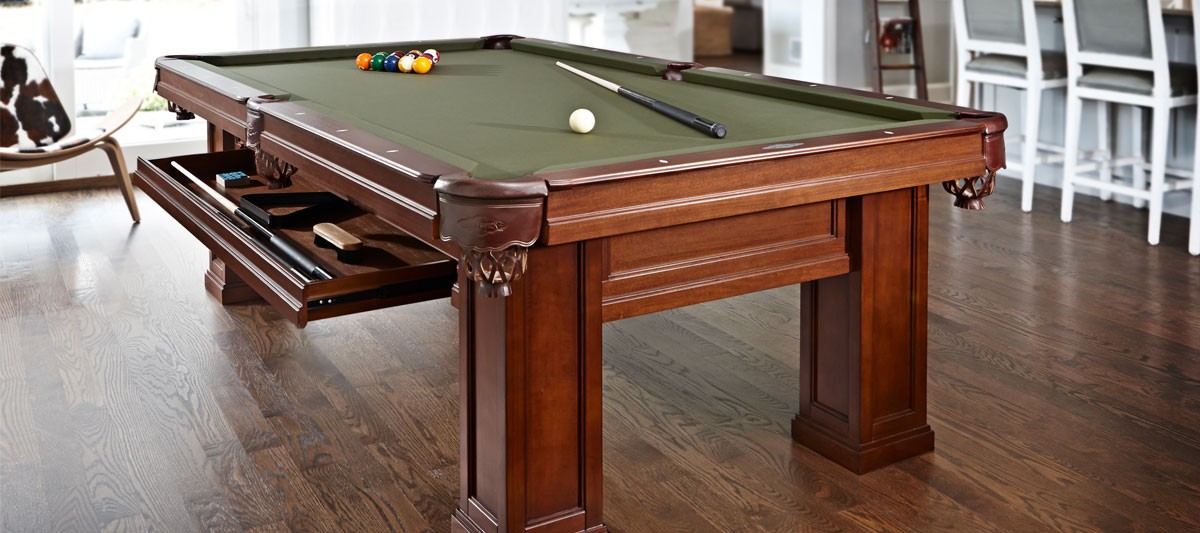 Oakland II
The straight lines, simple design and heavy proportion of the Oakland II table are trademark characteristics of the Arts & Crafts style of furniture originally popular during the 1890's to 1910's. This distinct table features solid wood rails, leather pockets and two storage drawers to stow cues and accessories.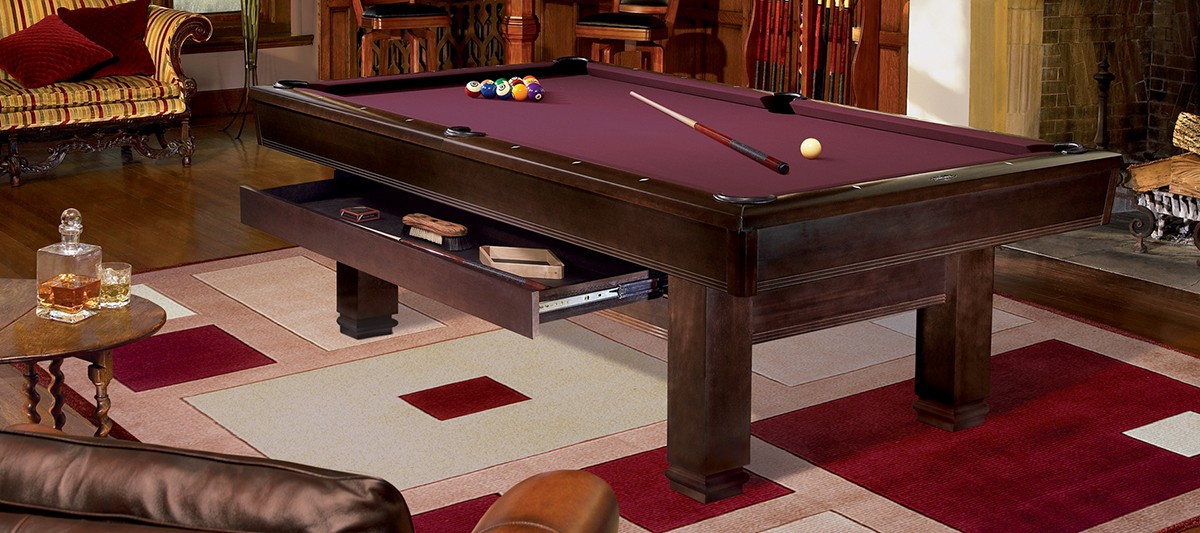 Bridgeport
From it's luxurious finish to it's distinctive legs and pockets, the Bridgeport is designed with true transitional spirit. It's a harmonic blend of styles that can be adapted to an individual's preference. Beauty and practicality are key aspects of the Bridgeport, and it's built to meet the demands of an active household. Available in chestnut, espresso or graphite.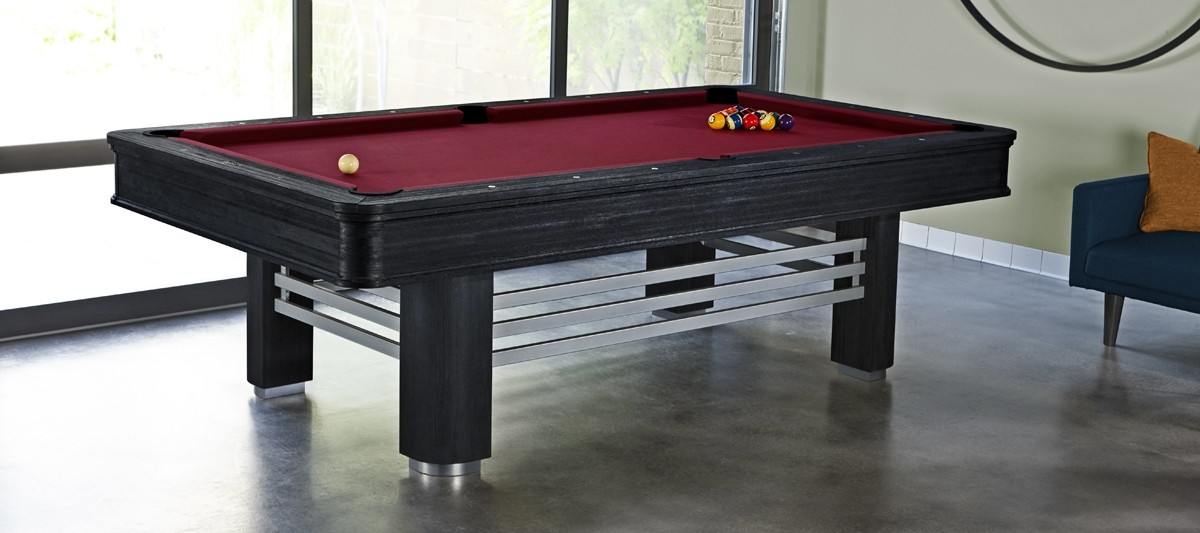 Brooklyn
The Brooklyn delivers a swanky old-school New York style with a retro spin. A brushed matte black finish gives this table genuine authenticity and the silver stretchers bring this table from past to present with subtle style. This table is perfect for those who want a modern take on the legacy and history of Brunswick Billiards.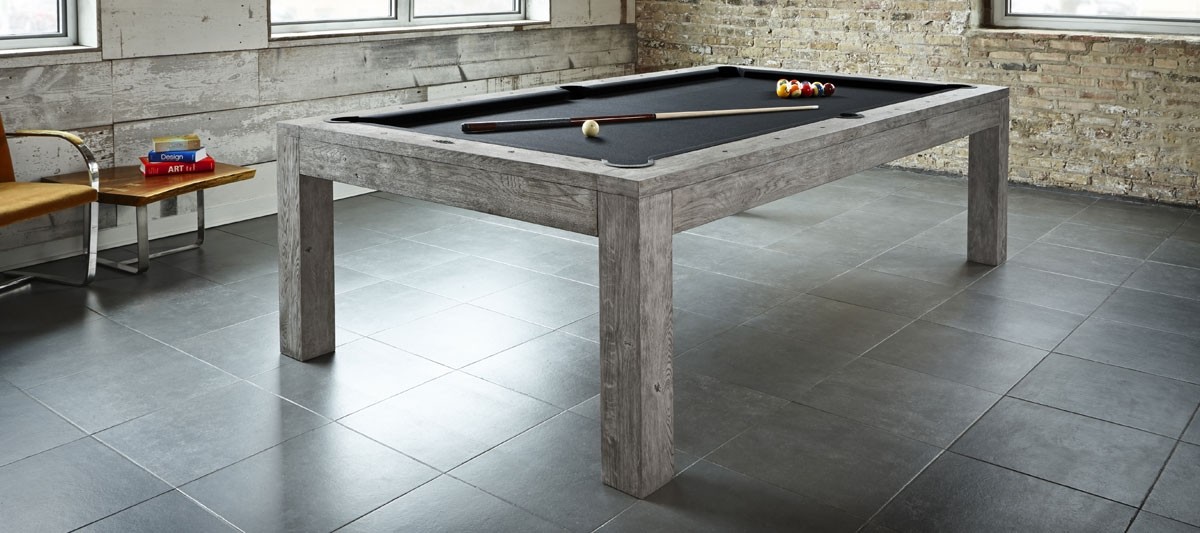 Sanibel
The Sanibel features a modern design with ultra clean lines and minimalist aesthetic. Specialized hand hammered sights provide unique detailing and the new low-profile pockets keep the table incredibly sleek. The Sanibel is available in Rustic Grey, a weathered finish that showcases the wood's natural grain and texture.  Complete your Sanibel Billiard Table with the Sanibel Dining Top and the Sanibel Wall rack, each sold separately.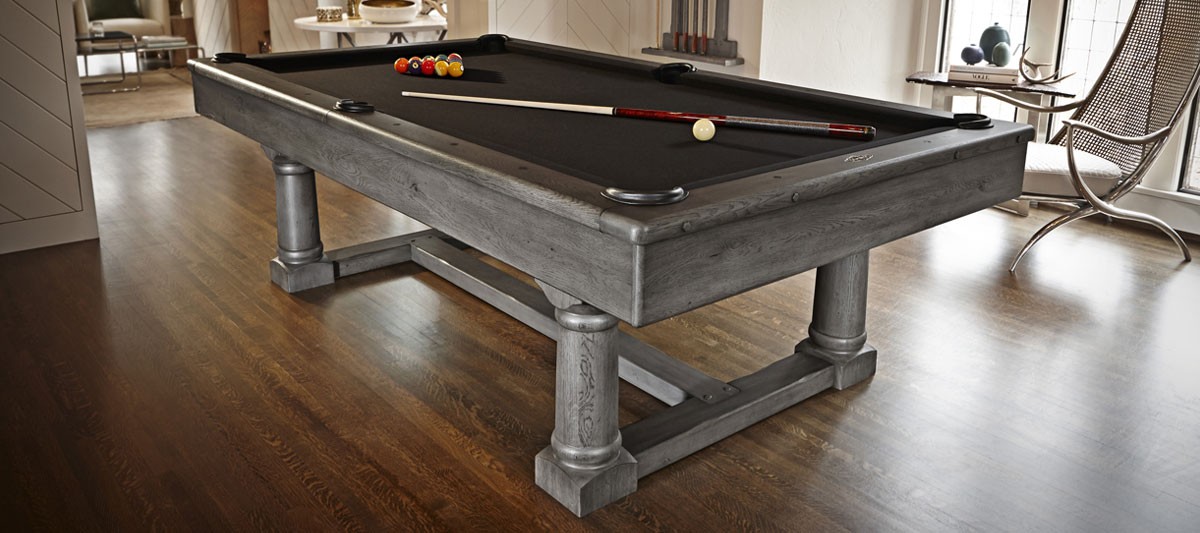 Park Falls
Crafted out of white oak, the refined Park Falls table is accentuated by this soft grey finish that draws on natural earth tones.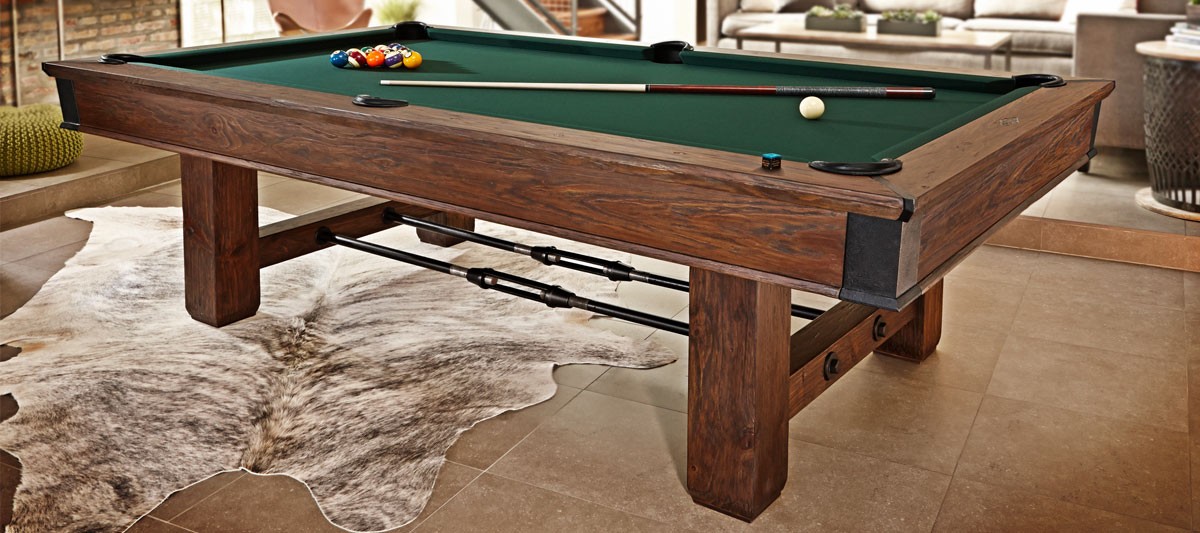 Canton
Nothing says "rack 'em up" like the rustic-meets-industrial charm of the Canton pool table. With its artful hand hammered sights and aged metal turnbuckle stretchers, corners and hardware, this eight-foot black forest or rustic gray finish table is the perfect marriage of proud craftsmanship and industrial design.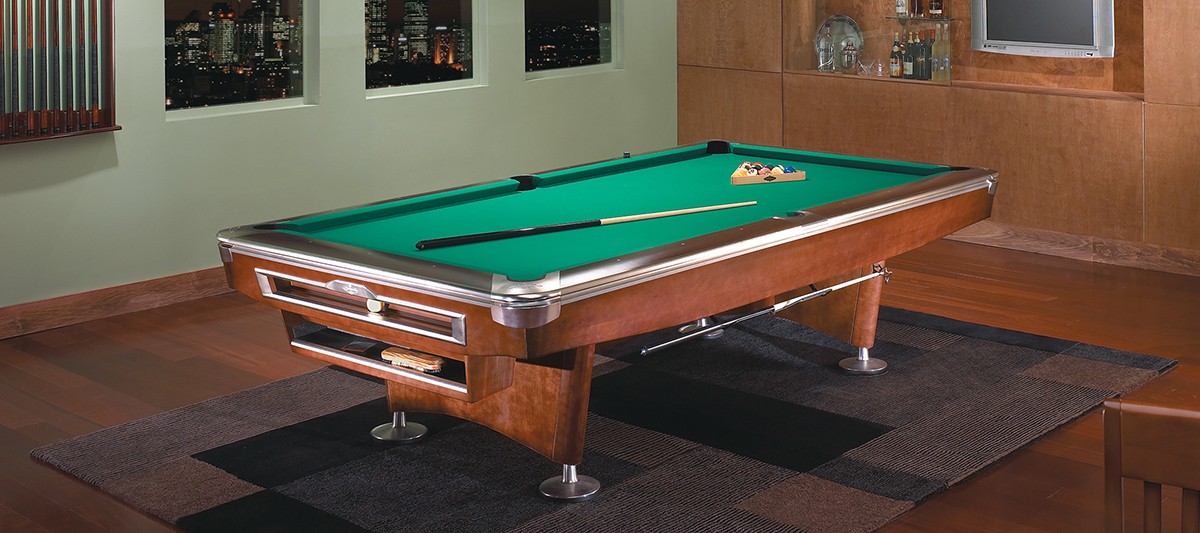 Gold Crown V
Since 1961, the Brunswick Gold Crown has reigned as the industry's best playing professional pool table. The Gold Crown V continues in this tradition with sophisticated new styling, while still maintaining its classic lines. Features include new corner castings, apron details, and a redesigned ball storage area, giving the Gold Crown V table a stronger, bolder appearance. The Gold Crown V Tournament Edition table features longer rails and tighter pockets engineered to strict World Pool-Billiard Association specifications. Table decals included. Available in a nine-foot mahogany with nickel trim version only.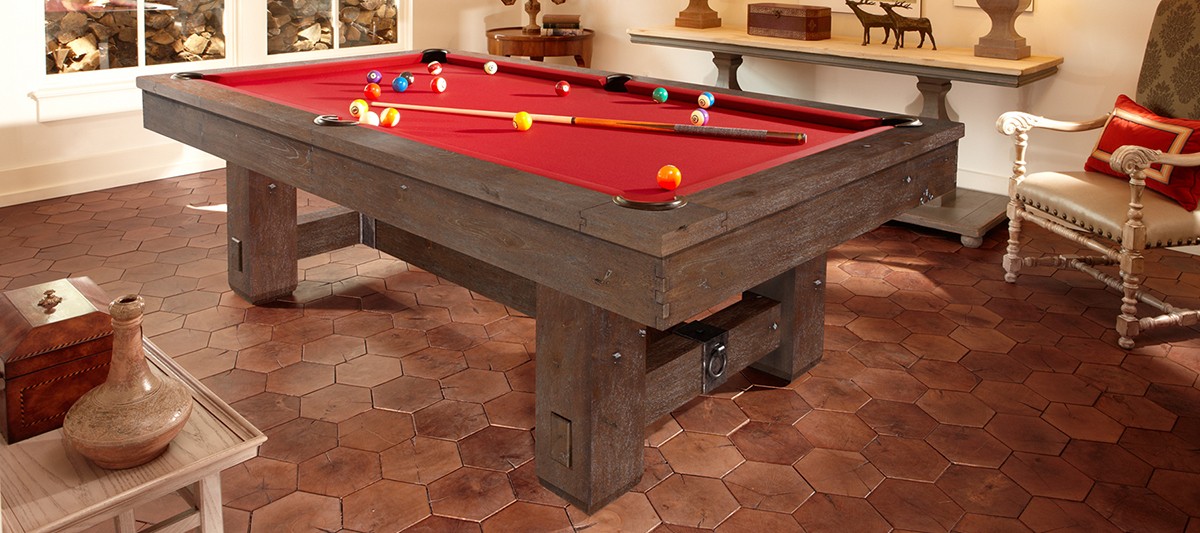 Merrimack
Old World craftsmanship meets velvet-smooth play, courtesy of the Merrimack table. This classic design features hand-hammered metal hardware and distinctive artisan joinery - the ideal complement to a handsome, hand-rubbed antique finish that showcases the natural knots, grain and texture of the table's rough-hewn wood. These rugged and rustic qualities provide a perfect contrast to the precision, stability and playability built into each table. It's quality and style you can see, feel and enjoy - inside and out.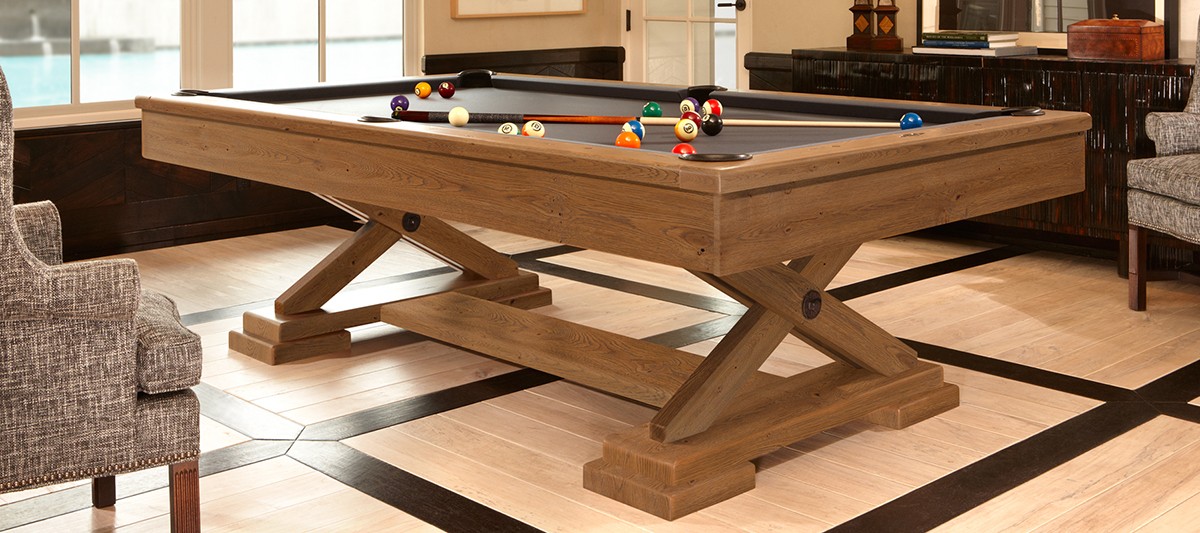 Brixton
Who says contemporary and comfortable have to be mutually exclusive? Our new Brixton table features clean lines and a sturdy yet streamlined design that showcases a unique "X" foundation - a contemporary look that's nicely balanced with hammered metal details and an antiqued finish that highlights the table's warm, natural patterns and rough-hewn texture. It's a difference you can actually feel, with exceptional quality and playability you're sure to appreciate.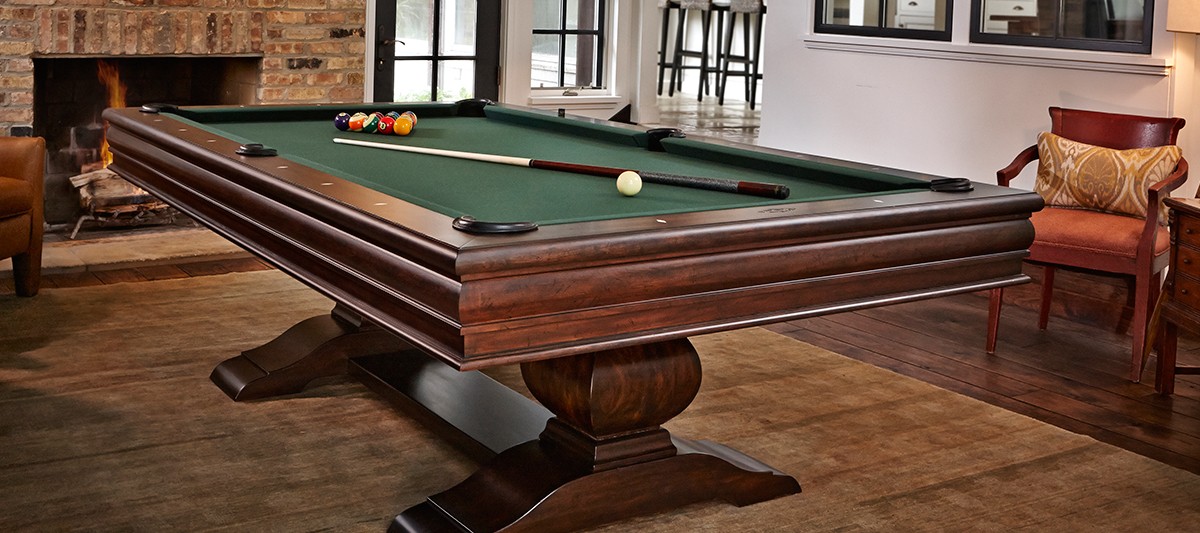 MacKenzie
The MacKenzie delivers a dramatic double pedestal lends a contemporary look to a traditional design. The slightly distressed finish, mother-of-pearl rail sights, and graceful sweeping lines of the aprons give this table an artistic style that is fashioned to last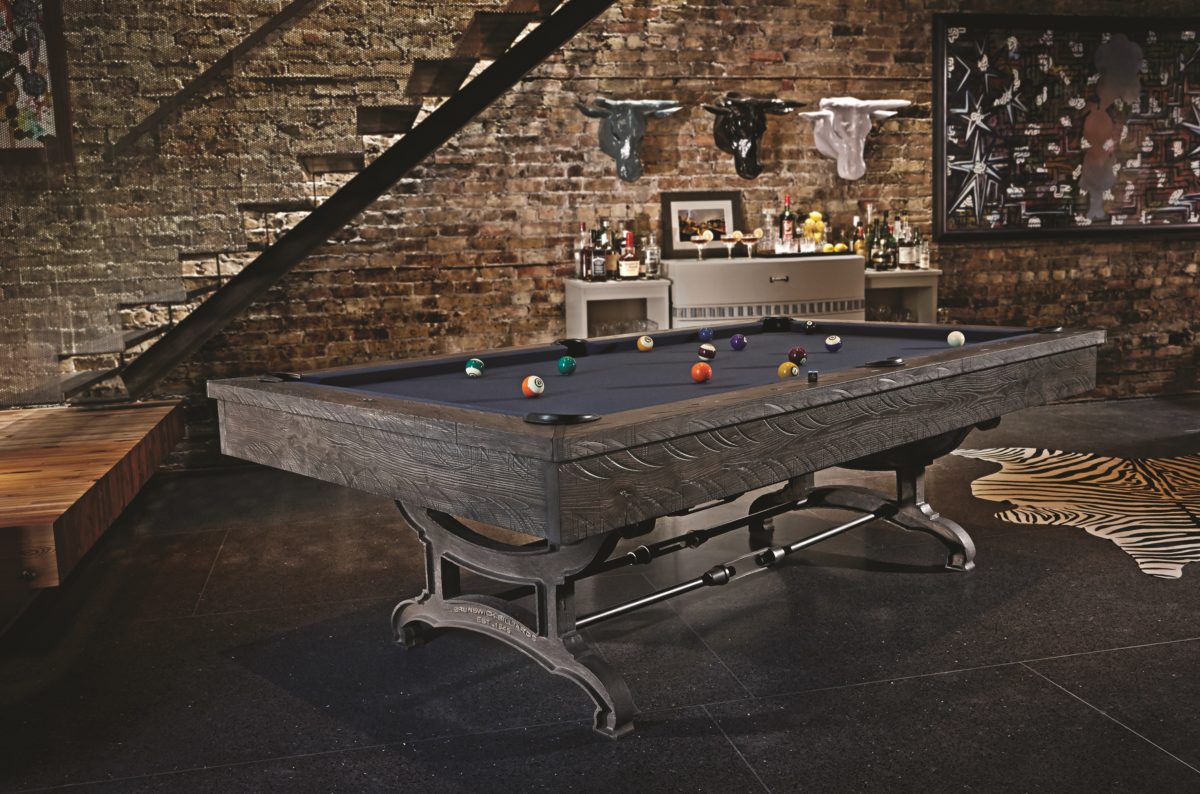 Birmingham
Combining rugged charm with an industrial, loft-style look makes the Birmingham a perfect choice for modern game rooms in need of a vintage touch. Featuring a distressed, rough-hewn finish with a cast iron decorative pedestal and turnbuckle stretcher element, the Birmingham is stylish and rustic down to the last detail.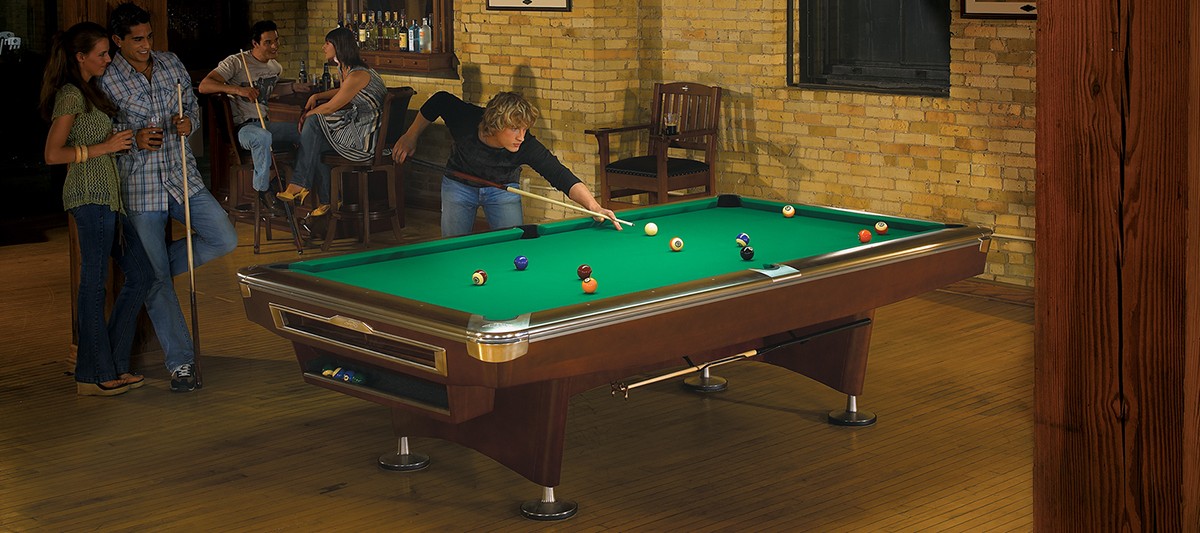 Gold Crown VI
The Gold Crown VI continues Brunswick's tradition of excellence as the newest edition of the legendary table series. The Gold Crown VI features a familiar design with modern styling. The new low-profile leg base and hidden stretcher provide a streamlined appearance while the angular canted leg emphasizes the clean lines. The table also features new corner and rail castings in a brushed nickel finish for a sleek high-end aesthetic.
The Gold Crown VI Tournament Edition table features longer rails and tighter pockets engineered to strict World Pool-Billiard Association specifications. Table decals included.